'Stranger Things:' Millie Bobby Brown Reveals Her Girl Crush
With Stranger Things now available for streaming, fans of the series have already taken to the internet requesting a season four release date. As one of the most highly anticipated shows of the summer, Stranger Things boasts a widespread and loyal fanbase, spreading multiple demographics and pulling each viewer into its tempting grasp. And though each cast member brings an essential quality to the series, Millie Bobby Brown is indisputably the show's breakout star.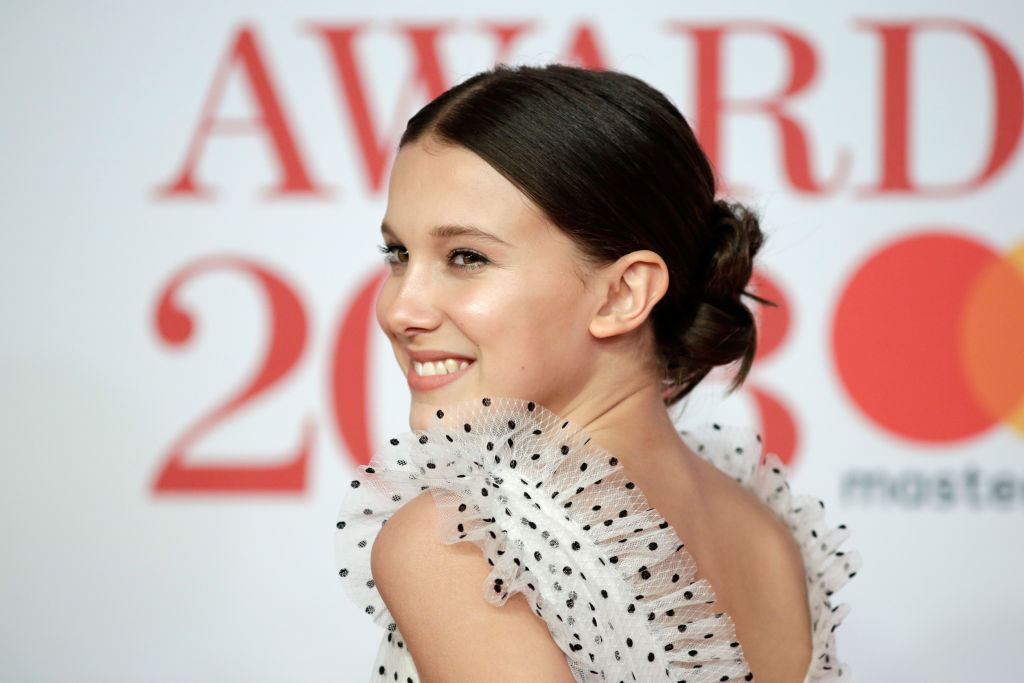 Though Winona Ryder may have offered the star power the show needed to draw people in, Millie Bobby Brown is largely responsible for maintaining its subsequent viewership. 
Millie Boby Brown's character – first appearing quiet and timid – has grown into a protective and fierce friend, loyal to a fault and ready for a fight. While Eleven's characterization and complex narrative arc is enough to keep people watching, Millie Bobby Brown has managed to take the world by storm, separate from the show she is intimately connected to. From her contagious personality to her inspiring fashion sense, Brown has become a household name (seemingly overnight). 
During an interview with W Magazine, Millie Bobby Brown discussed Stranger Things, her childhood, Godzilla: King of Monsters, and more. She even revealed her girl crush and, given the actress's flair for trendy fashion, her answers should come as no surprise. 
Millie Bobby Brown's Girl Crush is Paris Jackson 
During an interview with the Stranger Things star, W Magazine asked Millie Bobby Brown, "Who is your girl crush?" Millie Bobby Brown replied:
"Paris Jackson. She's got great style. She's like a sister to me. And she plays the piano!"
Millie Bobby Brown cites Paris Jackson's musical talent and fashion sense as the basis of her decision; however, their sister-like relationship also factors in. Paris Jackson is known for pulling off quite whimsical looks that orient towards the boho side of the fashion world. She is also Michael Jackson's only daughter and works as a model, actress, media influencer, socialite, and humanitarian. 
Though often coming under backlash for her actions, as well as her social media presence, the 21-year-old has had to cope with some pretty traumatic experiences, and she's managed to do more than survive. Jackson maintains a prosperous career while remaining true to the public persona she has developed.
Millie Bobby Brown is also recognized for her unique and diversified style, as her closet contains modest summer dresses on one side with high-waisted jeans and puffy jackets on the other. And, she manages to pull off each look seamlessly. 
'Stranger Things' star Millie Bobby Brown and fashion: from the day-to-day to the red carpet
According to InStyle, Millie Bobby Brown favors quite simple looks when she's not in front of a camera; Topshop items and Converse kicks do the trick for the young actress if she's just walking to the store. However, when she gets dressed for a professional appearance, the process is a bit more intense.
Brown works with a stylist to find age-appropriate looks that, once decided upon, are run by an extensive list of guardians. Millie Bobby Brown explained the process as follows: 
"Everything I wear has to go through every person on my team. It has to go through my mum first. If she approves, it'll go to my agents, and then, obviously, the last stop is my dad—and if he doesn't like it, then I'm not wearing it. It's as simple as that." 

InStyle 
As a young, up and coming actress in Hollywood, it should come as no surprise that some of the most famous fashion designers have courted the young actress. Though currently the face of Converse, she appeared in a campaign for Calvin Klein's couture line. Not to mention, InStyle reports that Coach and Louis Vitton are after the Stranger Things icon.