'Stranger Things': What the Stars Look Like in Real Life
Stranger Things isn't just enjoyable because of its amazing '80s pop culture references. It's the characters — an energetic band of nerdy middle schoolers, telekinetic preteens, big-haired high schoolers and barely-functioning adults — that truly make the series special.
And the Duffer Brothers' hit series has offered a nostalgic and seemingly realistic look back at a time that many fans barely remember, or never even experienced.
The characters in Stranger Things live and breathe the 1980s. But the actors who portray them are actually, like, really cool when they're not battling demodogs. Here's how some of your favorite Hawkins residents compare to the actors who play them.
1. David Harbour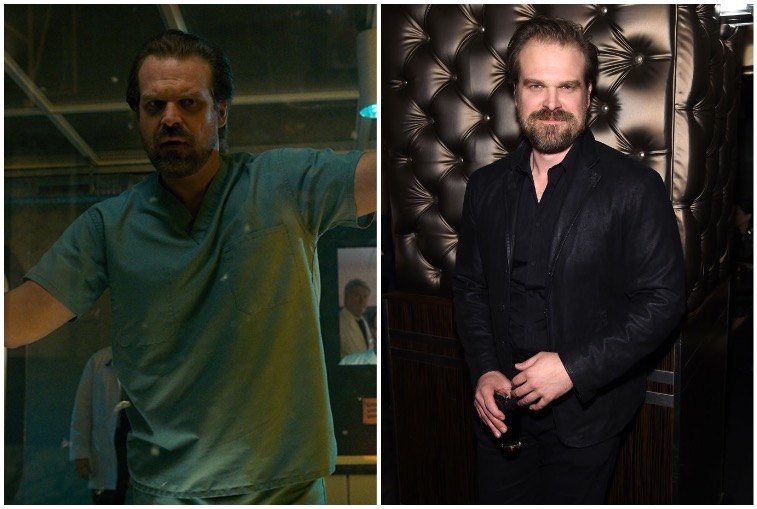 Jim Hopper spent the first two seasons of Stranger Things trying to keep his small town safe from a government experiment gone wrong (and playing surrogate dad to a very powerful kid). So, he's earned that perpetual five o'clock shadow. Plus, scarfing Halloween candy and Eggo waffles with Eleven has maybe made him a little pudgy – but we're not exactly complaining.
He gets that fabulous dad bod from David Harbour. But when the 42-year-old actor isn't not donning Hopper's sheriff uniform, he definitely cleans up better. Harbour often trades Hopper's beard for a clean-shaven look or a more close-cropped goatee. And we may be saying goodbye to his fatherly physique in the near future — he's seriously shaped up to play the titular role in the Hellboy reboot.
2. Finn Wolfhard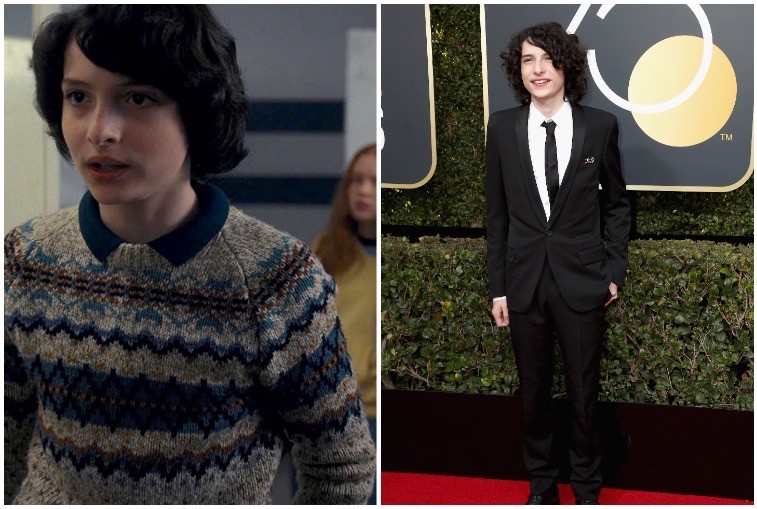 If you had to use one word to describe Mike Wheeler, it would probably be "awkward." The preteen hero of Stranger Things is lanky, pale, and decidedly nerdy. He's the type of kid you would have shunned at a middle school dance, and then later wished you'd given a chance when he grows up to be a millionaire software developer.
Finn Wolfhard pretty closely resembles his Stranger Things character even when he's not in Mike mode. But the 15 year old does exhibit a few key differences in his appearance. He shies away from his characters' dorky hairstyle and keeps his locks a bit longer and more unruly. And even though Stranger Things 2 finished filming less than a year ago, he's already, like, a foot taller than his Dungeons and Dragons-playing counterpart.
3. Linnea Berthelsen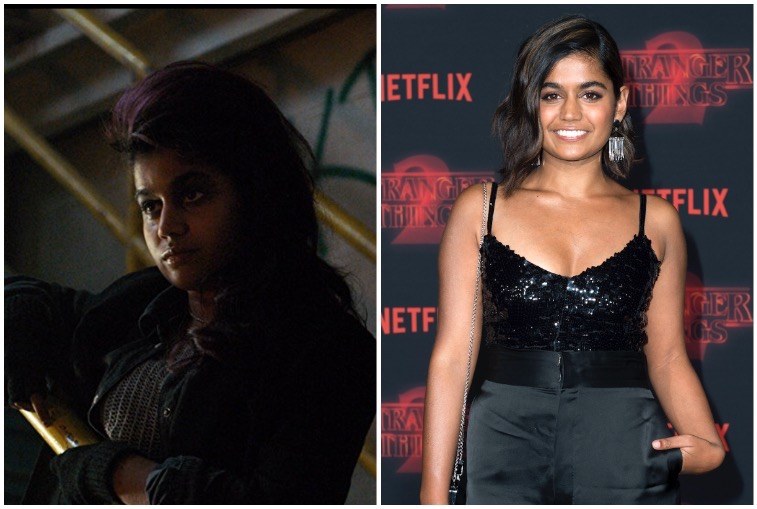 As Kali in Stranger Things 2, Linnea Berthelsen didn't have a ton of screentime. But she definitely left an impression, with her tragic backstory, mind-melting powers, and punk rock style and attitude.
It's safe to assume we'll see Kali again in upcoming seasons. But fans of Stranger Things might barely recognize the 24-year-old Berthelsen if they saw her on a red carpet. That's because with her glossy hair and fresh-faced approach to make up, she has an entirely different aura about her. .
4. Charlie Heaton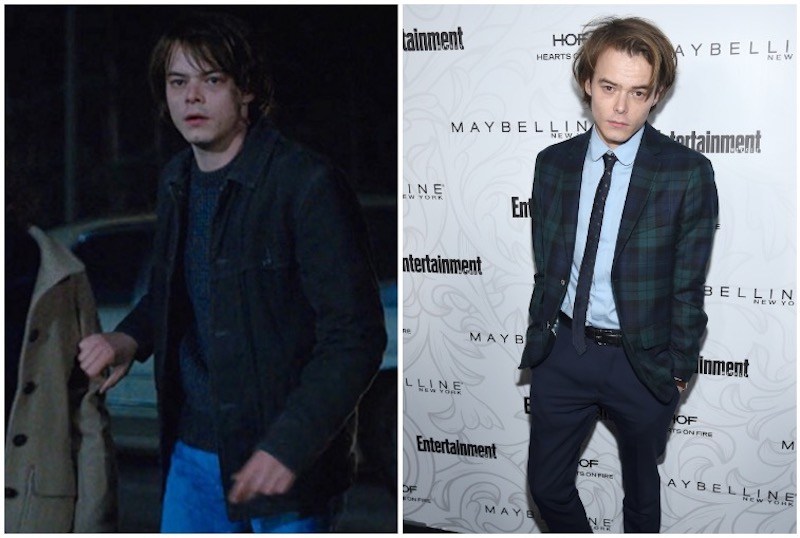 Jonathan Byers is a loner with an artistic streak. And with his hunched posture and perma-scowl, he often seems uncomfortable in his own skin.
Charlie Heaton also has a quiet disposition. But the 23 year old strikes a much more confident and agreeable attitude than his Stranger Things alter ego. When he stands tall, and dons designer clothing, he takes on a DiCaprio-esque smolder. And his lanky frame and untamed hair make him look like less like he's on the run from government agents and more like he belongs on a runway.
5. Noah Schnapp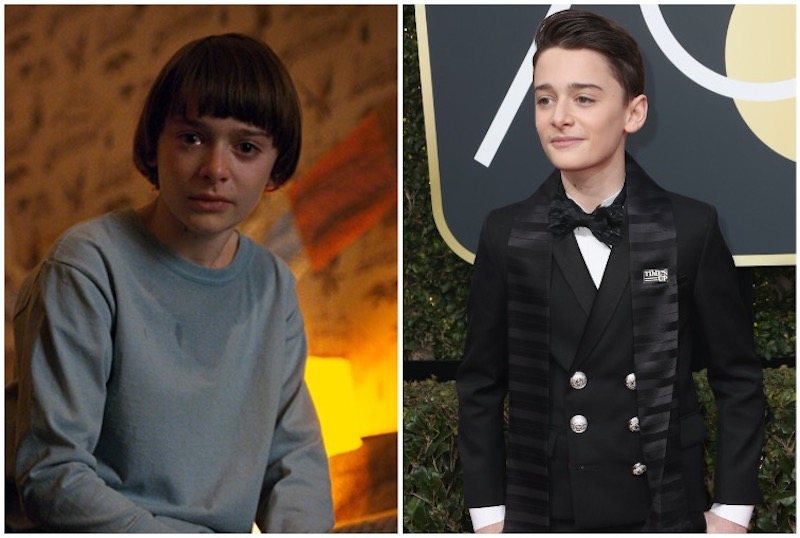 Will Byers has faced a ton of tragedy in two seasons of Stranger Things: Being captured and almost eaten by a demogorgon; living with PTSD; becoming a host for an even bigger monster; that bowl cut.
Noah Schnapp shares a wide-eyed disposition with Will – but otherwise, he looks completely different. He keeps his hair off his forehead (and thus, keeps his style in the 21st century), and has an awesomely bold fashion sense for a 13 year old. In other words, when he's not covered head-to-toe in medical equipment or otherworldly goo, he looks like a completely normal teenager.
6. Winona Ryder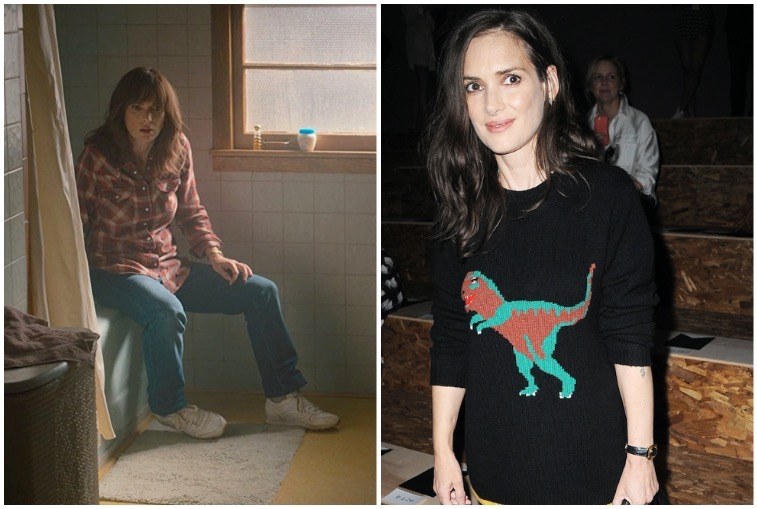 Joyce Byers really only has two modes of operation: stressed out, or total panic mode. We can't say we blame her for foregoing make-up when her son is in perpetual mortal peril. But the frazzled Stranger Things matriarch's appearance usually reflects her emotional turmoil.
The fact that the Stranger Things make-up and costuming department have managed to make her so frumpy is a testament to their skills. Because off-screen, Winona Ryder is nothing less than stunning. Whether she's going casual or on the red carpet, the 46-year-old actress exudes a quirky intelligence that makes her one of the most unique beauties in Hollywood.
7 . Gaten Matarazzo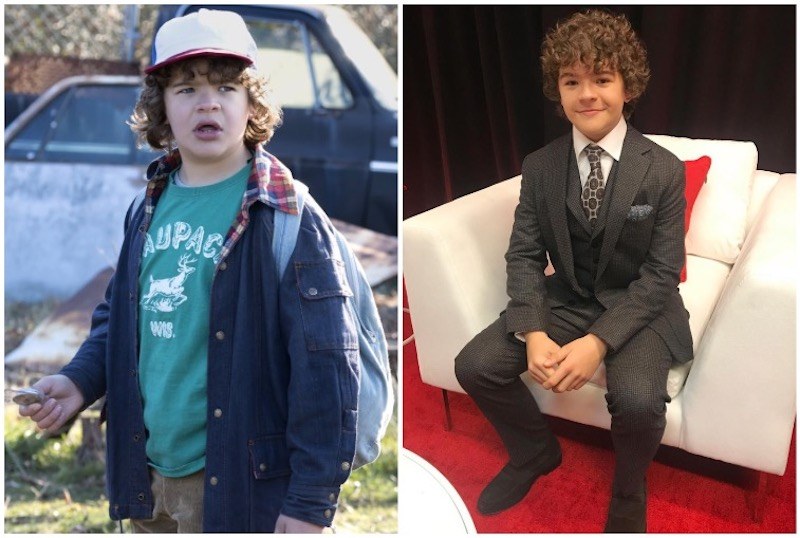 Dustin Henderson has faced a lot of danger on Stranger Things. But no matter how perilous life in Hawkins is, he always has a sarcastic comment – and a huge grin on his face.
Gaten Matarazzo, who portrays the wily preteen, has cleidocranial dysplasia, which, among other things, delays dental development. The Stranger Things creators wrote his genetic disorder into the series. Matarazzo, 15, allegedly had corrective surgery to bring in his teeth. So, in Stranger Things 2, Dustin, too, got a new set of pearly whites (which he happily showed off at every available opportunity).
Because of their shared unique smile, Matarazzo looks pretty similar to Dustin even when cameras aren't rolling. But he's definitely a snazzier dresser – and he recently chopped off his curly hair, which made him look a whole lot less Dustin-esque.
8. Caleb McLaughlin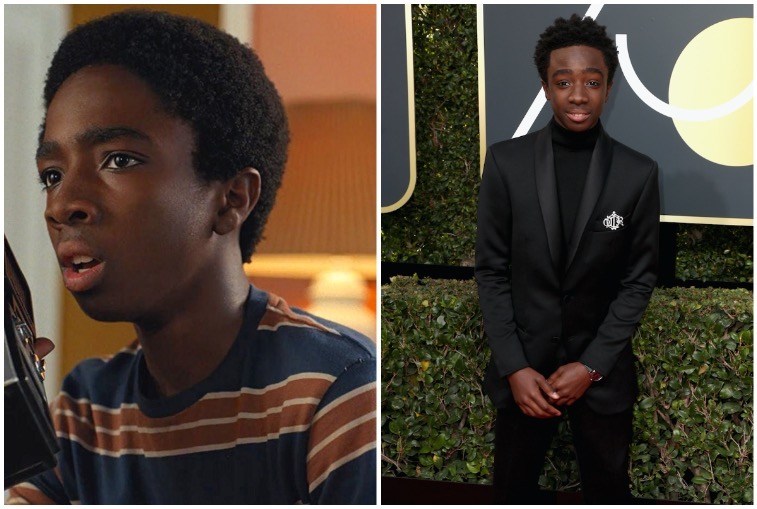 Between Seasons 1 and 2 of Stranger Things, Lucas Sinclair stopped being a fifth wheel friend and took a chance on his feelings for Max. But despite his new crush and burgeoning confidence, he kept his same dorky energy and style – even if he did lose the awesome bandana.
Caleb McLaughlin has a similar aura to Lucas – and a truly impressive sense of style, given that he's just 16. He's happy to don bold patterns and colors (and a suit with shorts!) on the red carpet, proving that like Lucas, he isn't afraid to show the world who he is.
9. Sadie Sink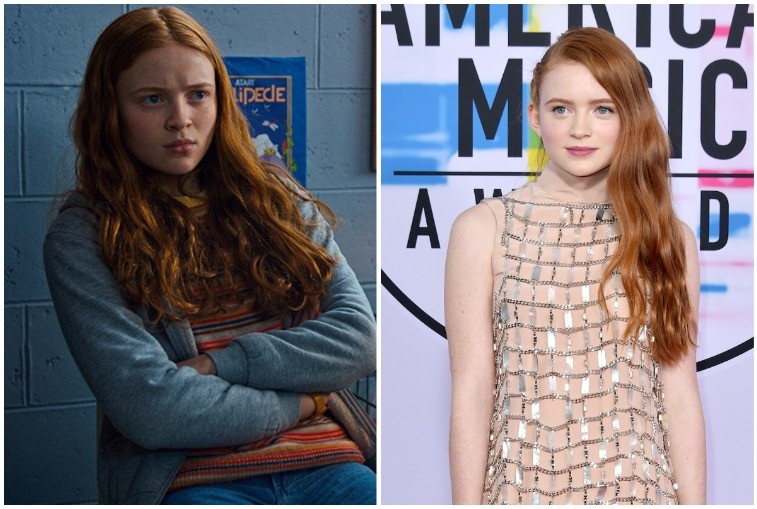 May Mayfield knocked the Stranger Things middle schoolers off their feet in Season 2. With her tomboyish style and fearless personality, she fit right in with Dustin, Lucas, Will and Mike. And she proved to be not only an asset to their team as their designated zoomer, but a great friend.
In real life, Sadie Sink has Max's signature fiery red hair. But when it comes to fashion, the 14-year-old actress seems much more comfortable in cardigans and dresses than Max's hoodies and jeans.
10. Dacre Montgomery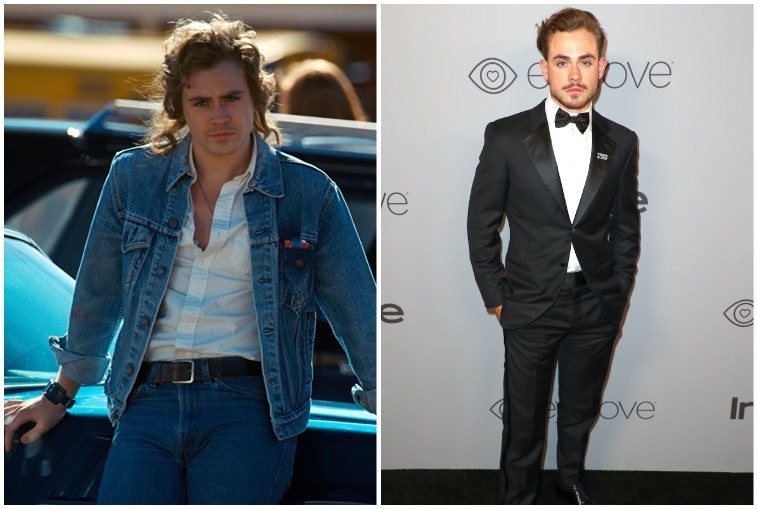 In Stranger Things 2, Billy Mayfield revved into town and declared himself king of Hawkins High. He was just as likely to make girls swoon as he was to make the victims of his bullying cower. He had the Jason-Patric-in-The-Lost-Boys look down pat, with his tight acid washed jeans, fang earring, and gloriously awful mullet.
Dacre Montgomery, who played the Season 2 villain, shares very little in common with Billy. He keeps his hair short, and seems fond of sporting a goatee. His ST character would probably be impressed with the 23 year old's facial hair – but lament the shortage of denim in Montgomery's wardrobe.
11. Natalia Dyer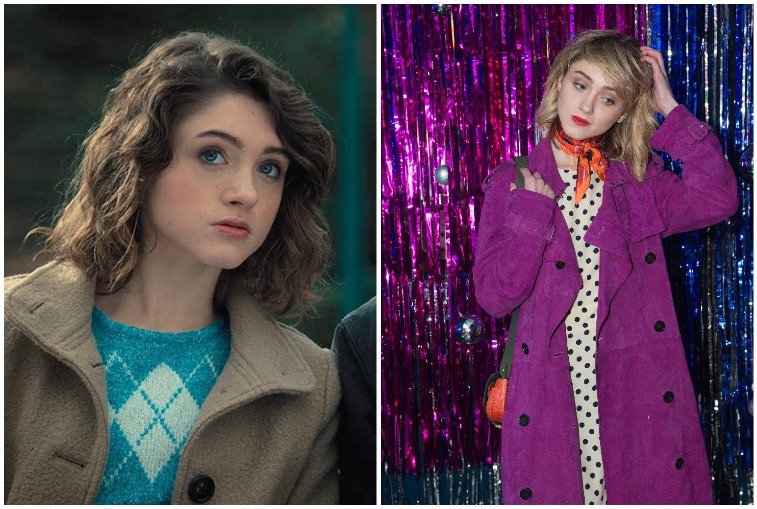 Nancy Wheeler spent the first two seasons of Stranger Things seeking justice for her best friend, Barb. And even though she is the very embodiment of the girl next door in so many ways, she's proven that she's so much more.
Natalia Dyer shares her character's petite frame and wide-eyed stare. But she's definitely got a more modern look – and isn't afraid to experiment with her appearance. In 2017, she died her hair platinum blonde. And whether she's walking the red carpet with her boyfriend/co-star, Heaton, or starring in Prada ads with Elijah Wood, she's proven that she has an impeccable fashion sense that would make Nancy (or at least, her mom) proud.
12. Randy Havens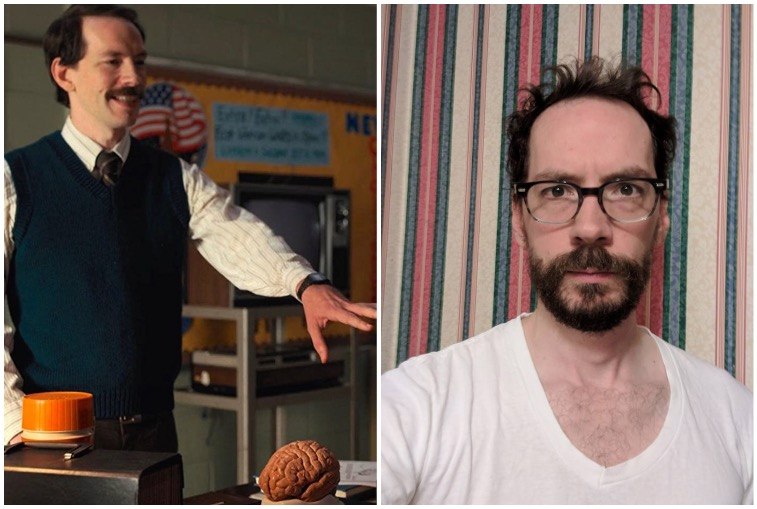 Scott Clarke hasn't had that much screen time on Stranger Things – but the Hawkins Middle School science teacher has certainly earned a place in fans' hearts. Whether he's opening up his pupil's curiosity door or casually explaining alternate dimensions on a paper plate, he's warmed our hearts and made us feel a little smarter.
Randy Havens absolutely nails Clarke's nerdy enthusiasm and incredible '80s mustache. But when he's not spearheading the Hawkins AV Club, the actor is somewhat unrecognizable. He wears glasses, and has been known to wear a full beard rather than just the 'stache.
13. Shannon Purser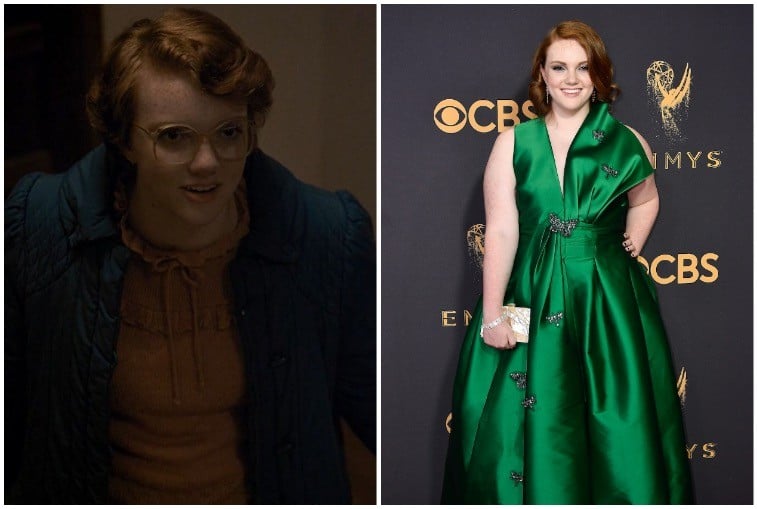 Barb Holland was nerdy, and uncool, with an '80s perm, glasses that were way too big for her face, and a best friend that was getting way cooler than she was right before her eyes. Then, she got sucked into an alternate dimension and slimed to death by the demogorgon. Poor Barb.
Her story was so tragic, and her awkwardness so relatable, that she became one of the most recognizable (and beloved) characters in all of Stranger Things history, despite her limited screen time. Shannon Purser, who played Barb and embraced her character's meme-iness, in reality looks very little like her character. Sure, she has her freckles and red locks. But the 20-year-old actress doesn't wear glasses and wears her hair longer – and her fashion sense is to die for (Barb would probably agree if she wasn't, you know, already dead).
14. Joe Keery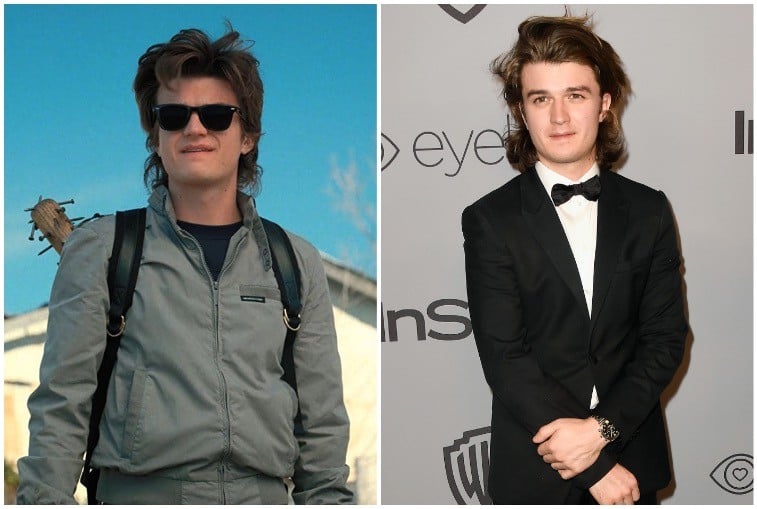 If you watched Stranger Things 2 and didn't end up wishing Steve Harrington was your dad, then you are in a very small minority. The antagonist-turned-show-stealing babysitter was a highlight of Season 2 and his popularity has made Joe Keery one of the most talked about actors in Hollywood.
The 25-year-old actor bears a striking resemblance to his Stranger Things character – and it's definitely all about the hair. He's not afraid to give it some Steve-esque volume – even if he's not rocking the Farrah Fawcett hairspray.
15. Millie Bobby Brown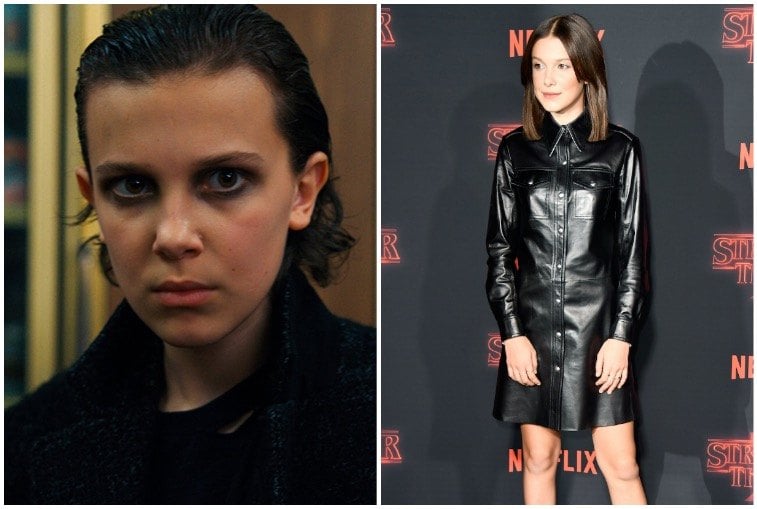 Stranger Things is full of incredible characters. But, perhaps, none is more memorable than Eleven, with her shaved head, tattoo and bloody nose. Sure, she grew out her hair and donned some "bitchin'" eyeliner in the sequel – that didn't make her any less fierce, though.
Millie Bobby Brown has become an international star, thanks to her portrayal of Eleven. But when she's not in Stranger Things mode, she looks completely different. At just 13 years old, she's wowed fans with high profile fashion spreads and elegant red carpet looks. As for the hair? She's keeping it pretty short, but has managed to keep it stylish nonetheless.
Follow Katherine Webb on Twitter @prufrox.
Check out The Cheat Sheet on Facebook!