'Succession' S2 Episode 9 Recap: The Roys Come Under Heavy Fire as Rhea Wises Up
[SPOILERS FOR ALL OF 'SUCCESSION' SEASON 2 FOLLOW.]
While storm clouds have been hovering over Waystar-Royco for several episodes of Succession, the situation came to a head with the arrival (timely as it was) of a whistleblower in "DC," the second season's ninth episode.
"Big deal," fans of the HBO show can already imagine Logan Roy (Brian Cox) telling his family and other sycophants. However, this latest scandal actually does spook Logan and the Roy family.
In fact, everyone from the Roys' press flacks (led by actor Fisher Stevens) to newly announced CEO Rhea (played by Holly Hunter) know this new scandal is different. Exhibit A: The family and company officials have been summoned to D.C. to testify.
By the end of the episode, the storm that had been brewing within the Roy house (corporate and otherwise) began to rage. And viewers got an idea of the sort of deluge the season finale might bring.
The Roys' Capitol Hill grilling started off terribly and only improved slightly.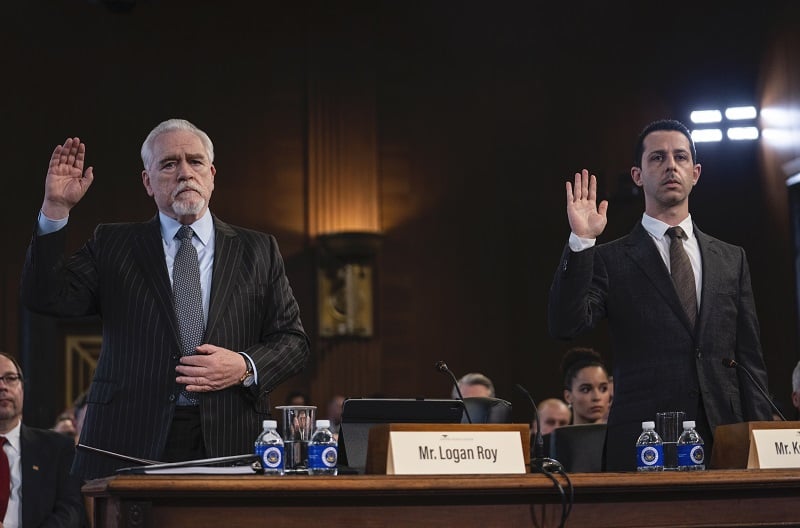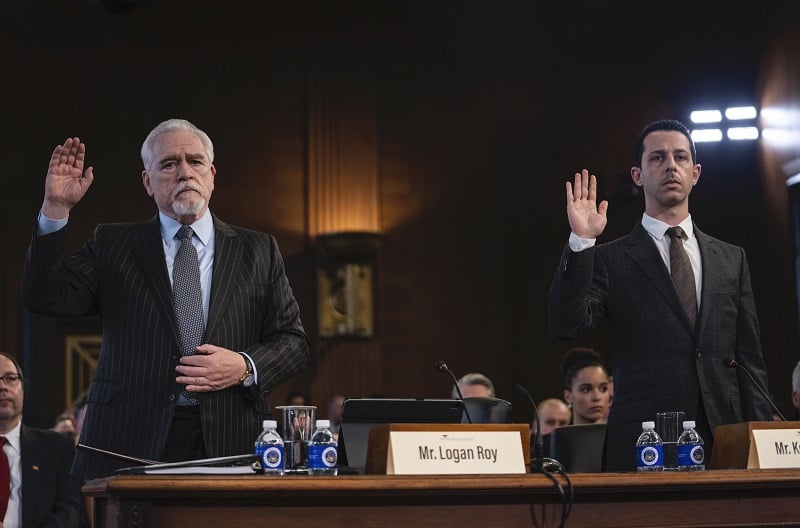 It's not always the crime; often, it's the coverup. Americans have gotten more than their share of this cliche over the past five decades. In the case of the Roys' problems in the second season of Succession, it sounds like both are equally problematic.
As for the crimes, we can define those as sexual exploitation and manslaughter (at minimum) on the company's cruise lines. The late Uncle "Mo" Lester stands accused of these hideous things and more, and the Roys don't go out of their way to dispute them in private.
However, in public, the hapless Tom (Matthew Macfayden) tells a Congressional committe he never heard of his former assistant, Greg (Nicholas Braun). And Tom's performance doesn't get better from there. (Stevens's character asks his wife what it's like to be married to "a man with two a–holes.")
Once Logan and Kendall (Jeremy Strong) follow Tom and Gerri, we find the Roys regaining momentum. First, Kendall scores a few points by basically calling the hearing a political spectacle. Next, Kendall follows with a charming, apologetic act that many had to buy.
But Logan knows they've been damaged, As a backup plan, he dispatches Roman (Kieran Culkin) off to the Middle East to try and secure funding to take the company private. And he puts Shiv (Sarah Snook) and Rhea on the job of spooking the whistleblower.
Rhea called out the setup, then exited stage left.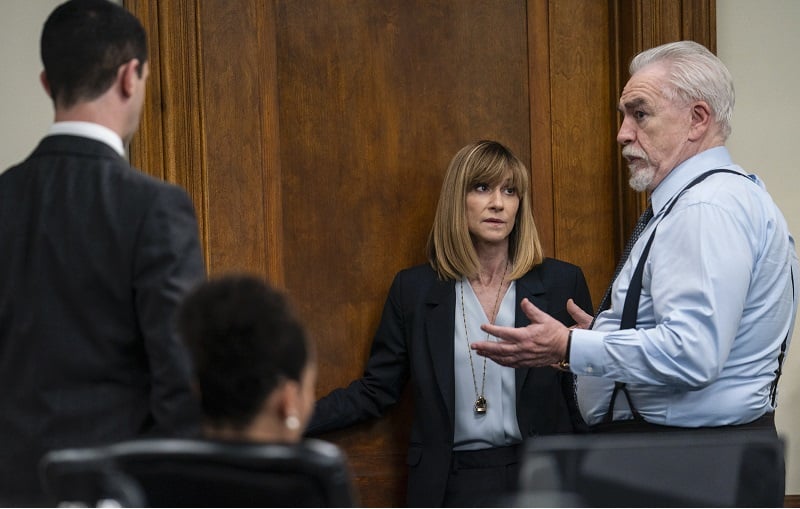 At the close of this season's eighth episode, viewers could sense something fishy in the announcement of Rhea (Hunter) as the massive company's new CEO. Right away in this episode, we see how she's been set up to fall on the Waystar-Royco sword.
Rhea's not-at-all-believable declaration that "everything is fine" in the company war room hints that her reign will be brief. Once Logan sends her and Shiv off to shake down the victim of Lester's indiscretions (Rhea won't do it), the end seem nearer.
Then Logan and Rhea have one of those conversations that's made Succession so popular with its fans. "Little Miss Prim," Logan says, acidly. "You knew. You know who I am."
"I think it's changed," Rhea replies. "In the details … I can't see the bottom of the pool. And I don't know if you care about anything. And that scares me." After imploring her to stay (she declines), Logan turns aggressive, declaring her "fungible as f–k."
"Fine," Rhea replies. "Then funge me." And with that, the CEO of the previous five minutes rides off into the sunset. But was that enough fireworks for one episode? Not on Succession.
Before the credits roll, we find Logan darkly plotting with Shiv. Suddenly, "killing Bill" isn't enough. "We're hurt," Logan tells Shiv. "We need something big — yeah, time for a blood sacrifice." If your name is Kendall — or Roman, who was last seen sweating out a coup in Turkey — the Season Two finale probably won't go well.