Will Suga Drop a New A New Album as His Alter-Ego, Agust D? Here's What We Know About This BTS Member and His Collaboration with Halsey
Suga really can do it all. He's a rapper, producer, writer, dancer, and he can even predict the future. He's equal parts savage and sweet, earning his position in one of the biggest boy bands in the world. Is Suga releasing his own music soon? Will he appear on Halsey's 2020 album, Manic? Here's what we know about this BTS member and his alter-ego, Agust D.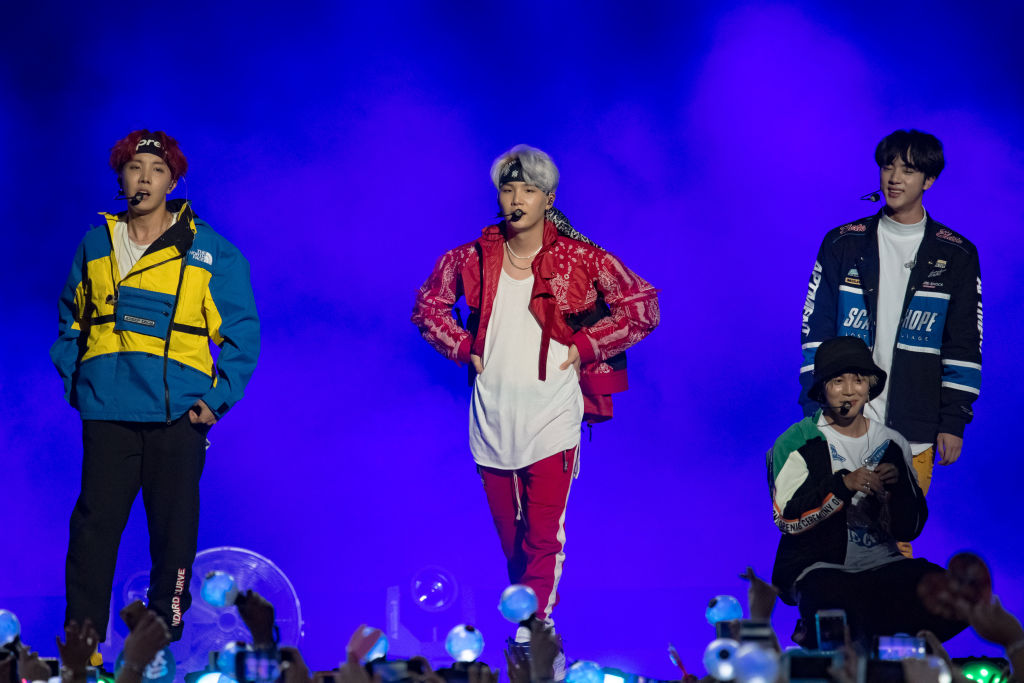 Suga released solo music in the past, as his 'alter-ego' Agust D?
Aside from working as a group, the members of BTS release music as solo artists. That includes Suga, who released his mixtape, Agust D, in 2016. Since then, each song earned over two million streams on Spotify, the most popular being "Give It To Me."
According to Amino Apps, Suga's second stage name, "Agust D," is "Suga in reverse," with T-D symbolizing the underground rap group that he had been part of before debuting with BTS. Oftentimes, the rapper also goes by his real name, Min Yoongi, however, he hasn't released solo music under "Agust D" in a few years.
With the success of J-Hope's recently-released single "Chicken Noodle Soup," some are wondering what's next for Suga/Agust D. Thanks to Halsey's latest Instagram post, fans have more clues about the latest projects of this K-pop idol.
Halsey announced that Suga appears on her upcoming album, 'Manic'
For the first time in over two years, Halsey is releasing a full-length album, complete with old favorites and new songs. There are three artists featured on Manic, including Suga from BTS, who appears on the song "Suga's Interlude."
"One of them is Suga from BTS, who is like an incredible, incredible musician," Halsey announced during an Instagram live. "And he really fit the sentiment, the vibe of the album and what it's about I felt like I really wanted to include him."
This is not the first time that Halsey collaborated with the BTS members
Halsey previously worked with the BTS members for their 2019 release, "Boy With Luv," off of their album Map of the Soul: Persona. The colorful music video broke a few records for this K-pop group and earned them nominations at the MTV Video Music Awards. The group even performed with Halsey live at the 2019 Billboard Music Awards.
"We met two years ago at the BBMAs backstage," said RM during an interview with Billboard. "She told us that she became a fan after she watched music videos. We knew Halsey from 'Closer' [with The Chainsmokers, the] biggest song of that year. So we met backstage and she came to Korea last year, and we met again. We talked about, like, 'We should collaborate. We should work on something.' We got this track for this album and thought that Halsey would be the best voice for this track. It happened. Boom. Here we are."
Halsey's latest album drops on Jan. 17, 2020. Music by BTS and Halsey, including their song "Boy With Luv," is available on Spotify, Apple Music, and most major streaming platforms.