'Suits' Just Made an Adorable Joke About Meghan Markle
Patrick J. Adams hinted at Meghan Markle's royal life with an adorable joke during an appearance on a Season 9 episode of 'Suits'.
Suits just made a nod to one former cast member, Meghan Markle, Duchess of Sussex, who left the very successful USA legal drama (and acting altogether) to, you know, marry Prince Harry, Duke of Sussex, and become a member of the British royal family.
Continue reading to learn how Suits made a reference to Markle's character, Rachel Zane, during the most recent episode of the show's ninth and final season. And beware, there are spoilers about the fate of Markle's character and others. 
What's the joke? 
Markle's on-screen husband, Mike Ross (Patrick J. Adams), delivered the adorable joke about Markle aka Rachel (a nod to Markle's real name, she goes by her middle name of Meghan), according to Cosmopolitan.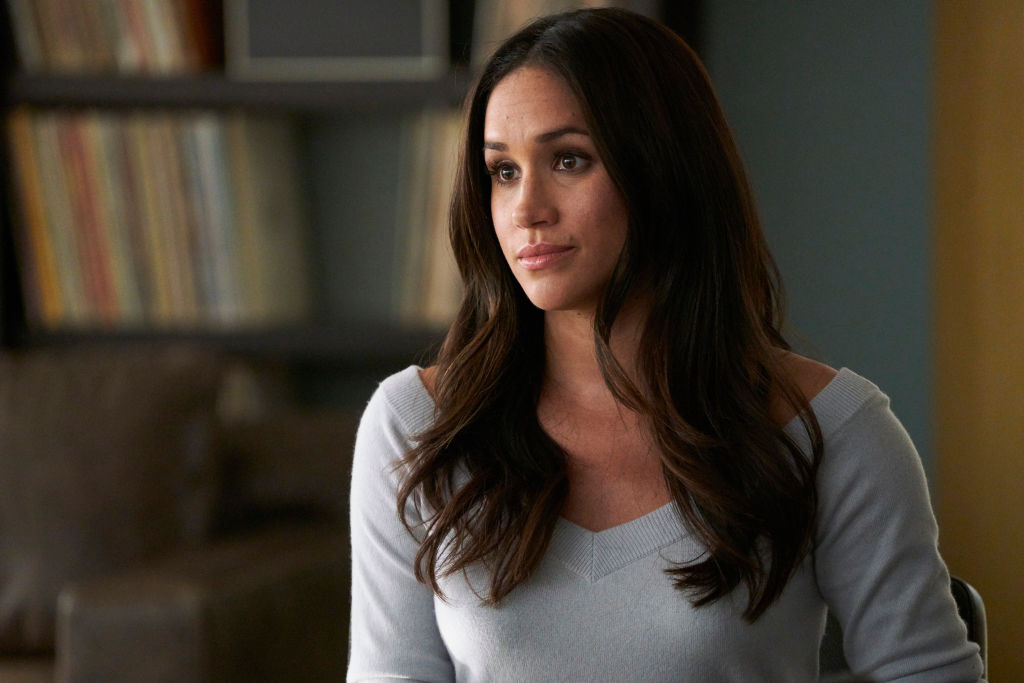 Adams left the show at the same time she did. They both signed off Suits after Season 7 and were written out of the script after their characters finally got married then moved away from New York City and the law firm that brought them together. Markle's character, a paralegal-turned-lawyer met Ross's character in Season 1 when he joined the firm. 
Funnily enough, Markle left her fictional role at a fictional firm to join a real firm … well, sort of. Members of the royal family are known to refer to the family as "the firm." Life sure can be funny. But the jokes on Suits, even funnier. 
Adams returned to Suits because the show will soon be saying goodbye and appeared in Season 9, Episode 5: "If the Shoe Fits." 
When his character, Ross, walked into the office of his mentor and friend, Harvey Specter (Gabriel Macht), he alludes to Rachel's new life. "If I told you how good, you probably wouldn't believe me," Ross told Specter. Surely, no one at the law firm would believe Rachel aka Markle's now married to Prince Harry and is living life as a duchess. 
Although it's a small line in the one-hour TV program, it's a nice gesture to their former cast member who was part of the show for more than 100 episodes. 
Suits tweeted about the joke when the show aired on Aug. 14. 
"Turns out Rachel is doing REALLY well," the tweet from the show's official Twitter account read. They also included a GIF of Mike delivering the joke. To further drive the joke home, they included a wink face emoji. 
Twitter users praised the joke, calling it "perfect," "clever," and "too cute" with one enthusiastic person saying, "THIS IS ACTUALLY AN AMAZING LINE." Others replied to the tweet with GIFS of Markle and Prince Harry from their wedding day. 
Patrick J. Adams made a joke about Meghan Markle off-screen
After Markle and Prince Harry publicly announced their engagement, Adams made a joke about his on-screen love's real-life relationship news. 
"She said she was just going out to get some milk …" Adams tweeted on Nov. 27, 2017 along with a link to Kensington Palace's announcement of the couple's impending nuptials. 
He then replied to his own tweet with a heartfelt message about his former co-star. 
"Playing Meghan's television partner for the better part of a decade uniquely qualifies me to say this: Your Royal Highness, you are a lucky man and I know your long life together will be joyful, productive and hilarious. Meghan, so happy for you, friend. Much love," he tweeted. 
Watch Suits Wednesday nights at 9 p.m. EST on USA.