'Summer House' Begins With a Bang
Kyle Cooke from Summer House insists that "summer is supposed to be fun." But unfortunately, previews show he may have a record-screech to his fun this summer.
New relationships, old relationships, and "wedding planning interrupted" threaten to seriously kill Cooke's buzz (and everyone else's in the house). Summer House wrapped last season with a proposal and the engagement between Cooke and Amanda Batula. Cooke was able to convince Batula's parents that he was the right man for their daughter and thankfully for him, she said yes.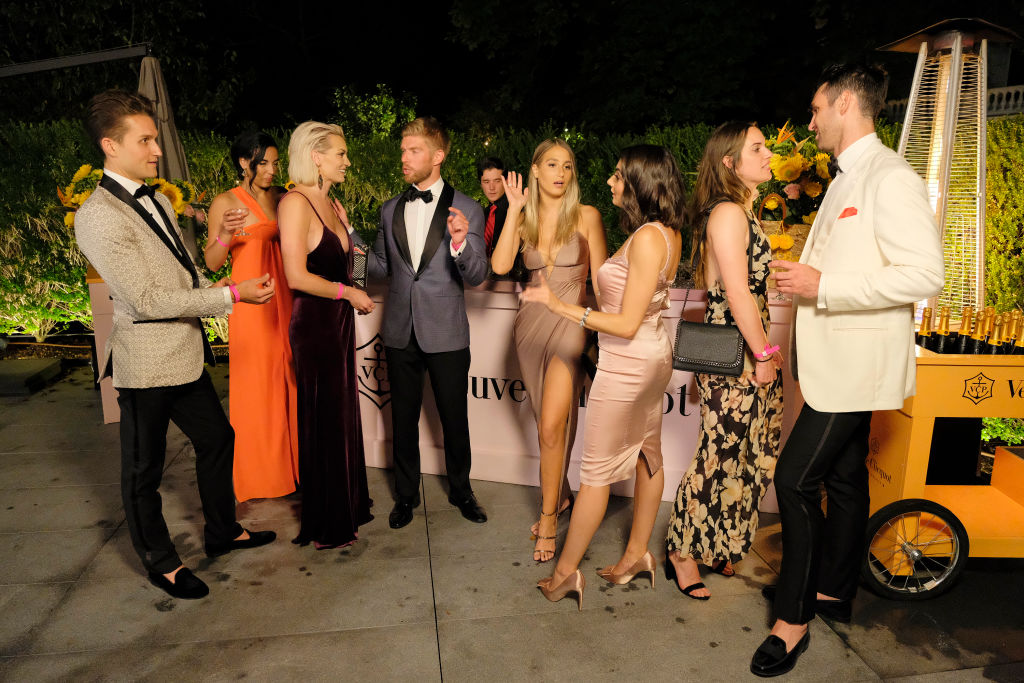 But fast forward to one year later and it appears that the couple is no further along with wedding plans. The first dinner of the summer shows that lingering tensions are still haunting the house as everything falls apart … literally.
The dinner begins with a simple question
Engaged couples are often confronted with questions about wedding planning. Lindsay Hubbard confirms that the last time she spoke to the couple they were planning to get married in the spring of 2020. Of course, wedding preparations don't always go as planned. "It's a sensitive topic just because we found a venue and we booked a date but it fell through so now we're starting from scratch," Batula says while looking over at Cooke.
House members awkwardly grin looking at each other. "I was relieved [but] then I just shut down with wedding planning," she adds. Meanwhile at the end of the table, Hannah Berner and Paige DeSorbo joke about how no one has asked about their wedding. They continue to buzz between themselves, which is clearly starting to irritate Cooke.
"What happened was we had a deposit down we had a date," Cooke said. However, DeSorbo continues to talk over him to Berner joking about the dialog. The two giggle as Cooke shoots them a death stare.
The dinner escalates (shocking)
Cooke tries to explain what happened with planning, but the giggling at the end of the table is too annoying to ignore. "Alright guys, as much as I love your banter," he starts, but Batula urges him to tone it down. DeSorbo shoots back that they were just laughing with each other at dinner. "Don't get crazy about it," she says.
"I wasn't laughing at your wedding, I was laughing at Hannah," DeSorbo adds as the room suddenly becomes uncomfortable. Cameras capture newcomer Luke Gulbranson looking pretty uneasy. Berner says while it is nice Cooke is helping to plan his wedding, she remembers how the couple's relationship "almost blew up in flames" last year. Rumors that Cooke cheated on Batula dogged the couple last summer.
Hubbard tries to take the conversation back on track, but when Cooke sees Batula joking with Berner, he's had enough. That's when Cooke asks the "giggly squad" to be respectful when someone is talking. Of course, this makes Berner laugh harder. Tensions flare as DeSorbo challenges Cooke.
Cooke slams his hand on the table as some of the crew walk away from dinner. As the rest of the group tries to get involved newcomer Jules Daoud's chair gives way as she slowly falls to the ground. "That chair breaking was the answer to my prayers," Daoud told Showbiz Cheat Sheet. "I was like, 'I don't know what they're fighting about, let's try to escape.' And then the chair breaks. It was the perfect escape."