'Sunday Today' Host Willie Geist and Wife Christina Prioritize This Over 'Date Night'… For Now
Willie Geist has a lot on his plate. Serving on MSNBC's Morning Joe, hosting Sunday Today, and pinch hitting on the Today Show, Geist also happens to be a devoted family man. He often speaks of his wife Christina and two children, Lucie, 12, and George, 10, on the air.
Geist met his wife in middle school 33 years ago, and the two tied the knot in 2003. The journalist often credits Christina on their balancing act between career and home, where they have learned to work as a team.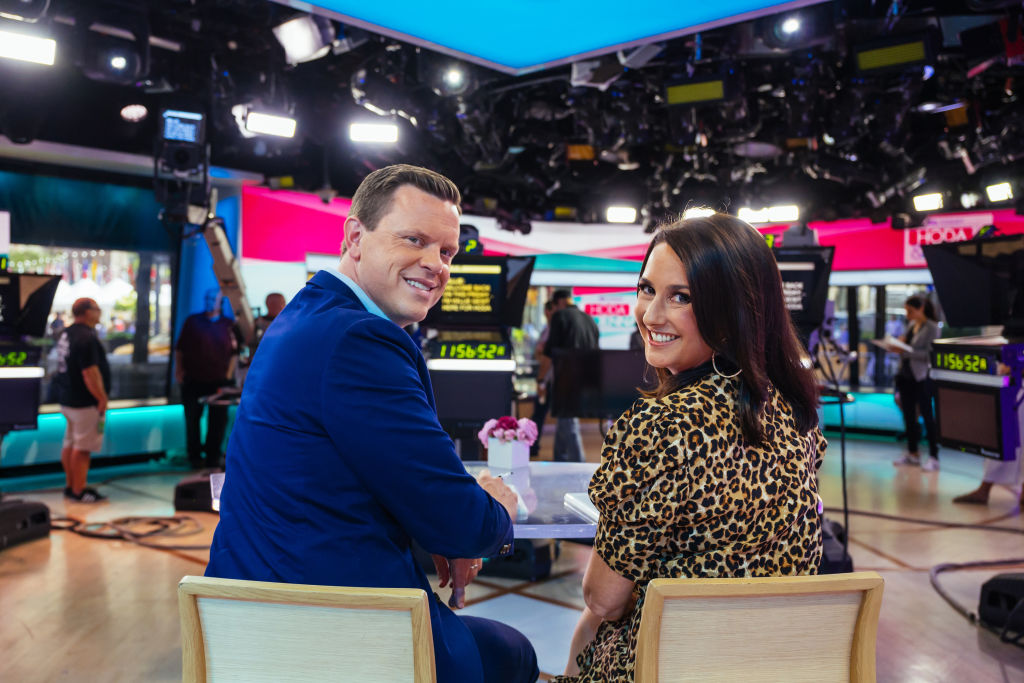 An ambitious journalist
Geist started his journalism career covering sports at CNN Sports Illustrated. In 2007, he was named co-host on MSNBC's Morning Joe with Joe Scarborough and Mika Brzezinski, then began sitting in for Matt Lauer on the Today Show in 2010. He was named as a contributing co-host of Today in 2012, then offered the role of permanent host of Sunday Today in 2016.
When he was first approached about heading the Sunday morning program, Geist took Christina on a ski trip to discuss the opportunity with her, knowing this new role would add to his already long list of responsibilities.
Thankfully, she was on board, though she apparently misses a more normal schedule at times. According to Variety, Geist shared that Christina will sometimes ask, "Why are we going to bed at 9 p.m. on Saturday night again? What happened to our social life?" For him, he relishes the added pressure. "I'm an add-to-the-plate kind of guy," Geist said. "I don't have to choose, and so I won't until they force me to."
Then comes baby – And another baby
Geist recently shared that shortly after he began his MSNBC post, a new family member came along. "I started doing Morning Joe in April 2007, and our daughter was born in June of 2007. So I've been getting up in the middle of the night ever since we had kids," Geist told Glamour. "It was harder back then, for obvious reasons, especially when we had a second child and I was walking out at four in the morning and Christina had a crying baby in her arms and one tugging at her leg."
The Sunday Today host credits a strong partnership with Christina to being able to manage such a hectic schedule. "We've always had an agreement: Christina has the mornings, and I'm around at night. My kids' memories of me will hopefully be having dinner with them, reading them books, and being there for bath time when they were babies," Geist said. "And we also cover for each other. It will be like, 'I have this thing tonight, can you pick up the kids?' I'll get Outlook invites from Christina telling me I'm picking up from ballet today, and I'm like, 'Okay, it's in the calendar.' You have to pull your weight."
Christina added that it's not a contest of who has it worse. "Another piece of it is not keeping score. If you're comparing who has it rougher right now, that's a losing game," she said.
Putting a hold on date night … temporarily
The couple also reached a decision at one point for Christina to resign from her job so she could be at home with the kids full time. "Sometimes you have to look your partner in the eye and wave the white flag. We did that when the kids were three and one," she revealed. "Willie started doing an even earlier TV show [that began at 5:30 in the morning], and we'd just had a second baby. I made it through that first year, returning to work after maternity leave—but by the time the babies were three and one, I looked at him and said, 'I'm going to quit.'"
Though Christina, who has recently become a bestselling children's author, enjoyed her career, she knew that making the change would better serve her family. "I was at Johnson & Johnson, in a great job and a really creative environment, but it was too much," she said. "We have this dynamic where it was just the two of us in that moment being like, 'Okay, let's make this decision right now, and we'll adapt to it with each step.'"
Christina also shared that she and Geist realize certain phases of life they go through are temporary, so they are able to sometimes put things on hold knowing they will soon get that time back. "This is a long game. We've been partners in life since such a young age since—long before having children or having the careers we have now—and we'll be partners on the other side of it," she said. "So we're able to stop each other and appreciate these phases. Like the fact that we're in a sweet spot with the kids where they actually want to hang out with us. So right now we're prioritizing being with them over 'date night.' I can look backward and appreciate how far we've come, and I can look forward to all the chapters that are coming down the road."