Super Bowl Halftime Show: Big Boi's Fur Coat Has Some Fans Seriously Upset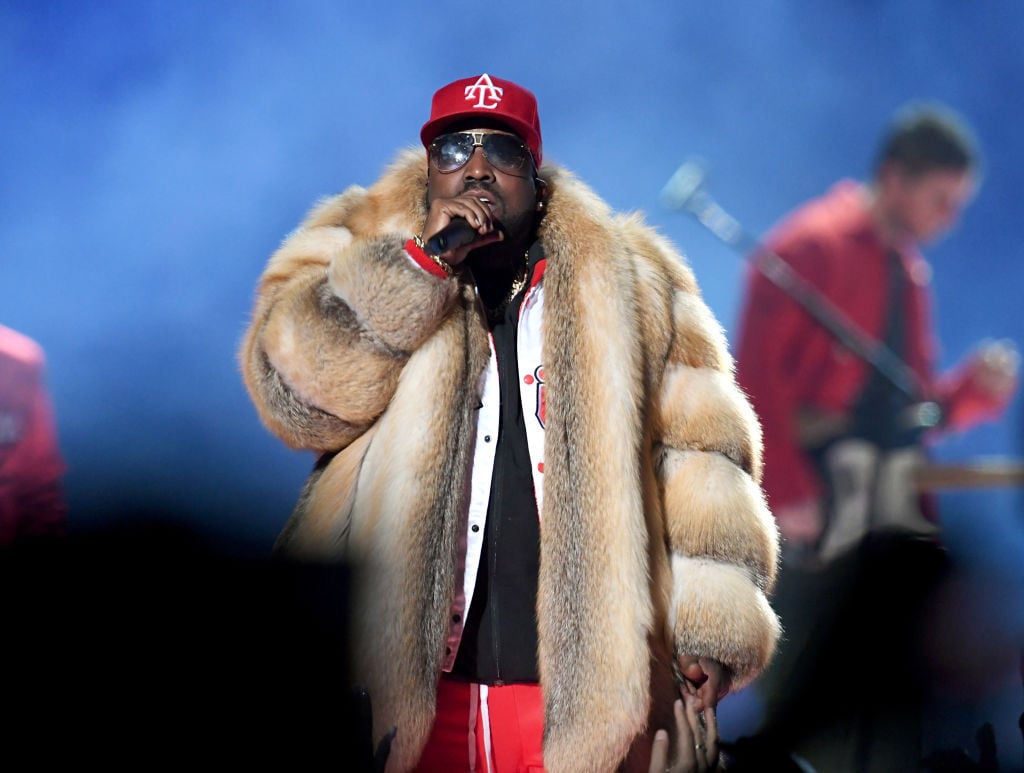 Big Boi's performance at the Super Bowl halftime show has fans in an uproar, though maybe not for the reason you expect.
Before the show, the Atlanta rapper faced criticism for agreeing to perform at an event that many artists had shunned because of the way the NFL has treated quarterback Colin Kaepernick. The lawyer for the former 49ers player even accused Big Boi and the other artists involved in the show of "crossing an intellectual picket line" by agreeing to perform.
But on the day of the game, it was Big Boi's clothes that had fans outraged — particularly his fur coat.
Critics are calling Big Boi's fur coat "horrifying"
Big Boi made a dramatic entrance at the halftime show, riding onto the field at Mercedes-Benz Stadium in a vintage Cadillac convertible before performing Outkast's hit song "The Way You Move." Some people called his single-song performance the highlight of an otherwise lackluster Super Bowl.
But not everyone was thrilled with the large fur coat the rapper donned during his performance. PETA — People for the Ethical Treatment of Animals – took Big Boi to task for his choice of clothing.
"If animals have to be murdered for your coat, just choose something else for fox sake," the organization tweeted. A second tweet read: "Hey @BigBoi! The way you move is horrifying when animals have to DIE for your outfit."
Other people quickly echoed PETA's criticism. Doctor Eugene Gu, who's known for his politically charged tweets and for suing Donald Trump for blocking him on Twitter, called Big Boi's decision to wear the coat "absolutely inhumane and disgusting."
He wasn't the only one speaking out.
As soon as Big Boi appeared wearing the coat, some predicted (correctly) that it would spark outrage from PETA.
Not everyone was outraged by Big Boi's look, though.
Big Boi has not responded to his critics.
Big Boi wasn't the only target of PETA's criticism
In addition to voicing disapproval of Big Boi's fur coat, PETA also criticized Budweiser for showing "outdated and cruel modes of transportation" in an ad that featured a horse-drawn wagon and a Hyundai ad that mocked vegan dinner parties.
In the past, PETA has tried to run its own ads during the Super Bowl. A 2016 spot was banned for being too racy, as was a 2009 ad. In 2014, the non-profit protested the fur coat NFL legend Joe Namath wore at the Super Bowl.
PETA did have kind words for those athletes and performers who've embraced a plant-based lifestyle, including vegans Chloe x Halle, who performed "America the Beautiful" before the game, and players Tom Brady and Todd Gurley, who eat plant-focused diets. The group also praised Brady's wife Gisele Bundchen "who knows fur belongs on animals, not on runways." Before the game, PETA handed out free vegan wings to promote meatless diets.
Read More: How Much Is Maroon 5 Getting Paid to Play the Super Bowl Halftme Show?
Check out The Cheat Sheet on Facebook!