SuperM Fans Are Curious After SM Entertainment Meets With Marvel
SuperM, assemble! Known as the Avengers of K-pop, it looks like the collaboration between Marvel and SuperM could be on its way. On Nov. 20, SM Entertainment met with Marvel and some fans think the meeting involved SuperM.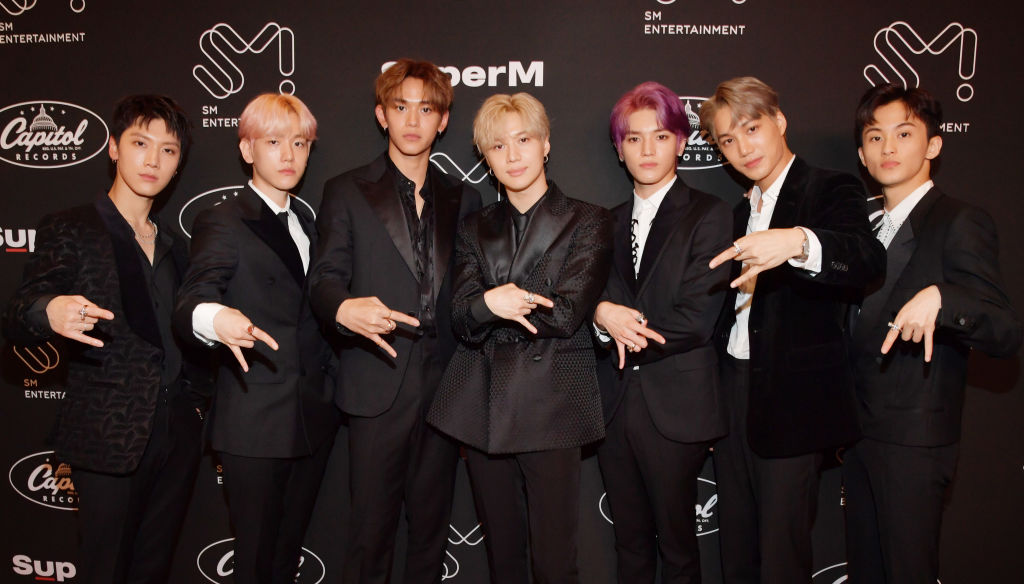 SuperM are the Avengers of K-pop
SM Entertainment and Capitol Records announced the formation of SuperM in August 2019. From the group's inception, SuperM was hailed as the Avengers of K-pop. This is because all of the members from SuperM come from already-established K-pop groups with SM Entertainment.
"We're maintaining their groups, their solo careers, and on top of this we have this 'Avengers' group to pull them together," said Chris Lee, an executive at SM Entertainment. "There's already an Iron-Man, a Thor, etc; and just like how the Avengers can have their own successful movies, there is a different kind of energy when they are together as the Avengers."
Later in September 2019, SM Entertainment founder Lee Soo-man spoke at the World Knowledge Forum in Seoul. He revealed that not only are SuperM called the Avengers of K-pop, the group plans to collaborate with Marvel.
"Starting with SuperM, we are slated to work on a collaboration with Marvel," he said. "I'm not sure how exactly that collaboration will work, but we will work on making a story with SuperM, and with the Marvel Story, to make songs that everyone can sing."
SM Entertainment recently met with Marvel
SuperM released their debut EP on Oct. 4, 2019 and embarked on a tour in the U.S. later in November. Their first tour resumes on Jan. 30, 2020 in San Diego and concludes in Vancouver on Feb. 6, 2020.
On Nov. 20, SM Entertainment met with Marvel. While SM Entertainment manages several K-pop groups, fans were quick to assume the meeting was in relation to SuperM.
Other fans speculated the meeting could have involved EXO after Marvel comic book writer Aaron Stewart-Ahn tweeted that his upcoming Thor issue featured a K-pop group inspired by EXO. However, Stewart-Ahn told fans the band in the comic is not named EXO.
"Whoa this blew up, just to be clear for EXO-L's, I'm lead writer on an official Thor story for @marvel & @serialboxpub, yes it does have an intergalactic K-pop concert inspired by an EXO show I went to, but I left the band unnamed – just know I'm an EXO-L too thanks to @suveol," he tweeted.
Fans wonder what the Marvel and SuperM collaboration will be
On social media, fans became the human form of the eyes emoji as they wondered what SM Entertainment and Marvel discussed in the meeting. Some fans think SuperM could appear on the soundtrack of a Marvel movie, while others think the SuperM members could make a cameo in a film.
"OKAY IT'S HAPPENING GET READY TO JOP FELLAS," one fan tweeted.
"Plot twist: they're the new Avengers line up," wrote a Twitter user.
"When SuperM was having their Q&A during their debut they were asked the question 'if you could star in any Marvel movie, which would you want to star in?' In which Ten replies, 'I want to play myself in the Marvel. Please cast me as one of the Avengers..,'" a fan speculated on Twitter.
While any sort of collaboration has the possibility to be awesome, a SuperM cameo in a Marvel movie would have everyone ascending. It could give Mark a chance to embrace his Spider-Man dream or let Ten actually star in a Marvel movie. Just imagine SuperM teaching a Marvel superhero or villain how to jop.
"I want there to be a marvel scene where it's a superm concert and an avenger falls in the middle of the stage during jopping before flying out," one fan tweeted.