SuperM Partners With Korean Air and Safety Videos Have Never Been More Exciting
SuperM just took flight safety to a whole new level. The K-pop group appeared with fellow SM singer BoA in Korean Air's new safety video. Going forward, the video will be featured in Korean Air flights for passengers.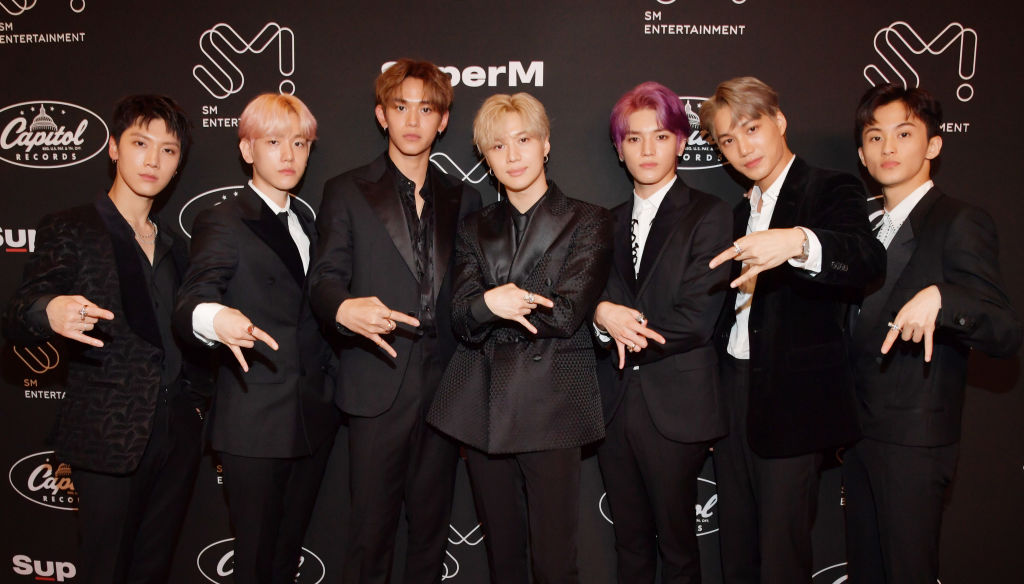 The Korean Air safety video is also a SuperM music video
The new partnership between Korean Air and SuperM puts a sci-fi twist on classic instructional videos. In the video, the members of SuperM board a futuristic plane as BoA narrates safety instructions. The scenes of the safety instructions are interspersed with SuperM performing the song "Let's Go Everywhere."
In the safety video, SuperM dances to "Let's Go Everywhere" while wearing white flight suits. Ten and Lucas work out to show how to use a plane's oxygen masks and Lucas raps safety instructions to kids. Taeyong and Mark play on electronic devices while Taemin shows how to properly buckle a seat belt. When not dancing, Kai and Baekhyun are seen sitting in their seats as BoA recites instructions.
Korean Air posted a description of the partnership on the YouTube video's page, writing, "We're proud to launch our new Safety Video, the first project presented by Korean Air and SuperM! Have you ever wondered what Korean Air's airplane might look like in the future? Well, now you can take a ride with SuperM on Korean Air's airplane of the future. Settle in and watch the in-flight safety video presented by global K-pop group, SuperM!"
SuperM fans liked the video
After the video premiered on YouTube on Nov. 4 in South Korea, SuperM Supporters posted about the partnership on social media.
One Twitter user wrote, "Korean Air x SuperM Now this is the kind of safety video I will watch. So fun! And the song is pretty catchy too! Let's go everywhere!"
"i can't wait to go to the superm concert in two weeks and listen to my favorite song, 'Korean Air Safety Video,'" one fan joked on Twitter.
"About to book Korean Air back home so I can fly on the Superm plane to see Superm in LA in Feb, wow this flex," a fan tweeted.
SuperM's song 'Let's Go Everywhere' comes out on Nov. 18
If the instructional video was not enough, SuperM will release a full version of "Let's Go Everywhere" on Nov. 18. The song will not be part of SuperM's recent album. Instead, proceeds of the song will be donated to Global Citizen.
SuperM also became global ambassadors with Korean Air. The group announced the news on their social media accounts. The announcement included photos of the group with a Korean Air plane that has the SuperM members on it.
The group tweeted, "We have been appointed as the global ambassadors of Korean Air! Stay tuned for our project song 'Let's go everywhere' in our Korean Air x SuperM Safety Video, being released on Nov. 18!"
After the announcement, fans congratulated SuperM for how quickly they have risen since their October debut.
"I HAVE NEVER SEEN SUCH LEGENDRY IN SUCH A SHORT AMOUNT OF TIME, YALL ARE THE IT BOYS," a fan tweeted.