SuperM Releases Teaser Trailer and Concept Photos for Taeyong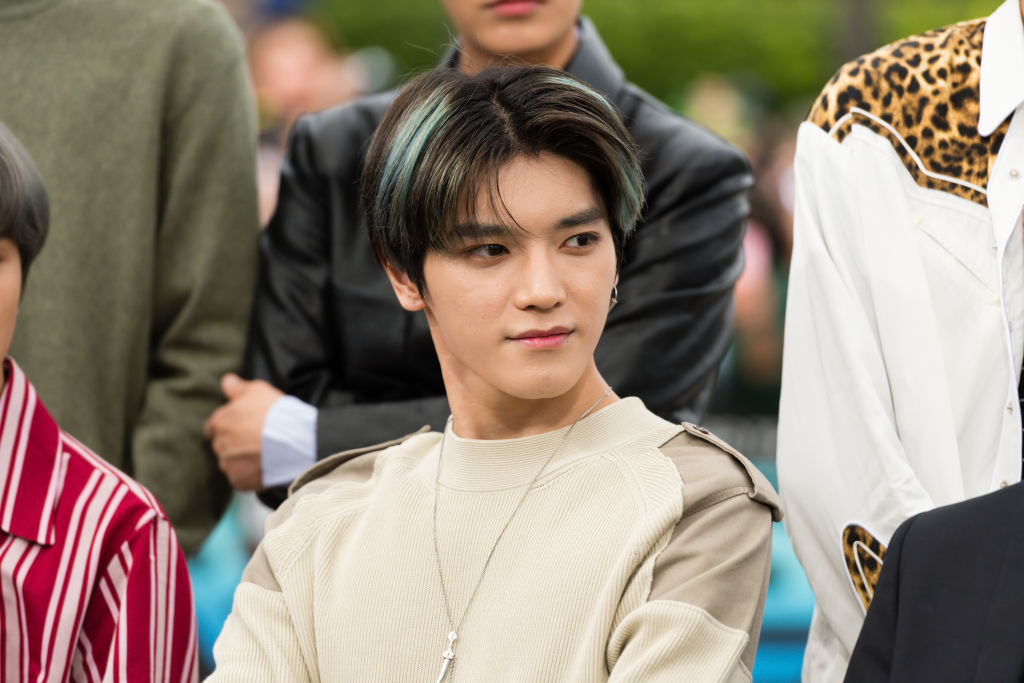 The new K-pop group SuperM debuts on Oct. 4, 2019. On Sept. 1, 2019, SuperM released the first set of teasers for one of the members, Baekhyun. The group plans to release multiple teasers about each member before the album drops. On Sept. 6, 2019, SuperM released a teaser trailer and concept images for Taeyong.
Taeyong has the power of replication in the SuperM teaser trailer
In Baekhyun's trailer, the singer sits in a lab as a robot circles around him. As the trailer goes on, the tech around him becomes more advanced. The trailer alludes that Baekhyun has telekinetic powers.
Taeyong's teaser trailer has the same futuristic feel as Baekhyun's trailer. It opens with Taeyong waking up in a patch of grass surrounded by candles. That scene alternates with scenes of Taeyong watching from the seat of a movie theater. Another Taeyong wakes up in the patch of grass, and the original Taeyong points a gun at him.
Then all of the members' names appear, but only Taeyong and Baekhyun's names are highlighted with white font. This signals Lucas, Ten, Taemin, Kai, and Mark will have trailers released soon. At the end of the trailer, a theater full of multiple versions of Taeyong clap.
Because SM Entertainment references SuperM as the "Avengers of K-pop," fans speculate that each member of SuperM has special powers in the trailers.
"SuperM – 7 members with unique individual powers Baekhyun: Telekinisis/Technokinesis (the ability to control objects and technology with your mind) Taeyong: Replication (the ability to replicate yourself, but only by manifesting one's emotions as separate entities)," theorized a fan on Twitter.
SuperM released concept photos of Taeyong
SuperM also released multiple concept photos of Taeyong. In NCT 127, Taeyong is the leader and is a vocalist, main rapper, and main dancer. He is one of the most recognizable and popular members of the group. After the release of the trailer and photos, Taeyong fans expressed their excitement for his upcoming work in SuperM.
"congratulations superm to be the next kpop group to have lee taeyong as a member," wrote a Twitter user.
"superm taeyong can steal my lunch money and push me in a locker thanks," wrote another.
Some fans are worried about Taeyong
While some K-pop fans are happy about the formation of SuperM, others are worried about what the group means for the members. Because all of them come from previously established K-pop groups, fans of WayV, EXO, and NCT 127 do not know how those groups will be affected. Taeyong is a member of NCT 127, and some fans worry he is being overworked.
"taeyong haven't slept for 24 hours now. he's not getting enough rest. i don't hate superm but i guess taeyong debuting in this group isn't really a good idea. but i hope he gets to rest though before debuting," wrote a fan on Twitter.
Even though fans are worried, others expressed they will support SuperM as a way of supporting their favorite artists.
"He's composing in the studio He's preparing for superM He has schedule for NCT127 He's juggling everything and not having enough rest.. We got a lot of content, but we forget that Taeyong is a human too. The least we can do is to show our support for his endeavour," wrote another.