Supermodels Reunite for Gianni Versace Tribute Show | See the Photos Here
Supermodels from the 90s whose careers were boosted by Gianni Versace reunited for a fashion show in Milan Friday. Hosted by Gianni's sister Donatella Versace, models Carla Bruni, 49, Claudia Schiffer, 47, Naomi Campbell, 47, Cindy Crawford, 52, and Helena Christensen, 48, sported gold slip gowns in a tribute to the late fashion designer who was murdered 20 years ago.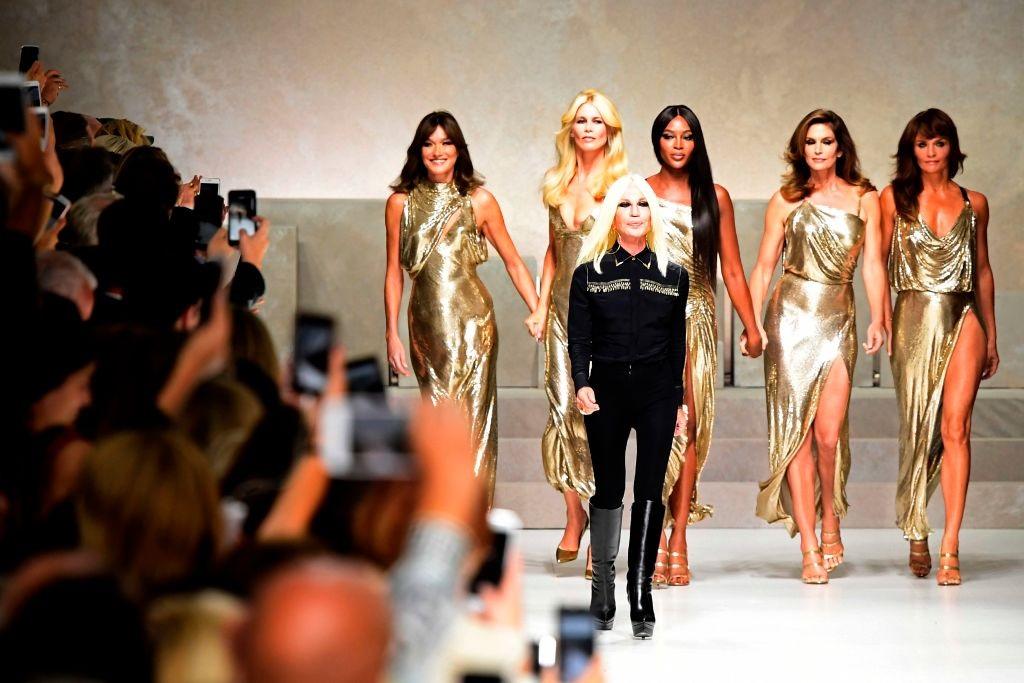 In a nostalgic throwback to 1991, the models walked down the runway hand in hand to George Michael's song "Freedom."
Clips from the show were posted on Twitter, showing the models in different styles of long shimmering evening dresses and heels, walking behind Donatella, who was dressed in a black pants ensemble with gold accents and high-heeled black boots.
Naomi Campbelll, Claudia Schiffer, Cindy Crawford, Carla Bruni, Helena Christensen, strutting the @Versace runway one more time #MFW pic.twitter.com/8D9qBVPU4V

— Vanessa Friedman (@VVFriedman) September 22, 2017
The scene was surely inspired by the iconic, similar moment when Campbell, Crawford, Linda Evangelista, and Christy Turlington walked together on the runway to the same song in 1991. Each model wore either a red, yellow, or black short dress in the fun walk down the runway, where they walked arm in arm at the end, smiling and singing along to the lyrics.
Incidentally, both Campbell and Crawford had starred in the music video for the hit song.
Campbell had told Huffington Post in 2015 that walking the runway with the group from the famed 1991 stint would likely just be a once-in-a-lifetime moment. "Getting to walk down the runway with Linda and Christy and Cindy — that's something that will never happen again, unless Donatella [Versace] says 'I want you all back together again.'"
Well, Friday she did get her wish – sort of, in reuniting with one of her besties from the 90s catwalk: Crawford.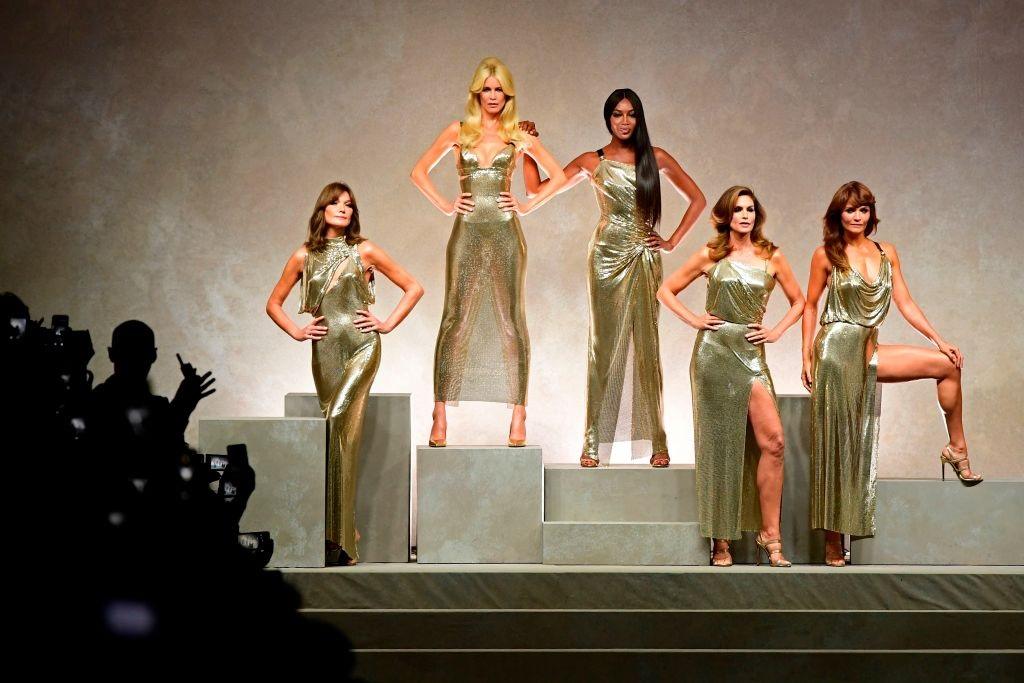 Campbell posted a snap on Instagram of the golden-clad models posing with Donatella at the event Friday, captioned, "Words cannot describe this moment# congratulations !! @donatella_versace Amazing show !!! Thank you for bringing us all together again. I LOVE YOU ❤️❤️❤️"
Friday's iconic runway remake closed out Milan Fashion Week.
Gianni Versace was tragically murdered in 1997. His Italian fashion brand was founded in 1978.