'Supernatural' Fans Should Expect 'To Lose People' in Show's Final Episodes
Supernatural, The CW's long-running series about two brothers who hunt monsters, starts its 15th and final season next month and fans can expect the Winchester boys, Sam (Jared Padalecki) and Dean (Jensen Ackles), "to lose people." Learn how the series managed to stay on the air for more than a decade and why the show's stars think it's time for the show to end. 
Warning: spoiler alerts about how Season 14 ended ahead. 
In a TVLine article about fall TV previews, Supernatural showrunner, Andrew Dabb, revealed some plot points for Season 15. After learning that God aka Chuck Shurley, played by actor Rob Benedict, had been manipulating in Season 14, Sam and Dean face an "existential crisis" in the show's final season.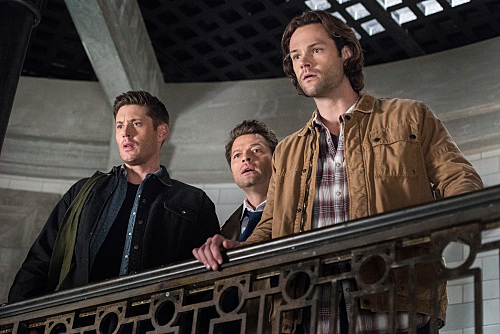 Sam and Dean will 'lose people' in Season 15
"They're realizing, 'Well, we're the Winchesters, but were we really doing this Chuck's way?'" Dabb said before adding, "Part of reclaiming that agency is a big part of the season for them."
"[They're] going to start to lose people who, in past seasons, we would've never lost – and lose them in a very real way," Dabb said. 
While Sam and Dean grapple with that information in Season 15, they're also losing people close to them, the showrunner revealed.
Does that mean the brothers will lose their friend and confidant, Castiel (Misha Collins)? Only time will tell. Learn why Collins called filming Season 15 "painful." While we don't know for sure who the brothers will lose from their lives, it's safe to say it'll be sad. Have tissues at the ready.
When the Winchester brothers lose people close to them, they're going to have fewer people in their corner to count on to get them out of a jam. 
Dabb continued, saying the brothers will have to learn to do without.
"Our guys are going to realize there's a certain finality, and some of the things they've relied on to get through the day — people, talents, things like that — they are no longer going to be able to roll out. And that's going to throw them for a loop," he said.
Other characters will return
While Ackles and Padalecki's characters will lose people, others who met their end in previous seasons will reappear in Season 15, Dabb said.
Sam and Dean's half-brother, Adam, played by Jake Abel, will make his return as well as Amara, God's sister, played by Emily Swallow. Actress Shoshannah Stern will also return to the series as a fellow hunter, Eileen, who died in previous seasons.
Some things fans can expect in Season 15
Fans shouldn't expect Alexander Calvert, who played the character of Jack, a Nephilim or the offspring of an angel and a human, according to the show's Wiki on Fandom, to return right away.
"He's not coming back in the near future," Dabb said referring to Jack.
And the deal Castiel made to save Lucifer's offspring will cause drama in Season 15. "When The Empty becomes more active, a lot of things are going to come to a head," he revealed. 
Season 15 of Supernatural premieres on The CW Thursday, Oct. 10 at 8 p.m. EST.