'Superstore': 5 Reasons to Watch One of the Most Underrated Shows on TV
If you haven't joined the Superstore train, now's the time. The NBC comedy that highlights the glamorous life of working retail in a fictional big-box store, Cloud 9. The show is, at its foundation, relatable in the most humorous of ways. Here's why you should check it out.
The diverse characters are each comedic in their own way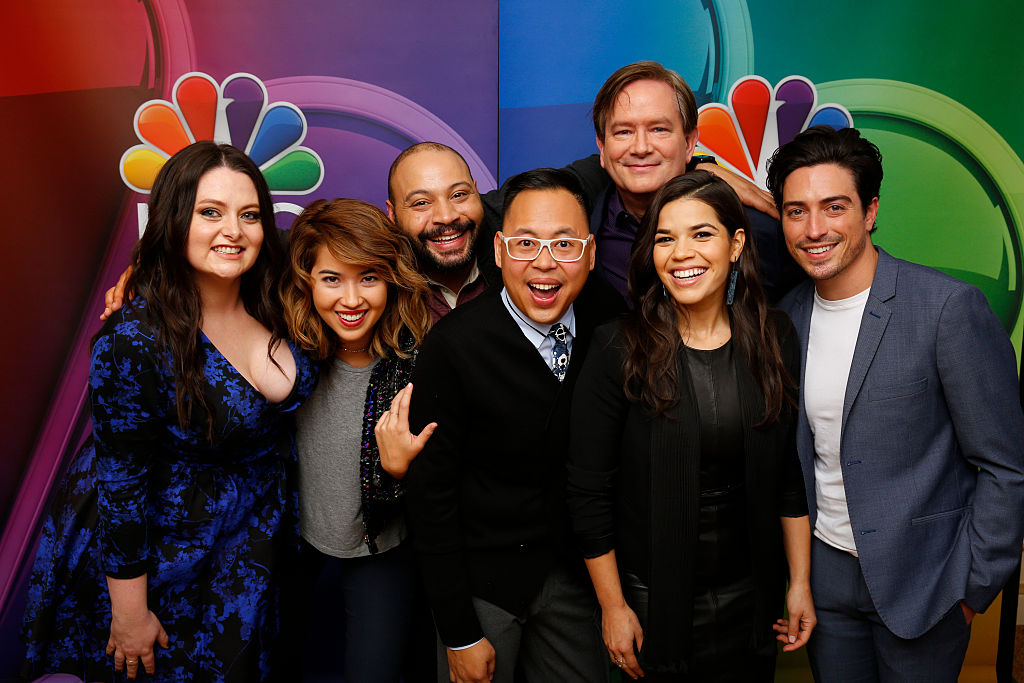 Much like some of the most memorable characters in TV history (The Office, Seinfeld, Friends), Superstore brings together a diverse group of people not typically seen on shows these days. The rep is refreshing, bringing a sense of realness to each character.
The show follows Amy (America Ferrera), Jonah (Ben Feldman), Mateo (Nick Santos), Garrett (Colton Dunn), Cheyenne (Nichole Bloom), Sandra (Kaliko Kauahi), Dina (Lauren Ash), and Glenn (Mark McKinney).
The Cloud 9 employees work in a Walmart-esque store, with Target as their main competitor.
There are some pretty stellar supporting characters, too. Never forget Cheyanne's boyfriend, rapper, Bo (Johnny Pemberton), Superstore employee with the giant back tattoo, Marcus (Jon Barinholtz), and so many more.
If you give the show a chance for no other reason than to dissect each of the characters, that's good enough.
The everyday shenanigans at a big-box store are worth exploring
Executive producer, Justin Spitzer, who wrote for NBC's The Office for seven years, knows how to make a regular job look funny. He told Vox ahead of season 2 the balance of highlighting jobs like those at Superstore.
"Not a lot of shows have explored it," he said. "So many shows — comedies and dramas — have been about escapism. Others, I don't know if the word "romanticizing" is exactly right, but just this idea that people want to watch shows about white-collar lawyers, even though the friends they have who are lawyers are miserable."
He continued: "So, yeah, on Superstore, we didn't want to do that. When I first met with America to talk about the show, we talked about how we both loved Roseanne in the day, and why aren't there more shows on network [television] set in that world."
Another interesting aspect of Superstore is the way the show breaks each scene by showing how customers behave in a big-box store.
Whether it's eating a banana and tossing the peel back into the stand, or destroying company property then walking away, Superstore doesn't shy away from calling those moments out.
Glenn's endless optimism
Glenn, the Superstore manager-turned-employee, could read the dictionary and make it sound interesting. McKinny's trademark voice for Glenn came from wanting to "throw something out there."
McKinny previously spoke to AV Club about the voice saying, "I was trying to sort of have this pleasant but plodding type of person when I slowed the voice down and let it start to creep up the register it made every line better and better until I arrived at this place."
The romance between Jonah and Amy
Anyone who still covets the Jim and Pam thing from The Office will find refuge in Amy and Jonah. And, just like Jim and Pam, Amy and Jonah's relationship took a while to get off the ground.
Trust us — it's worth the wait.
Dina's tenacity all day, every day
Rarely has there ever been a character so unapologetically bold, unlikable and likable all in the same breath. Dina (Ash) is that for Superstore. Dina is the kind of woman you want on your side, or you'll face her wrath. Plus, we can't ever forget her maternity photoshoot for Christmas cards. Iconic.