'Superstore': Is America Ferrera Like Her Character Amy In Real Life?
America Ferrera may have gotten her start as Ana Garcia in the 2002 film, Real Women Have Curves, but her role as Amy Sosa on Superstore is of the most relatable on TV. Read on to see if Ferrera is anything like Amy in real life, or if it's all a comedic act.
America Ferrera's character, Amy, is a manager at a big box store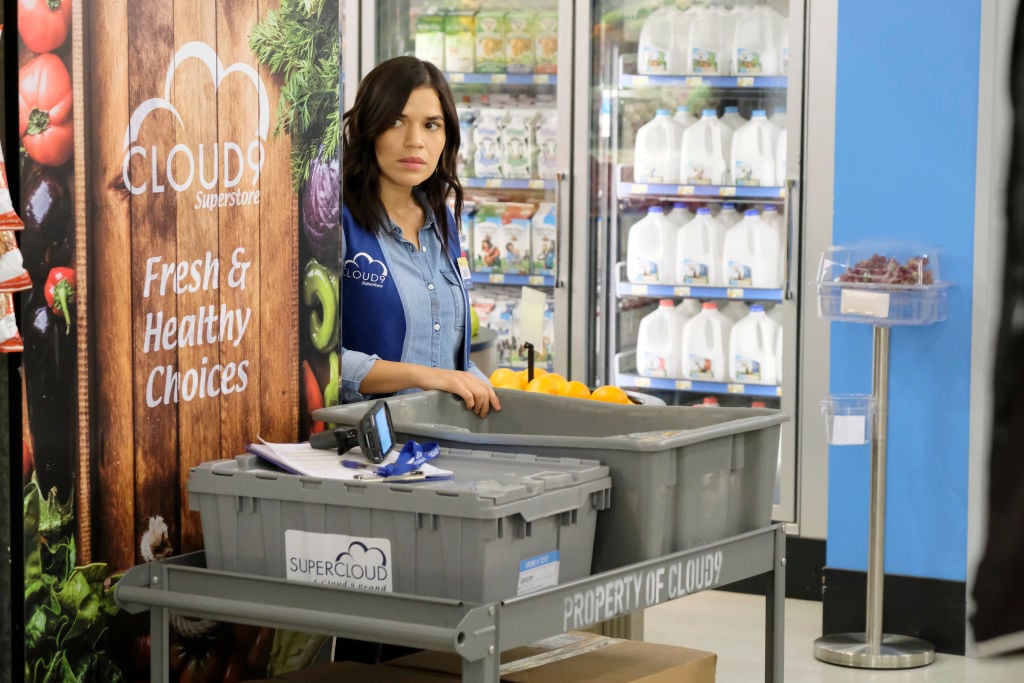 The former Ugly Betty star has a long list of acting credit including The Sisterhood of the Traveling Pants, How to Train Your Dragon, and a plethora of other notable projects.
As one of six children who came to the U.S. from Honduras, Ferrera's connection to her character may stem from the same grit. Though Amy became pregnant in high school where Ferrera did not, their work ethic and determination are similar.
Ferrera took acting classes in high school. After graduation, she attended the University of Southern California, dropped out, then returned to obtain her degree in 2013 (three years after Ugly Betty ended).
Ferrera produced and directed episodes of Superstore. The award-winner, author, and advocate has a drive like that in Amy.
Ahead of season 5, Ferrera told Hollywood Life Amy will continue to be challenged as the manager of Cloud 9.
"She's also figuring out what she ultimately wants for her life. Last season, so much changed for her and the possibilities for what could happen for her, and her life changed."
Ferrera married someone in the same industry — similar to Amy and Jonah's story
On Dec. 31, 2017, the Superstore actress announced her first pregnancy with her husband, Ryan Piers Williams. The likely two met when Williams cast Ferrera in the student film, Muertas.
The film was released in 2007 which means the couple has known each other for well over a decade. According to IMDb, Williams directed, wrote, and starred in the film. They were engaged in 2010 and married in 2011.
The happy couple also worked together in the Tribecca Film Festival nominee, X/Y, and in the Sundance Film Festival nominee, The Dry Land. Ferrera said at the time of the premiere the movie is "his baby."
Ferrera told Latina magazine she and Williams love storytelling and working together.
"And to get to jump into it and know that the person who knows you the best and who has your best interest in mind has your back the whole time. We were able to do that for each other."
Ferrera and Williams aren't that much different than Amy and Jonah except for Amy's initial annoyance at Jonah's presence.
"All of a sudden, ideas of wanting more from her life started to pop up. And we talked about how that would play in," Ferrera said.
"Jonah kind of encourages her to start thinking about what that might be. But, of course, in Superstore fashion, for her to ask for that step up and power is going to come with all the crazy challenges of having to manage people that she's had these long-time relationships with."
She added the on-screen couple has gotten along for a while now, but that's not how she prefers it.
"I kind of love it when Amy and Jonah hate each other, more than when they like each other," she said. "So I'm hoping that I get to hate him more." 
Ferrera said playing Amy is 'liberating'
Ferrera's role of Ugly Betty's eternal optimist, Betty Suarez, is a far cry from Amy Sosa. Executive producer, Justin Spitzer, and Ferrera talked about the "most compelling part" for Amy.
"I just love that Amy doesn't care if you like her," she said. "That's so liberating for a female character to sort of walk around and say, 'I don't need you to smile at me. I'm just trying to get through the day.' And she started in a place of really just trying to survive."
Maybe Ferrera isn't exactly like Amy Sosa, but there's enough there to assume the character is based, at least in part, by Ferrera's same will to thrive.