The 1 Surprising Thing Kim Kardashian West Does For Her Kids Every Morning
Kim Kardashian West loves being a mom. The beauty mogul has four kids, and she and Kanye West have said in the past that they're hoping to have even more. It's hard to believe Kardashian West can balance parenthood and her massive businesses, but she still makes time for her kids every day. And there's one thing she makes sure to do for her little ones each morning.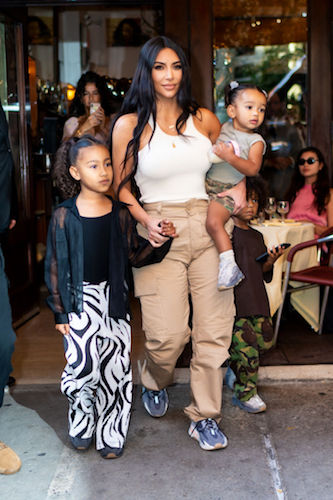 Kardashian West is one busy mom
As though Kardashian West's life couldn't be any more spread out, she and Kanye West added kids to the mix back in 2013. In the mid 2000s, Kardashian West started working as a model and quickly became the most well-known among all of her sisters. She was driving a Bentley even back in the earliest episodes of the show, which says a lot about how long she's had a career. In 2013, she and her husband welcomed their first child; they've had three more kids since, and both have said they will likely have more. But Kardashian West's career has become much more than just modeling. She now owns KKW Beauty, KKW Fragrance, and a shapewear line, Skims.
She often posts photos and videos spending quality time with the kids
Despite all of her responsibilities, Kardashian West still makes sure to spend plenty of time with her kids. She often takes the little ones on trips with her, and North has accompanied her to many outings as she's gotten older. Kardashian West loves to show her kids off on social media. She often posts photos and videos of the four of them, and it shows that while a lot of her focus is on her brands, she never forgets about her family. It's hard to imagine she could welcome more kids, but it's definitely a possibility.
She drives her children to school every day
Surprisingly, Kardashian West is a more hands-on mom than we thought. In her recent Instagram story, Kardashian West was talking about her new Cozy Collection from Skims when she mentioned taking her kids to school. While posing in the Cozy outfit, she commented, ""I wore this to take my kids to school." Of all the things she has on her plate, it comes as a surprise that she'd have time to drive her kids to school. But Kardashian West has always been dedicated to being a mother, and she seems somewhat super human at this point, so maybe we shouldn't be so shocked.  
Despite her growing family, she shows no signs of slowing down
Kardashian West and Kanye West have discussed having more kids, which is hard to imagine with how huge their careers have grown recently. And even with more kids on the brain, Kardashian West isn't slowing down. She continues to release new collaborations and products for her brands, including the brand new Skims Cozy Collection (which we are dying to try, by the way). And with the tensions rising on KUWTK, some have grown concerned that the women might soon end their show. But even if that happened, Kardashian has had so much success as a business woman that the lack of reality television income probably wouldn't even phase her.