Surprising Things You Didn't Know About 'Love Actually
It's been more than 15 years since the romantic comedy Love Actually was released in theaters. The film, which focuses on 12 stories of love and heartbreak, raked in almost a quarter of a billion dollars at the box office and has since become one of those movies we all watch again and again around the holidays.
There are plenty of fun facts fans don't know about the movie like that the word "actually" was uttered 22 times by various characters, but there are also some facts that are pretty surprising. Here's a list of those, plus the answer to the burning question we all have about one of the storylines.
Hugh Grant hated filming this scene
One of the most memorable scenes in Love Actually is also one that Hugh Grant hated filming.
The actor played the Prime Minister, David, and had audiences laughing so hard as he danced around his home to The Pointer Sisters' hit song "Jump (For My Love)." In 2016 though director Richard Curtis revealed that Grant didn't want to do the dance and was not only "grumpy" about it but "kept putting off" filming the scene.
Grant later explained what his problem was telling People, "I kept saying to Richard, 'OK, look. I've got the radio on in my room, my bedroom. And I'm dancing, fine. But then I start to dance through the whole of 10 Downing Street. Where's the music coming from? And how does it cut off at the end?'"
Alan Rickman's character was having an affair
For years, fans have wondered if Alan Rickman's character was just tempted to cheat or if he really did have an affair. The director's wife, Emma Freud, previously said it was the latter.
When a fan tweeted, "Did anyone ask if Harry ACTUALLY had an affair or was just tempted to?" Freud replied stating, "DEFINITELY had an affair. I begged Richard just to make it a flirtation, but no. The whole way."
Andrew Lincoln wrote the signs he showed Keira Knightley
Andrew Lincoln, who played Mark and happened to be in love with his best friend's wife, thought he had nice handwriting so he asked if he could write the signs he showed Keira Knightley's character when professing his love to her.
"It is my handwriting," Lincoln told Entertainment Weekly. "It's funny, because the art department did it, and then I said, "Well, can I do it?" because I like to think that my handwriting is really good."
Colin Firth and Lúcia Moniz had to kneel to get this scene right
Remember that scene in which Colin Firth and Lucia Moniz's characters are swimming together in the lake? Well, neither are actually treading water because the lake was only 18 inches deep. Therefore, the pair had to kneel to make it appear that they were in deep water.
Firth also revealed that the lake was infested with mosquitos and he had so many bites on his elbow that it swelled up to the size of an avocado.
These characters don't have much of an age gap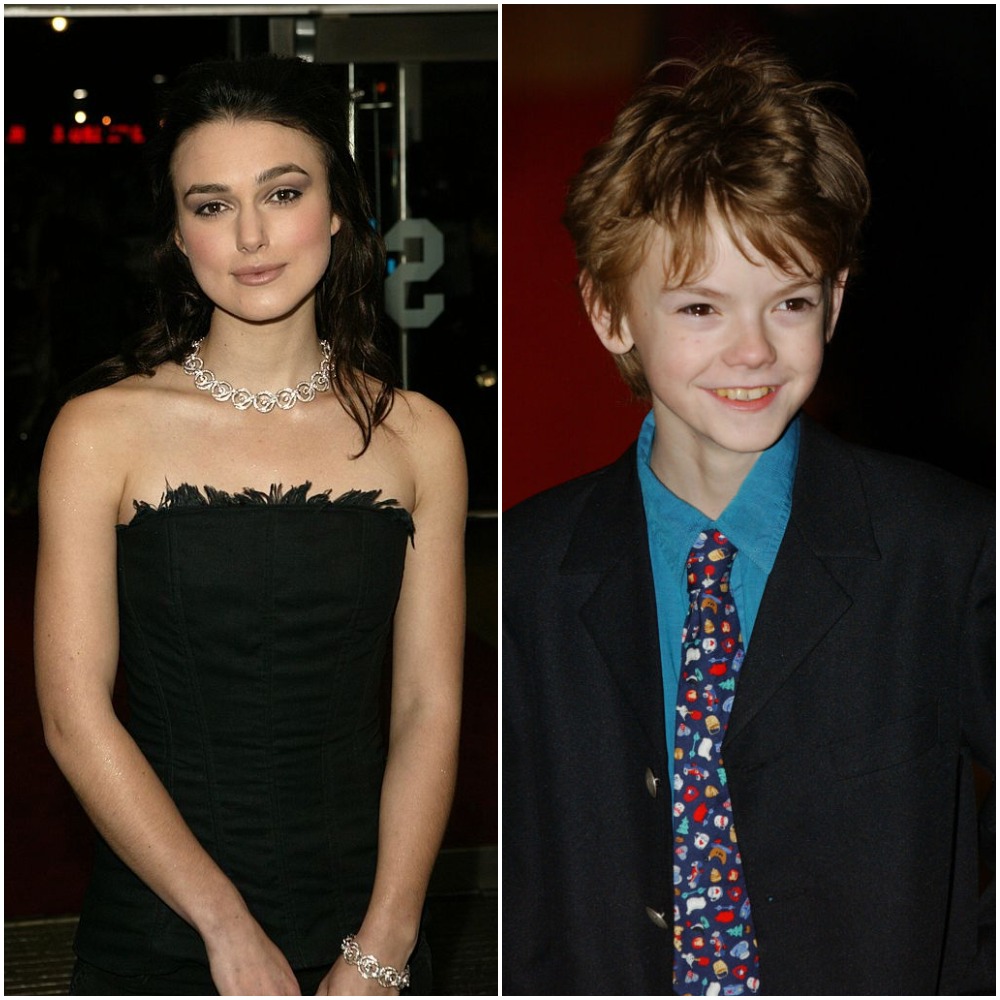 And finally, one of the most surprising facts of all is that Knightley was 18 when Love Actually came out in 2003, making her only five years older than a then-13-year-old Thomas Brodie-Sangster, who played Sam.
Yep, that's right the actress and Game of Thrones star only have a five-year age difference between them. Watching the film then no one would have ever guessed that.