'Survivor 39' Contestants Aaron Meredith and Missy Byrd Bonded and Reflected on Their 'Survivor' Journey
In a double-elimination episode, the two biggest threats, alliance members Aaron Meredith and Missy Byrd, were voted off the island. They arrived in Ponderosa, where they met Jamal Shipman, Kellee Kim, and, for the first time, Jack Nichting.
What did Meredith and Byrd learn from their Survivor: Island of the Idols journey?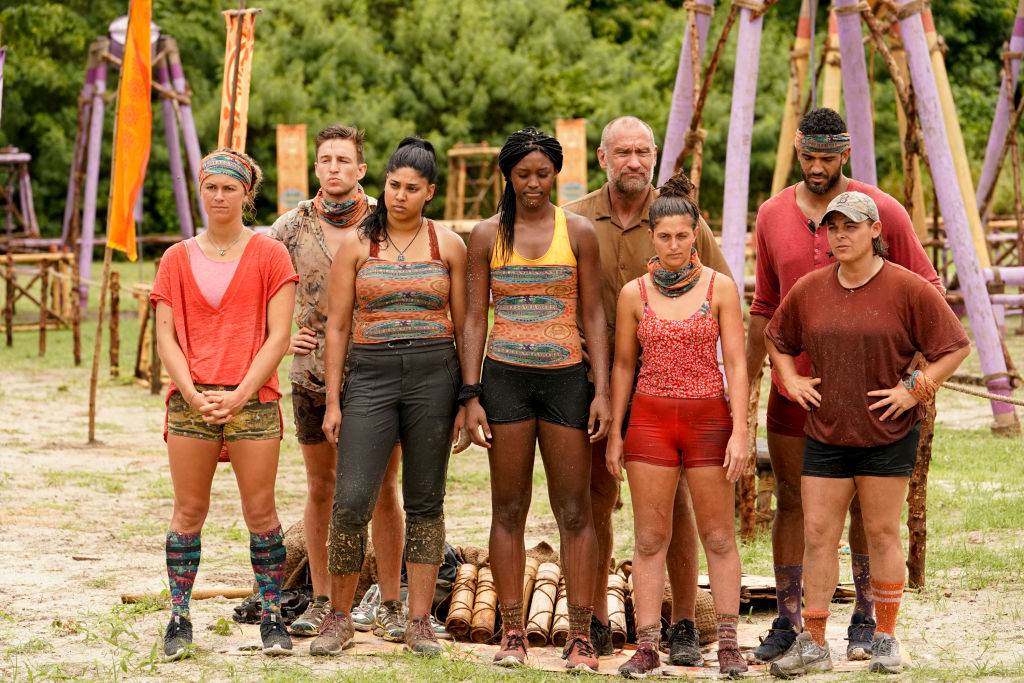 'Survivor 39' Aaron Meredith and Missy Byrd are eliminated
In a new double elimination twist, the contestants were randomly divided into two teams before an immunity challenge. Then, both groups had to go to different islands and attend separate Tribal Councils.
Strong allies Aaron Meredith and Missy Byrd were split up, and neither won immunity. In Meredith's group, the apparent boot seemed to be Jane Carbin. However, Noura Salman convinced the group to vote off Meredith as he was a huge athletic and strategic threat.
In Byrd's group, she and Elizabeth Beisel planned on voting out Tommy Sheehan and wanted to pull Karishma Patel on board. However, the conversation went wrong when Patel felt like Byrd was "bullying" her, resulting in a massive blowout.
The ladies never fixed their issues, and the personal injury lawyer sided against her, sending the veteran to the Jury. After their elimination, Meredith admitted he knew it was coming because he won the two previous immunities.
However, Byrd was blindsided as she felt confident, comfortable, and safe at the Tribal Council.
'Survivor 39' Aaron Meredith and Missy Byrd check weight and enjoy first meal in Ponderosa
When getting medically checked by the doctor after her elimination, Byrd said she could have gone to Day 60 with a reward once a week because it's more of a mental game. The veteran lost 18 pounds and felt like she could have lost a few more.
Meredith also said the food didn't bother him as much because he prepared for it, but admitted the elements and sleeping in the rain were tough. He lost 25.1 pounds, which he correctly guessed before weighing himself.
While Meredith was looking forward to food and a shower, Byrd wanted to return to the island and get back in the game. The two ordered several entrees off the menu, many of which included lobster, and were greeted by Kellee Kim, Jamal Shipman, and Mayor of Ponderosa Jack Nichting upon entrance.
Unlike Kim and Shipman, who wanted to enjoy every bite, Meredith and Byrd only wanted to talk about the game and figure out what went wrong.
'Survivor 39' Aaron Meredith and Missy Byrd bond in Ponderosa
After eating, showering, and catching up on some sleep, Meredith and Byrd bonded with each other and the other jury members. The two shared hilarious brother/sister moments during their Ponderosa interview, and Nichting commented on their relationship, saying he loves their "dynamic."
For example, Meredith claimed he knew he would go first, and then the veteran would follow, to which Byrd initially tried to argue against before eventually agreeing.
Although Byrd still wants to compete, she's happy to get to know the "human" as opposed to "character" versions of the other jurors. Meredith, who's a personal trainer, gathered everyone in the gym to work out, which he appreciated as fitness is clearly important to him.
Aaron Meredith and Missy Byrd reflect on their 'Survivor' journey in Ponderosa
Before arriving at Ponderosa, Meredith already made peace with his Survivor experience and how he played the game. During his reflection, he noted that trials must happen to "truly appreciate things in life."
Meredith said he's "proud" of himself for not getting upset over his elimination and still enjoying the beautiful sights in Fuji. During Byrd's reflection, she said that even though winning was the most important thing to her, "coming home to a family" was second on her list.
After her elimination, Byrd believes she has a family in Meredith, Elizabeth Beisel, and "maybe" Elaine Stott. She elaborated, explaining that the losses they experienced on old Lairo "bonded them in a way" that they will stay in her life forever.
Watch Survivor: Island of the Idols Wednesdays at 8 p.m. EST on CBS.