'Law & Order: SVU' Launches Podcast Called 'Squadroom'
Law & Order: SVU has broken into new territory with its very own podcast called Squadroom. The new venture was created by NBC and Dick Wolf's company, Wolf Entertainment. Anthony Roman hosts the brand-new podcast that will premiere new episodes every week after the East Coast premiere of SVU and include exclusive insider details from the cast and writers themselves. Fans of the show can experience the 21st season of SVU in a new way.
The first episode features Mariska Hargitay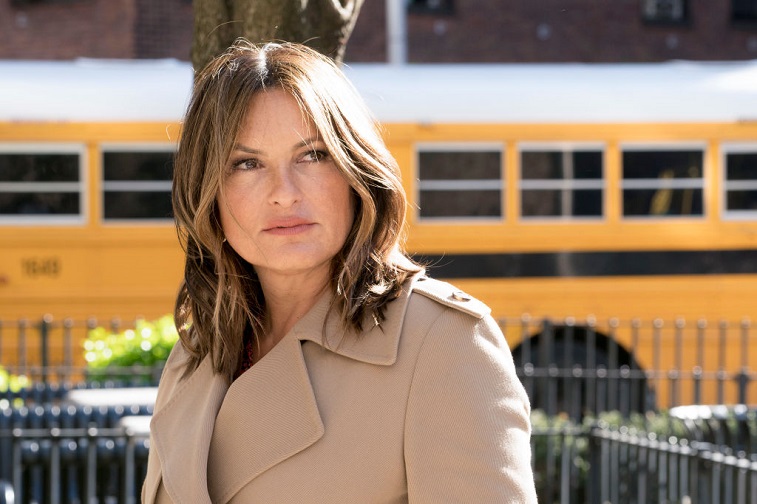 The very first episode features Mariska Hargitay herself, who plays Olivia Benson on the hit series. Showrunner Warren Leight joins her and Roman in the premiere episode. That isn't all because Peter Scanavino, who plays Sonny Carisi, also talks about his character's new change on the show.
Roman asked Hargitay right off the bat why she thinks the show is successful and why fans love it so much. It's a series like no other that resonates with viewers. SVU shows the detectives getting justice for the victims and advocating for their rights.
"I think that the first thing is, is that we deal with subject matter that has historically been swept under the carpet. I think that one of the favorite things about the show is we shine a light on issues that are historically icky and people are understandably afraid of. And I think that we deal responsibly with the subject matter. And we deal with very delicate subject matter with care and with compassion," Hargitay says. "We keep the show survivor-centric."
This isn't NBC's first podcast launch
The new take on SVU joins NBC's The Good Place's podcast, which is in the same vein. NBC also offers a variety of other shows through podcasts, including Late Night with Seth Meyers and American Ninja Warrior. Each show takes a unique look on each series.
"We are always looking at new and exciting ways to collaborate with the Wolf team, and an official podcast felt like the perfect format for a popular and long-running brand like SVU," says the Executive VP of Digital at NBC, Rob Hayes. "We are excited to deliver new experiences and expand the discussion for audiences on a platform that allows them to dive in anytime, anywhere."
NBC and Wolf Entertainment team up
NBC and Wolf Entertainment aren't just stopping with SVU's new podcast. They plan to create additional content together. This new venture is extremely popular with fans who enjoy information about what it takes to make a show like SVU great. Behind-the-scenes bits are always appreciated.
"We've seen on social media that SVU has a huge fan base, and the fans that engage are smart, curious, and crave behind-the-scenes insights," says Elliot Wolf, the Senior Vice President of Digital for Wolf Entertainment. "We thought to give these fans more we could produce a podcast that continues the conversation. They can learn more about the creative process, the actors' work and what makes the show tick."
Squadroom will premiere right after the East Coast premiere of new episodes of SVU. Fans can catch episodes of SVU on Thursdays at 10 p.m. E.S.T. New episodes of Squadroom will premiere at 11 p.m. E.S.T. Get ready for a unique look at the series every week.