'Law & Order: SVU': Mariska Hargitay and Christopher Meloni Just Reunited and Fans Are Freaking Out
All Law & Order: SVU fans remember the good old days when Det. Olivia Benson (Mariska Hargitay) and Det. Elliot Stabler (Christopher Meloni) took down the bad guys in New York City. Dealing with the most heinous types of sexual assault and abuse, their on-air chemistry made the show that much more gripping. Many fans even hoped the two would get together, which sadly never happened. Meloni eventually left SVU for greener pastures, but fans are hoping a reunion on the series may be on the horizon.
Mariska Hargitay shares sweet reunion photos of the old partners
Meloni left the set of SVU in 2011 after talks involving his contract withered. However, new pictures have surfaced on Hargitay's Instagram of the old partners reuniting at long last. She shared some selfies with Meloni in the sweet reunion. "Sunday night dinner….," Hargitay captioned the post. Fans went crazy and the post already has over 270,000 likes. If the comments are anything to go on, fans are hoping for the long-awaited reunion on the show as well. Things look more likely to go that way after Hargitay's post.
Season 21 of 'SVU' is a record-breaker
The upcoming season of Law & Order: SVU is a record-breaking one. Season 21 makes the hit series the longest-running primetime live-action show in American television. It would make total sense to bring back Det. Stabler for a reunion bit. He has children and it would be an interesting angle to see one of them get into trouble again. That would be an easy way for the show to reintroduce Meloni back into the NYPD fold.
Mariska Hargitay has shared numerous images of the upcoming season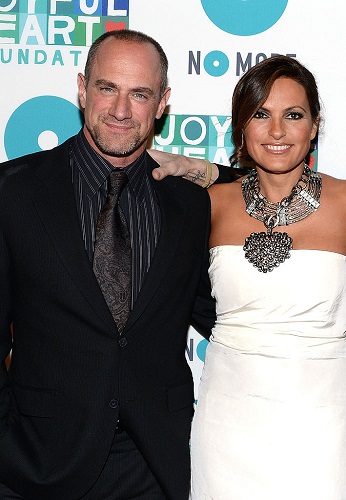 Hargitay can't stop teasing fans about the upcoming season. She has shared numerous behind-the-scenes images of season 21. In one, she's sitting on a bench, presumably pondering the case she's working on. A camera can be seen getting a closer shot. "Back at it #SVU21 #BackToSet #BackToSchool #BensonsBack," she captioned the post.
In another image, Hargitay is alongside her co-stars posing for the camera with big smiles. The detectives are back at it getting justice for the victims. "Back at it. #Season21 #Squad #LeightsBackOn #FinLiviaRolIsi," Hargitay wrote.
Will Christopher Meloni return to 'SVU'?
Fans are hoping for a miracle that Meloni will return for the next season of Law & Order: SVU. With the new images Hargitay just posted, it looks like a reunion could most certainly be coming soon. They've clearly been hanging out recently and fans can only imagine why.
An interview Meloni took part in with Entertainment Weekly in 2016 may have the answer. Meloni revealed that he is open to the possibility of returning, at least for a few episodes of SVU at the end of the show's journey. It could very well be that producers decided to include Meloni for the new and upcoming season, at least that's what the fans are hoping for.
SVU fanatics won't have to wait too much longer for the answer. The show is set to return in just a few days on September 26 at 10 p.m. E.S.T. Hopefully, the answer to whether Elliot Stabler will return will be revealed in season 21.