Taika Waititi and Tessa Thompson Update Fans on 'Thor: Love And Thunder' and Reflect on 'Thor: Ragnarok' in Instagram Live Chat
While under quarantine lockdown, celebrities have been utilizing social media platforms as a substitute for traditional interview opportunities to keep fans updated on their various projects. Pairs like Reese Whitherspoon and rapper Offset participated in a joint Instagram live to chat about their new shows on the streaming service Quibi to the delight of fans. The latest duo to follow the trend are Tessa Thompson and Taika Waititi.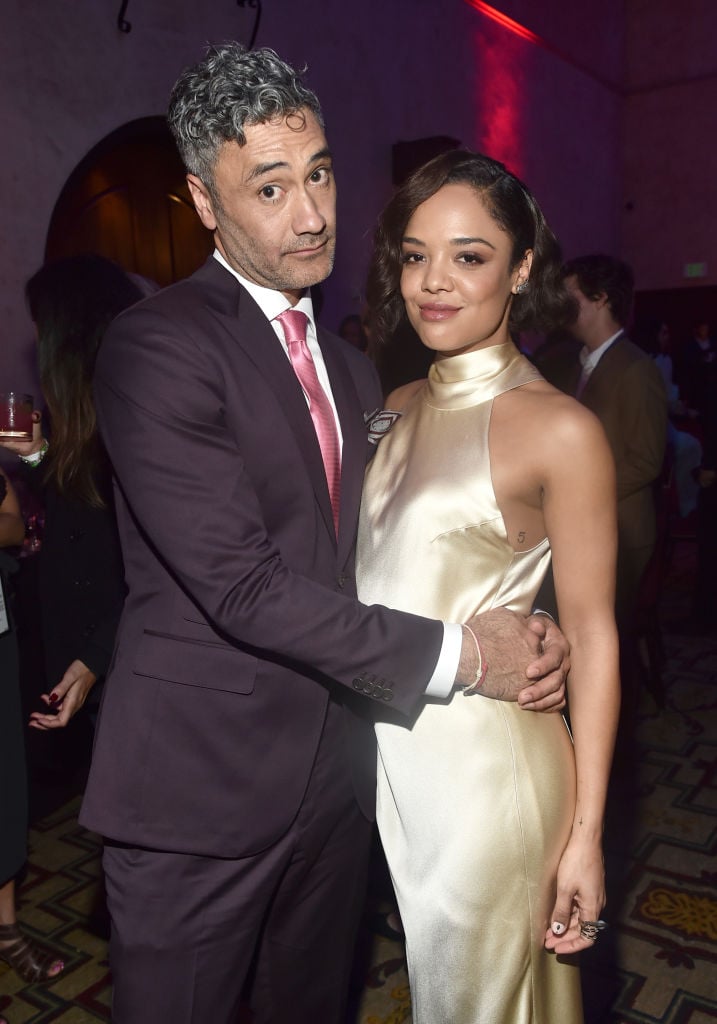 The two gave fans a few things to look forward to in Thor: Love And Thunder. They also reminisced on their time working together on Thor: Ragnarok and revealed some behind the scenes moments.
Taika Waititi and Tessa Thompson give a few details on 'Thor: Love And Thunder' In Instagram Live Chat
On Thursday, Apr. 9, Waititi hosted an Instagram live screening party for his film, Thor: Ragnarok. During the viewing, he surprised fans with a joint conversation with Thompson, who stars as Valkyrie in the film. Thompson logged onto the live chat right as her character in the film made her entrance. Together, Waititi and Thompson spilled a few beans about the highly anticipated fourth installment of the franchise.
Thompson revealed that there is a script for the film and that she's read the latest draft. Waititi confirmed, explaining that they are currently in the fourth or fifth version of the script draft for Thor: Love And Thunder.
Waititi also said that Love And Thunder won't be a "run-of-the-mill" movie. Instead, he said the direction has shifted. "It's like 10-year-olds told us what should be in a movie and we said yes to every single thing," he said.
Taika Waititi and Tessa Thompson talked about working on 'Thor: Ragnarok' and cooked during their live chat
Thompson and Waititi also reflected on their experience filming Thor: Ragnarok and revealed that Thompson's first scene in the film was the last scene they shot. Waititi described filming conditions of the day, admitting they were on a hot island surrounded by dust.
Thompson was also excited that she'd recently found sketches of Valkyrie that were created before being transformed into film. Waititi revealed there were several ideas of how the character would be brought to life and that he was very involved during screen tests to create the final look for Valkyrie. Thompson also hesitantly admitted that once during the filming of Thor: Ragnarok, she had a drink before doing a stunt to calm her nerves. 
Throughout the chat, they made small talk about how they were handling quarantine. During the live, they were both preparing dinner. Thompson was in her kitchen cooking a stir fry dish while Waititi revealed he was cooking a rack of lamb with potatoes. They joked about Waititi's children who made noise during their conversation.
What else do fans already know about 'Thor: Love And Thunder?'
Fans learned at Comic-Con that Valkyrie will be searching for her queen, which makes her one of the first LGBTQ characters in the Marvel Cinematic Universe. It was also discovered that though Waititi's character Korg is gay in the comics, he will not have a love interest in the sequel film.
Deadline reported that Waititi explained why the decision was made. Waititi said his character said he won't have a romantic interest in the sequel because he was "deeply in love and lost that love along the line" and that Korg "doesn't feel brave enough to find love again."
Despite the absence of a love interest, Korg's Kronan culture will be explored more in Thor: Love And Thunder.