Tamron Hall Shares This Advice for Women Going Through IVF
Television personality Tamron Hall recently launched her solo talk show, much to the delight of eagerly awaiting fans. Wanting to focus on building community and real conversations, Hall has shared some of her own personal experiences, including her journey through infertility. Now married to music exec Steve Greener and welcoming their son Moses in April, Hall wants to tell her story in the hopes of helping other women going through the same process.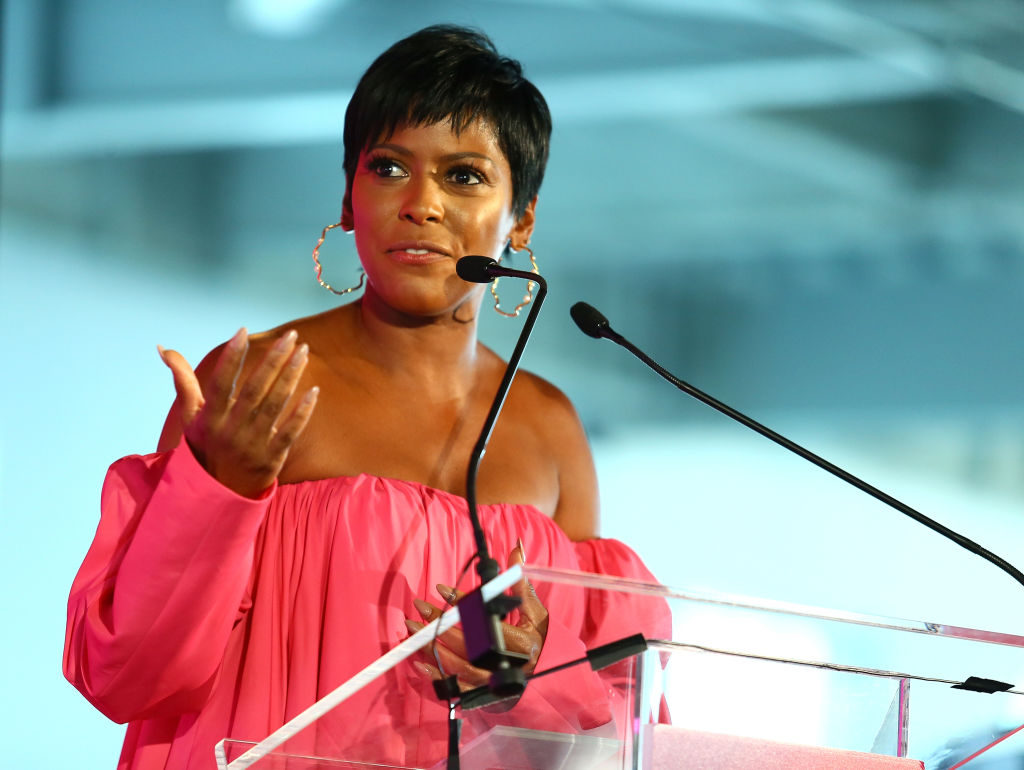 Planning since the pilot
Even before the show launched, Hall knew she wanted to put a spotlight on this topic. "This is a conversation going back to the pilot of Tamron Hall, which we shot a little over a year ago," Hall told SheKnows. "We did a segment for the pilot, where we talked about IVF and we had Gabrielle Union as a guest… At the time, I said, "If this show's picked up, I want to do an entire show dedicated to IVF."
The talk show host started seeing indicators that this was a subject viewers wanted covered. "I always have things in mind and I look for signs in everything. I was traveling, promoting the show. I think we went to 28 cities," Hall said. "People kept coming up to me, unsolicited and telling me about their own IVF journeys because they'd heard I'd been through IVF… I saw this as a sign."
Taking it on the air
Hall devoted an entire episode of her show to in vitro fertilization on September 16. Her guests included Real Housewives' Kenya Moore and Gretchen Rossi who spoke about their IVF experiences, as well as fertility doctors and other guests who've undergone IVF, according to Parents. She purposely is having others share their story in support of other women struggling with infertility.
"There's a stigma that relates to IVF and infertility, that people feel if they share it they will be judged or stereotyped. It's important to take topics like that and break them down," Hall told SheKnows. "A show like ours has the unique ability to do that. With great producers, we're able to put this all this together. I think this is an extension of what we said we should do when we started the show. We all know people who've been through IVF and we're giving them a voice."
Hall also acknowledged how difficult it can be to reveal to loved ones that you're undergoing IVF, clarifying her choice to keep her pregnancy a secret at the time. "What's hard is when you tell people and it fails they're on that tangential journey with you. It's a long process — it's not like you get blood work and the next day you have answers — and friends who know ask, 'How did it go this time?'" Hall shared. "And when a round doesn't work and you're mourning, friends who love you will have to mourn as well. So for that reason, my husband and I decided to keep it private."
Hall's advice to those considering IVF or already in the process
The talk show host shared that she did not get the results she wanted on her first round of IVF – or several others. "I know through my own experiences of my many failed rounds that it does not always have a happy ending," Hall said, advising women to avoid comparisons to other situations. "Just remember, everyone's body is different. Don't compare yourself to someone else's results. I know that's hard. I have a friend who's going through the first stages of it and I recommended a doctor, but I try to avoid sharing specifics of what I did because everyone's different."
Hall also stressed to select a medical team that feels right for you, even if you have to try out several practices before making a final decision. "Find a team of doctors you're comfortable with that will answer your most paranoid questions — you will have them. That, to me, is a sign of a good team," Hall said. "I went into a couple of places in the beginning. They weren't explaining things in a way that felt right to me. Find what fits you and your needs. Don't feel that because your friends went to those doctors, that you have to go to those doctors. You have to find that right balance for you."
The daytime host is sure to continue exploring this important topic on her show in future episodes.