Tara Lipinski and Johnny Weir: Get to Know Figure Skating's Most Famous Commentators
Most people tune in to the Olympics to witness the best athletes in the world compete for the gold. When it comes to the 2018 Olympic figure skating competition, however, the commentators have become the main attraction. The internet is going crazy over Tara Lipinski and Johnny Weir's spirited commentary, and for good reason.
From their sequined ensembles to their unbeatable chemistry, who wouldn't want to get to know the power duo? Here's what you need to know about figure skating's most famous commentators.
1. They aren't strangers to the Olympics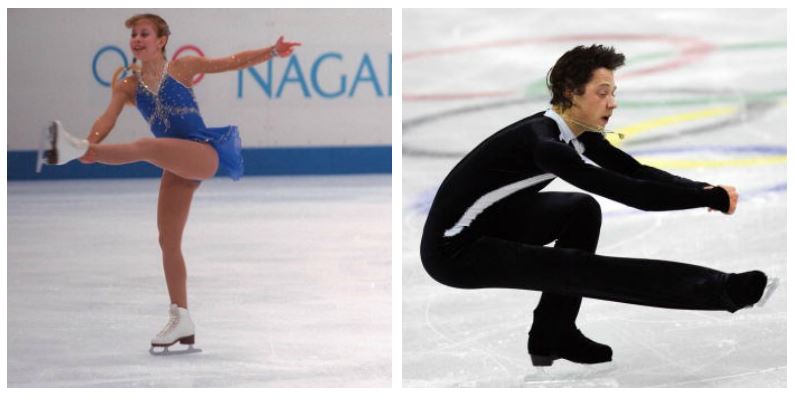 The 2018 Winter Olympics may be the first time Lipinski and Weir have earned a slot in the NBC primetime booth, but they're no strangers to the Olympic Games.
Weir has competed in the Olympics twice for the Team USA Figure Skating team, and Lipinski's figure skating at the 1998 Winter Olympics earned her the title of the youngest individual Olympic gold medalist in history.
Next: Looking as fabulous as they do doesn't come easy.
2. It took over 20 suitcases to pack their glitzy outfits
Overpacking is an understatement when it comes to the insane amount of clothing Lipinski and Weir brought along to the 2018 Winter Olympics. After all, they had to travel all the way to Pyeongchang, so they wouldn't dare leave anything back home in the States.
Lipinski told People, "When we get there combined it's like twenty-something suitcases." Weir chimed in, "We're going to bring everything, we're going to bring every shoe that we own."
Next: Weir had the perfect response to haters.
3. They don't let the haters get to them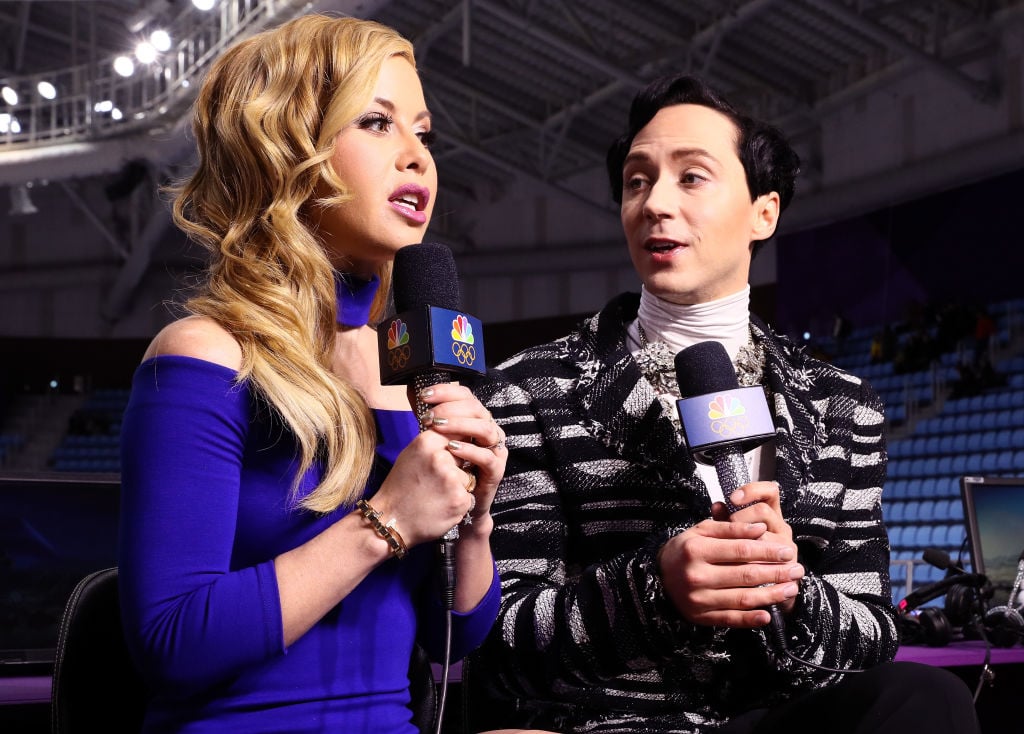 One of the main reasons so many people love Lipinski and Weir is their straightforward style of commentating. "They're blunt and don't mince words. If something goes poorly — and of course, it often does — they will tell it like it is," as People described.
However, their bluntness has attracted a few haters. An Olympics spectator tweeted, "Have they forgotten what it's like to be on the ice? Enough with the nasty comments. Be constructive!"
Although Lipinski has claimed they don't let the haters get to them, they aren't afraid to respond to their critics when necessary. Weir took to Twitter to explain why he comes across as so critical when commentating.
"I'm a commentator, not a 'complimentator,'" he wrote. "Explaining falls and rough skates is hard because I have been that skater, and truth can hurt. But I would never be able to do my job without telling the truth about every aspect of figure skating and the performances you'll see."
Next: We couldn't imagine their first meeting going any other way.
4. The first time they met ended in foot rubs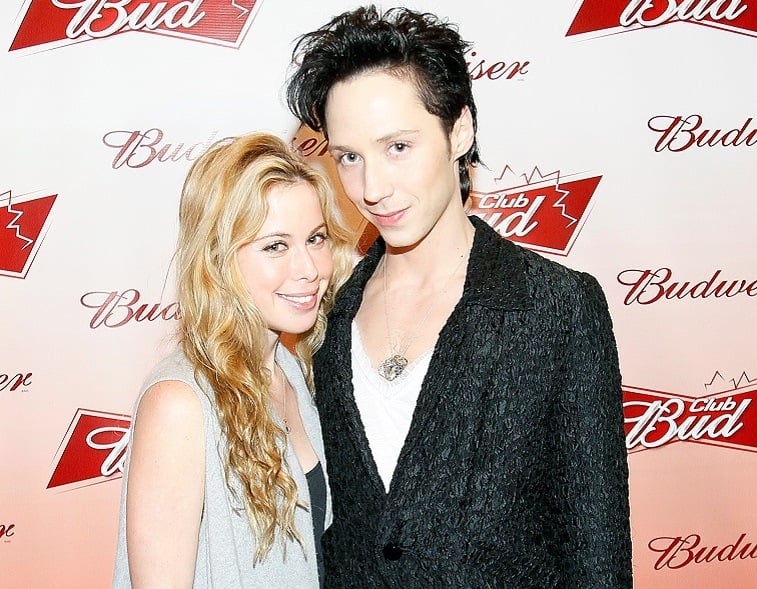 In an interview with GQ, Lipinski spilled about the first time they met (which, of course, involved foot rubs):
Skating is a small world, but we never had a chance to ever really talk or hang out. We worked together in 2010 for Universal Sports, and we did this show during the World Championships, and it was a week long. And I think at the end, you were giving me a foot rub on camera or something creepy like that. That was one week. And then we didn't see each other for another three years.
Next: Fate had them cross paths again.
5. They had an instant connection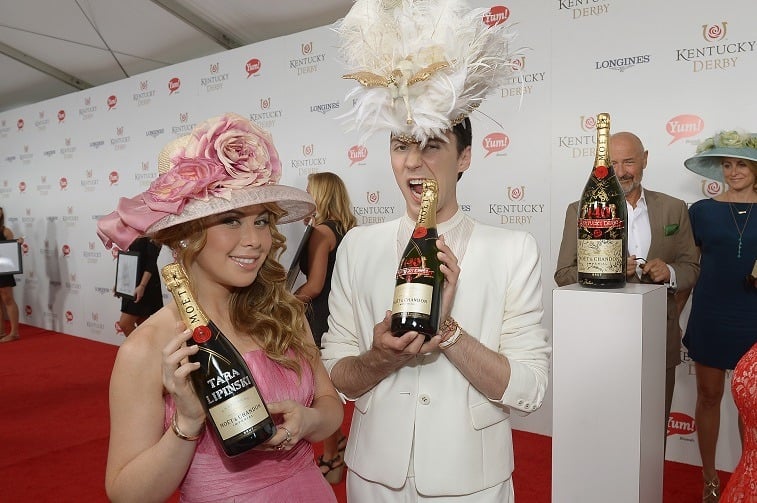 Although Lipinski and Weir hadn't seen each other in three years after their first week together, when they crossed paths again, they had an instant connection. Lipinski described to GQ, "We said: Why aren't we doing this together? So we asked if we could. I'm sure at first people were like, 'Oh boy.' So they gave us a trial run."
Their trial run was obviously successful. Lipinski recalled, "Within that next year we went to Sochi, and on air and off air we just started to bond."
She added, "It's like a long-lost soulmate that I met late in life. I can't imagine my life without him."
Next: Weir was by Lipinski's side during this special day.
6. Weir served as Lipinski's 'bridesman'
We couldn't imagine Lipinski walking down the aisle without Weir by her side, and neither could she. That's why Weir served as Lipinski's "bridesman" when she wed Todd Kapostasy in 2017.
Even though it was Lipinski's big day, she found plenty of ways to make Weir feel special. According to People, Lipinski gifted Weir with a specially designed, glitzed-out boutonniere, which matched perfectly with his custom Swarovski crystal-studded Hermès shoes.
"My special flower made me so happy," Weir said. "The fact that we get to work together, have adventures, and laugh the whole way through it is such a special gift that I never take for granted!"
Next: You don't have to live without them when the Winter Olympics are over.
7. They have a podcast together
If you just can't get enough of Lipinski and Weir, you don't have to live without them when the Winter Olympics are over. They have an aptly named podcast together called Tara and Johnny, so you can listen to their antics all day long.
You might even catch them in commercials together or commentating other non-skating events, such as the Kentucky Derby and the National Dog Show, according to People.
Both Weir and Lipinski know they're extremely lucky to get to work with someone they're so close with. Lipinski gushed, "He's my very best friend. We've been through a lot of great times and a lot of horrible times together, and I think we just have this special bond that is hard to find."
Check out The Cheat Sheet on Facebook!