Is Tarek El Moussa Happy Christina El Moussa Re-Married?
Christina El Moussa and Tarek El Moussa are two of the wealthiest HGTV stars thanks to their show, Flip or Flop. Their show is a hit, and they still work together even though they divorced early in 2018. HGTV still airs new episodes of Flip or Flop, and the show got renewed for 2019 despite the fact Christina El Moussa re-married less than a year after the divorce. Is Tarek El Moussa happy for his ex-wife? Are they still working together on Flip or Flop? And who is Christina's new husband, Ant Anstead? Let's find out.
Christina El Moussa and Tarek El Moussa's history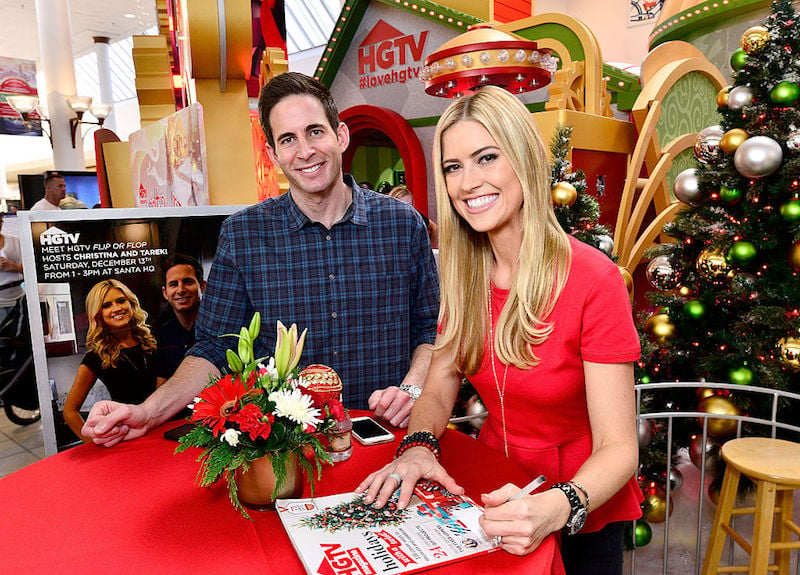 Tarek El Moussa and Christina El Moussa married in 2009, started shooting Flip or Flop in 2011, and separated in 2017. They divorced early in 2018 after enduring their share of struggles and heartache together.
Before they started filming the show, they worked together in a real estate office in Southern California. Christina is a former judge on the HGTV show Brother vs. Brother, according to TV Guide.
Do the El Moussa's still work together?
Despite their turbulent relationship, Christina and Tarek El Moussa continued filming Flip or Flop after their marriage ended.
Tarek El Moussa revealed his divorce was one of the worst experiences of his life. He also admitted filming the show was awkward after their separation.
Christina was very public about her relationship with Ant Anstead after her divorce from Tarek El Moussa and before she remarried. In addition to sticking it out on Flip or Flop, Christina El Moussa has plenty keeping her busy. She and Tarek El Moussa have children together, and she shares parenting duties. She also has a new solo show, Christina on the Coast coming to HGTV in early 2019.
Who is Christina El Moussa's new husband, Ant Anstead?
https://www.instagram.com/p/BrHKM_mjRdK/
Christina El Moussa needed less than a year to fall in love again and re-marry.  She and Ant Anstead tied the knot on December 22, 2018. The ceremony happened in Newport Beach, California, with roughly 70 people attending.
So who is Ant Anstead? Well, the pair has plenty in common, which might be why they clicked so easily. He's a British TV star who hosts Wheeler Dealers and For the Love of Cars. Like Christina, he has two children from a previous marriage. All four kids were part of the wedding ceremony.
Christina El Moussa isn't an El Moussa anymore. She's changing her last name to Anstead, according to People.
Is Tarek El Moussa happy about Christina's marriage?
What could be worse than cancer? For Tarek El Moussa, his divorce and the events leading up to it were worse than his thyroid and testicular cancer battles. The life changes and depression weren't easy to deal with, but he rebounded and found happiness after hitting rock bottom.
As for his ex's new husband, Tarek El Moussa is happy she found a good person to share her life with, though he still cares deeply about Christina, according to Us Weekly.
What are their net worths?
Despite the ups and downs in their personal lives, both Tarek El Moussa and the newly-minted Christina Anstead are OK financially.
Tarek El Moussa still flips houses via Flip or Flop, and the celebrity TV show host has an estimated $4 million fortune.
Christina Anstead, meanwhile, is pulling in $10,000 for each Flip or Flop episode, and her net worth sits at an estimated $6 million.
Check out The Cheat Sheet on Facebook!