From Taylor and Kanye to Gaga and Madonna: The Biggest Pop Star Feuds Ever
In the past few decades, we've seen more than our fair share of pop star feuds. While some seemingly ended before they began, many of the most iconic feuds are intertwined, complex, and still going strong.
Whether it was over a guy, over a diss track, or the cause is a complete mystery, let's take a look at some of the biggest pop star feuds ever.
1. Taylor Swift vs. Kanye West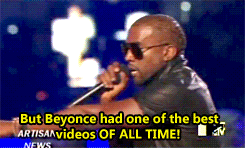 It almost feels like we can't remember a time when Taylor Swift and Kanye West weren't feuding. Whether it's just a publicity stunt or they straight up don't like each other, the two stars always keep us wondering what they'll fight about next.
Let's take it back to Sept. 2009: The MTV Video Music Awards. We all know the moment that started it all. Swift had just won the award for Best Female Video, but West made it clear that he felt another female artist deserved the award more. West stormed the stage, grabbing the microphone from Swift, and the everlasting feud was born. 
While the two went back and forth on their feelings about the incident, it eventually seemed like they may have reconciled for good. However, all of that came to an end when West debuted "Famous"  off of The Life of Pablo in February 2016, with the line, "I feel like me and Taylor might still have sex / Why? I made that b*tch famous." Although West claimed he received approval from Swift for the line, Swift said she never knew about the line indicating he made her famous.
Little did Swift know, Kim Kardashian recorded the phone call in which West seemingly receives Swift's approval for his mentioning of her in the song. After posting the video to Snapchat, Kardashian also tweeted, "Wait it's legit National Snake Day?!?!?They have holidays for everybody, I mean everything these days!," insinuating that Swift lied about approving West's lyric for her own public image.
Swift used this (as well as details from her other feuds) to create an all new "Taylor" for her upcoming album, Reputation. Her first single, "Look What You Made Me Do," along with its music video, features a lot of snake imagery and alludes to many of the enemies she's made. But more on this later.
2. Nicki Minaj vs. Miley Cyrus
Even though Miley Cyrus and Nicki Minaj may have thrown shade back and forth at each other since 2012, the VMAs once again set the stage for an iconic feud between celebrities. In 2015, just a few days before the award show, Cyrus commented on Minaj's reactions to the VMAs nominations. Minaj took to Twitter to criticize the VMAs' choices, and Cyrus told the New York Times that "what [she] read sounded very Nicki Minaj, which, if you know Nicki Minaj is not too kind."
While accepting the award for Best Hip-Hop Video, Minaj closed out her speech by calling out Cyrus: "And now, back to this b*tch who had a lot to say about me the other day in the press: Miley, what's good?"
Apparently, "Miley, What's Good?" apparel and home decor became available shortly after the incident.
3. Mariah Carey vs. Jennifer Lopez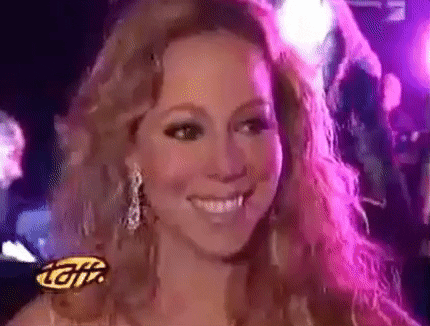 "I don't know her" — the infamous claim made by Carey about fellow pop star, Jennifer Lopez, in the early 2000s. The statement was shocking, because, hello?! How could you not know Jenny From the Block? The four words heard around the world also felt particularly like a jab, because they came immediately after Carey called Beyoncé "lovely."
Lopez didn't react to the comment until a 2014 interview with Andy Cohen, in which she shared, "I know from back in the day, I've read things that she's said about me that were not the greatest, but we have never met. Like, we don't know each other." So maybe Carey wasn't lying when she said she didn't know her, but basically made it sound like she didn't know Lopez existed (yeah, right).
 4. Demi Lovato vs. Mariah Carey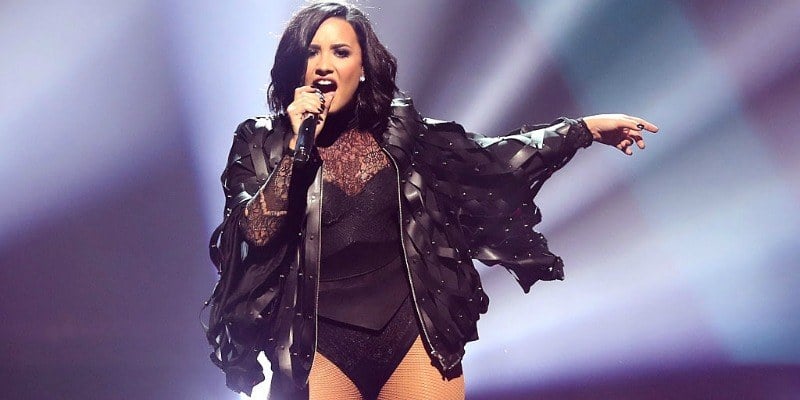 The Carey and Lopez feud ended up sparking new controversy around Demi Lovato in 2016. Lovato discovered a photo on Instagram comparing Carey circa the 1990s to Ariana Grande. The caption favored Carey in stating, "When you order it online vs. when it arrives."
Lovato commented, "You got it the wrong way around honey," which caused a lot of backlash from Carey's fans. Lovato further explained her stance on the issue, acknowledging that "Mariah is a legend and is so talented," but that she "constantly disses people." She added, "It's nasty the way she treats Jennifer [Lopez]. Ari did nothing wrong."
Carey's reaction really made this whole ordeal come full circle. Appearing on Watch What Happens Live with Andy Cohen, when asked her opinion on Grande, Carey responded, "I don't know." Her opinion on Lovato? "I don't know her either and so I wouldn't say anything to her."
5. Nicki Minaj vs. Remy Ma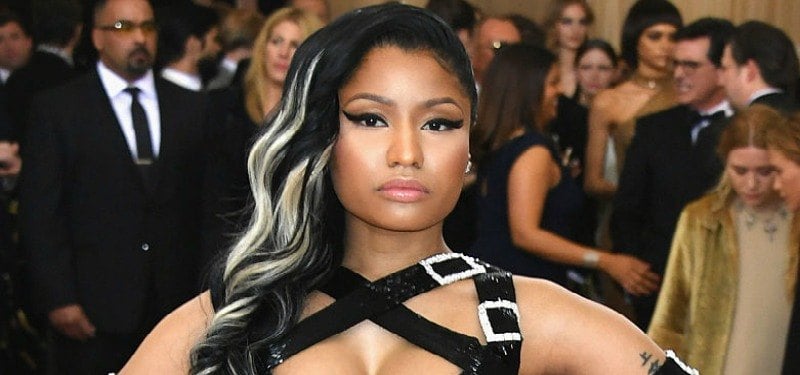 With one diss track after another, Minaj and Remy Ma's feud is now a decade old. It all started in 2007, when Minaj rapped over "Yeah Yeah Yeah" by Terror Squad (which Remy Ma was a member of). In Minaj's song, "Dirty Money," she freestyles a line that Remy Ma believes was directed at her, though Minaj never confirmed it.
Remy Ma ended up being sentenced to jail time in 2008 for assault. Following her release six years later, she made it seem as though no time was lost by rapping over "Truffle Butter" by Minaj, which seemed to be a strike at her.
In 2017, the feud is still going strong. Minaj directly references her feud with Remy Ma in two songs ("Make Love" by Gucci Mane and "Swalla" by Jason Derulo), to which Remy Ma responded with two diss tracks ("Shether" and "Another One"), hitting Minaj with personal insults. Minaj then claps back with another song aimed at Remy Ma, "No Frauds."
Adding fuel to the fire, Remy Ma won the award for Best Female Hip-Hop Artist at the 2017 BET Awards, which Minaj has won for the past seven years. Remy Ma attacked Minaj in her acceptance speech, so now we'll just have to wait and see what Minaj strikes with next (because we're sure she will).
6. Taylor Swift vs. Katy Perry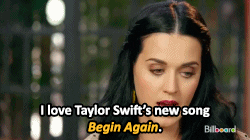 At one point, Swift and Katy Perry had serious potential for a beautiful friendship. Perry even defended Swift after Kanye's 2009 VMAs takedown, tweeting, "It's like u stepped on a kitten."
Things took a turn for the worse in 2013 when Swift was on her Red tour and Perry on her Prism tour. Apparently, some dancers who had been on Swift's tour decided to tour with Perry instead. Without naming names, Swift accused Perry of trying to "sabotage [her] entire arena tour" in a Rolling Stone interview, making it very clear who she was referring to. Swift admitted that her single "Bad Blood" was about this particular female who "did something so horrible," so yeah, the song is definitely about Perry.
Fast forward to May 2017, and Perry released her new single, "Swish Swish," which features Minaj (who, as we know, has some history with Swift and has been in a longtime feud with Remy Ma). Though Perry claims the single isn't about anyone specific, their history indicates otherwise.
It comes as no surprise that Swift's new single "Look What You Made Me Do" targets more than just West, and Swift takes some clear jabs at Perry. The line, "I've got a list of names and yours is in red, underlined" seems to be a reference to Regina George's Burn Book in Mean Girls. This links back to Perry's tweet from Sept. 2014, which was clearly about Swift: "Watch out for the Regina George in sheep's clothing…"
This is a much different message from what Perry has had to say in summer 2017, however. She has noted that she's "ready to let it go" and end the feud, but it seems like Swift is only getting started.
7. Hilary Duff vs. Lindsay Lohan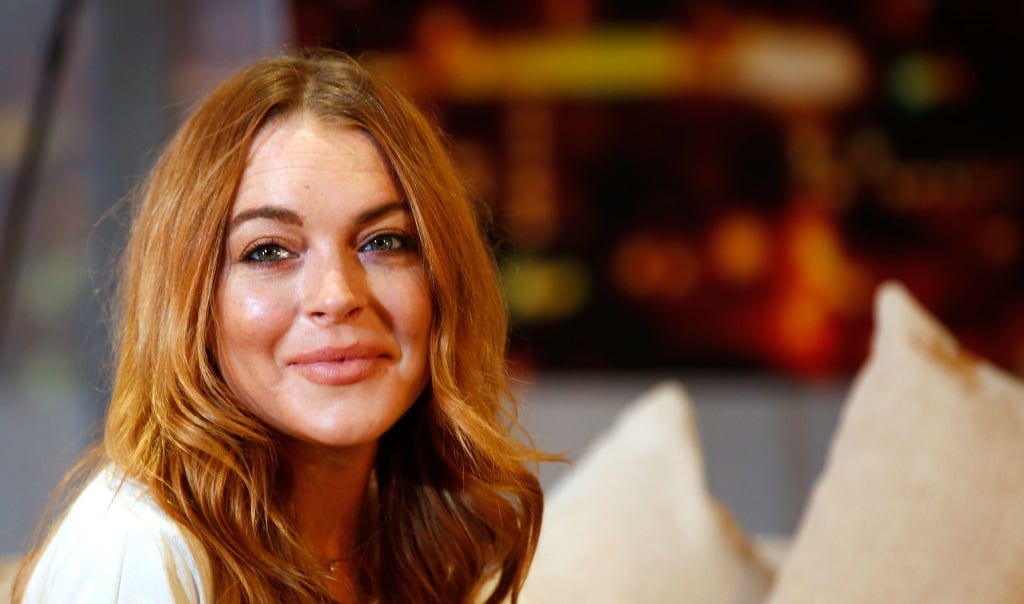 What started out as a love triangle between Hilary Duff, Lindsay Lohan, and Aaron Carter ended up being an all-out feud between Duff and Lohan.
Carter may have been young, but he was a total player. He started dating Duff on his 13th birthday, but after about a year and a half, started dating Lohan at the same time. He actually admitted to it, too: "I was dating [Hilary] for like a year and a half, and then I just got a little bored so I went and I started getting to know Lindsay."
We actually give Duff and Lohan credit for the creatively passive approach they took to continue the feud. They started crashing each other's red carpet events for movies the other was starring in, such as Lohan's Freaky Friday and Duff's Cheaper by the Dozen. They didn't actually say anything to each other, but they made their presence known.
Duff didn't respond well once Lohan actually started verbalizing the feud. Lohan appeared for a monologue on Saturday Night Live, which made fun of Duff. In an interview with Access Hollywood, Duff took a jab at Lohan by saying, "I'm not here to talk bad about her like she talks bad about me all the time."
Though they each made a few more hateful comments toward each other, they settled the feud in 2007. Duff claimed to People, "We are both adults, and whatever happened, happened when we were young. It's over."
8. Nicki Minaj vs. Mariah Carey
Carey told NBCUniversal that her time on American Idol "was the most abusive experience." We're not really surprised, considering she and fellow judge Minaj did not mesh well together and both left the show after only one season.
Why? Well, an insider for People claimed that Carey had been making snide comments to Minaj throughout the season, and at one point, Minaj had enough. In an apparent disagreement involving an audition, TMZ leaked video footage of the two cursing each other out.
Though the two collaborated on Carey's "Up Out My Face" in 2010 (before their judging days), we don't envision them collaborating on another song any time soon.
9. Christina Aguilera vs. Eminem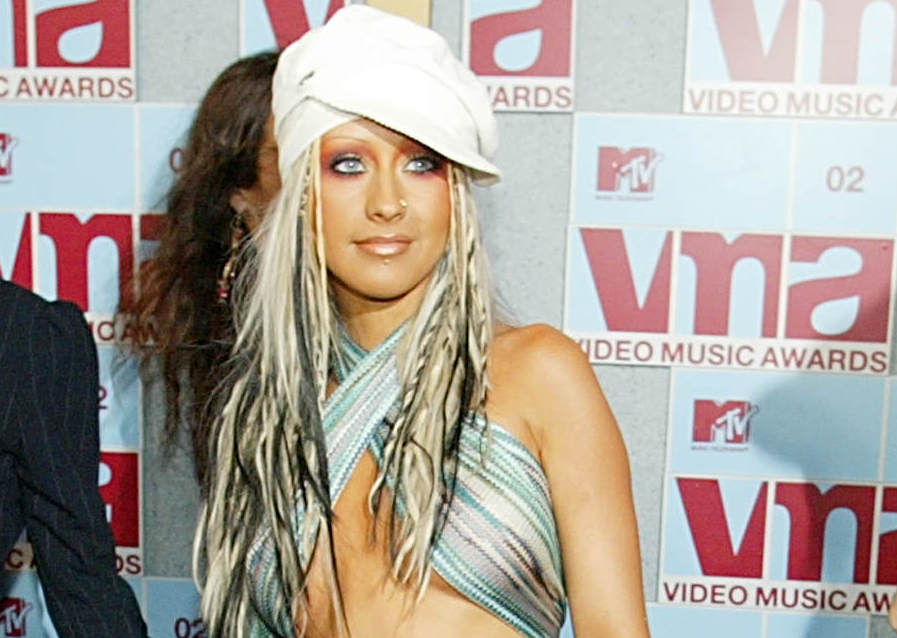 Throwing it all the way back to Y2K, Christina Aguilera publicly criticized Eminem for joking about killing his ex-wife in one of his songs. Eminem responded to her comments in an interview, noting that his payback would be addressing some rumors he'd heard about Aguilera.
Eminem definitely doesn't hold back, either. In "The Real Slim Shady," he insinuates that she'd "hooked up" (but in much more graphic terms, naturally) with Fred Durst and Carson Daly. Aguilera definitely won this feud by releasing a parody song, "The Real Slim Shady (Please Shut Up)," in which she raps, "I'm sorry Slim, but this is gonna hurt. They both came closer than you ever will, jerk," referring to his Durst and Daly accusations.
10. Iggy Azalea vs. Azealia Banks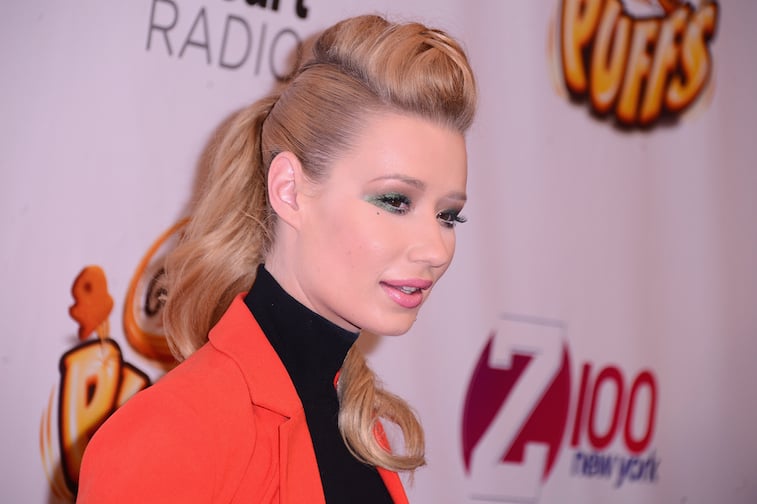 Though Iggy Azalea and Azealia Banks have had personal beef with each other for years, their feud became more serious in 2014. Banks accused Azalea of not speaking up regarding the Black Lives Matter movement, to which Azalea responded on Twitter, writing, "There's more to sparking a change than trolling on social media. World issues shouldn't be used as a poor excuse to promote fan battles."
This comment received backlash, however, as many assumed she was referring to the Black Lives Matter movement. Azalea claims she was "trying to dismiss [Banks] because it's our personal sh*t. Even though I still hate Azealia Banks, I wish I had said it in a way that didn't make people think I was oblivious to the movement."
In 2017, Azalea and Banks have both expressed the desire to put their feud behind them — but Banks has a condition. She stated in an interview with XXL, "I think a true reconciliation can happen once there is some acknowledgment of what hip-hop has been trying to tell her. I still don't think she quite understands the effect her racial privilege and the socio-economic leverage that comes with it has on a marginalized group of women's culture."
11. Britney Spears vs. Christina Aguilera
Back in the day, there was only one question that truly mattered: Are you Team Britney or Team Xtina? Unsurprisingly, the Britney Spears vs. Christina Aguilera feud started over a guy by the name of Justin Timberlake. Spears and Timberlake had already dated and broken up, but in 2003, Spears reportedly wanted to get back together. All of that changed when Spears walked in on Aguilera and her ex kissing.
Not much later, Spears got engaged to Kevin Federline (who she then married in 2004 and divorced three years later). Aguilera had some thoughts: "I know they love each other, but Kevin is really low rent. The whole affair is pathetic."
The feud seemed to have stayed in the past between the two pop stars, as Aguilera more recently stated, "I don't pass any judgment on what she does. I always wish her all the best." We're not sure if this fight or if the Spears-Aguilera-Madonna kiss at the 2003 VMAs will go down in history as most iconic of their moments in the early 2000s.
12. Elton John vs. Madonna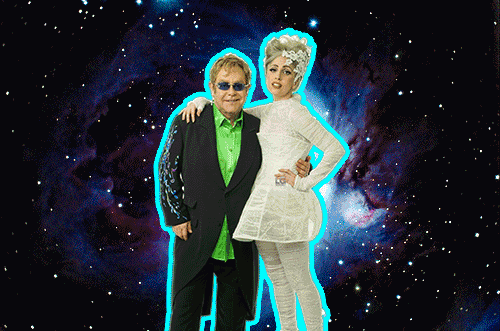 Elton John has had a lot to say about Madonna over the years. The first of many comments was made in 2002, when John called Madonna's "Die Another Day" for James Bond the "worst bond tune ever."
Two years later at the Q Awards, Madonna earned a nomination for the Best Live Act award. While John was accepting his award for Classic Songwriter, he remarked, "Madonna, best live act? F*ck off. Since when has lip-syncing been live?"
In 2012, he wasn't too pleased with the drama between Madonna and Lady Gaga (his son's godmother!), which we will get to later. His opinion? "[Madonna is] such a nightmare. Sorry, her career is over."
Eventually his bitter attitude toward Madonna finally met its end when he ran into her at a restaurant, according to Daily Mail. While appearing on The Graham Norton Show, John confessed that he sent her a note that said he was "really sorry and ashamed of [himself]."
13. Solange Knowles vs. JAY-Z
https://www.youtube.com/watch?v=Jhu2I_Luv74
The Solange Knowles vs. JAY-Z elevator attack remains just as much of a mystery now as when it happened in 2014. What we do know is that Beyoncé, her sister Solange, and JAY-Z were in an elevator at the Standard Hotel in New York City after a Met Gala party, and TMZ released footage of Solange going after JAY-Z.
The family released a statement afterwards, including that "they both have apologized to each other and we have moved forward as a united family."
14. Kelly Osbourne vs. Christina Aguilera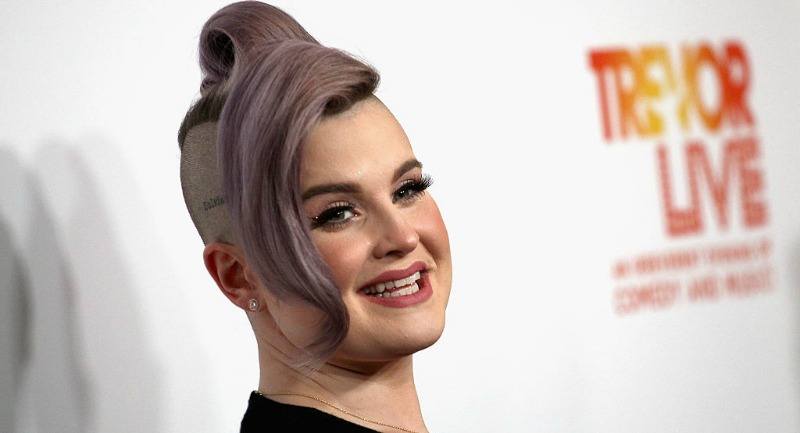 Aguilera definitely deserves the title "Repeat Feud Offender," adding Kelly Osbourne to the list of stars she's stirred up drama with. Osbourne shared her thoughts on body confidence with Glamour magazine in 2012, where she claims that Aguilera has "called her fat for years." Osbourne continued, stating, "One night on Fashion Police I said, 'F*ck you. Now you're fat too.'"
However, while appearing on Watch What Happens Live, Cohen basically played kindergarten teacher with two fighting children. However, his method may have worked. Acknowledging their feud, he prompted Osbourne to say "three nice things about Christina Aguilera." Osbourne seemingly responded genuinely, stating that "she's looking way better right now, she's got a great voice, and she's got a beautiful son."
As entertaining as celebrity feuds are, we always love when they can end in reconciliation (whether or not it's forced).
15. Lady Gaga vs. Madonna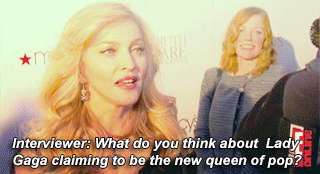 Lady Gaga and Madonna had a few things to say about each other, but Madonna seems to be at blame for starting this feud. Madonna called Gaga's music "reductive" in 2012, to which Gaga responded: "She wouldn't look me in the eye and tell me I'm reductive."
Gaga did say that she still admires the pop icon, but seems to actually want some confrontation from her, stating, "I just want Madonna to push me up against the wall and kiss me and tell me I'm a piece of sh*t." Madonna seems to have one more celebrity to add to her kiss list!
Check out Entertainment Cheat Sheet on Facebook!