Taylor Swift Doesn't Need Country Music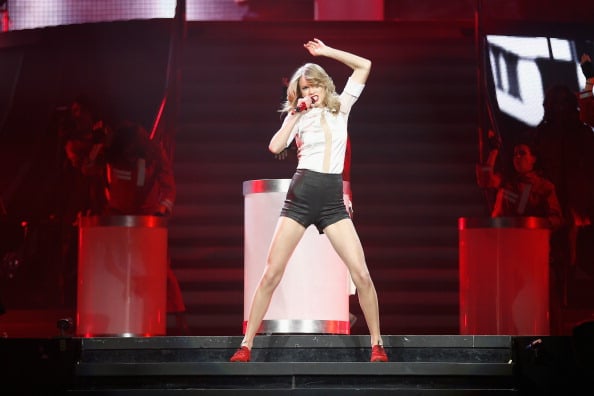 Former country and now pop superstar Taylor Swift is about to release her highly anticipated new album 1989, which has already garnered a No. 1 hit with the infectious single "Shake It Off." Whether you find the 24-year-old charming or obnoxious, she's probably going to hit No. 1 on the Billboard album charts next week and she's doing it all without the support of the industry that made her famous: polished Nashville country music.
Swift's last album, Red, leaned heavily towards pop but also mixed in elements of country to appeal to the fan base that supported her through her early career. In a struggling music industry, no record since the ultra-popular Red has cracked a million sales in its first week and some are wondering if Swift's definitive break from country radio will hurt the singer. While Swift's interpretation of country music was always on the poppy side, she's gone on record throughout the press campaign for 1989 saying that it's her first definitive pop album and her record label hasn't reached out to country radio, according to a New York Times article.
Despite Swift's incredible popularity, this could be a bad move. Country music has recently been the top-selling genre. Currently sitting at the top of the album charts is Florida Georgia Line's Anything Goes, with Jason Aldean's Old Boots, New Dirt at No. 2. Earlier this month, Blake Shelton and Lady Antebellum had records debut at the top of the Billboard 200 as well. Country music fans have been flexing their album buying power more than pop music fans.
It would still probably not be a smart move to bet against 1989 hitting No. 1 next week. Swift was always on the very poppiest edge of country music and the fans that dug her brand of country music could easily be swayed toward pure pop. The appeal was always listening to Swiftian tales of love and heartbreak anyway, and the new album seems like it will continue to supply the drama with people already speculating which celebrity Swift has dated inspired which song.
Swift is so popular in fact that a glitch in the Canadian version of her song "Track 3″ which resulted in the track only being 8 seconds of white noise didn't stop the single from reaching No. 1 on the Canadian iTunes chart. That snafu is a testament to Swift's power as a pure brand; fans will scoop up literally anything as long as it has her name on it. Now Swift and her record company are hoping that law will apply and get consumers to purchase something they've been increasingly reluctant to buy for years — a record.
Not only is Swift herself hoping to be the year's top-seller, but the record industry as a whole is pinning some high hopes on her as album sales are down 14% for the year according to data from Nielsen SoundScan seen by Rolling Stone. As online streaming services have grown in popularity, album sales have dwindled even further and it seems that no one is buying music anymore. The success of records by Barbra Streisand and Tony Bennett this year have shown more than anything that the people still buying albums are mostly those too old to know what Spotify even is. The industry really needs a big seller right now as it struggles to adapt to a landscape where consumers stream rather than purchase.
While Swift has called 1989 her "first pop album" and a conscious decision to separate herself from Nashville country, she hasn't become the type of controversial pop star that country fans might find difficult to swallow. There's no Cyrus-esque weed-smoking and fake ghetto swagger, there's no migraine-inducing neon everything á la Katy Perry, and she's kept her clothes on for the most part; Swift has created a retro pop image that her country fans can embrace. Moving towards pop in a way that her country fans can embrace will be the key to Swift's crossover success.
Some from the country establishment have already come out in support of her, even if country radio doesn't really have a place playing her new records. "Taylor is one of us, one of our children," Mark Razz, the music director at WXTU-FM, a country station in Philadelphia, told The New York Times. "You're there for them along the way, and then they need to go to what they are going to do. She's gotten to where she is through country music, and if she goes on to be the next pop sensation around the world, we are behind her 100 percent." Razz might not be playing "Shake It Off" on WXTU, but it's likely a chunk of the station's listeners will pick up 1989 when it drops next week.
Follow Jacqueline on Twitter @Jacqui_WSCS
More from Entertainment Cheat Sheet:
Want more great content like this? Sign up here to receive the best of Cheat Sheet delivered daily. No spam; just tailored content straight to your inbox.