Taylor Swift Reveals Easter Eggs From 'Me' Music Video & Her New Album
True devotees of pop star Taylor Swift have known this for a long time, but now, she's making it public knowledge: She loves sharing hints and clues about her music. For years, her loyal pack of fans have combed through each and every song, interview, music video, and social media post, determining what message Swift is sharing with them about what's to come. And, in case you were unsure, she knows this. Here's what the singer is saying about her new single and album.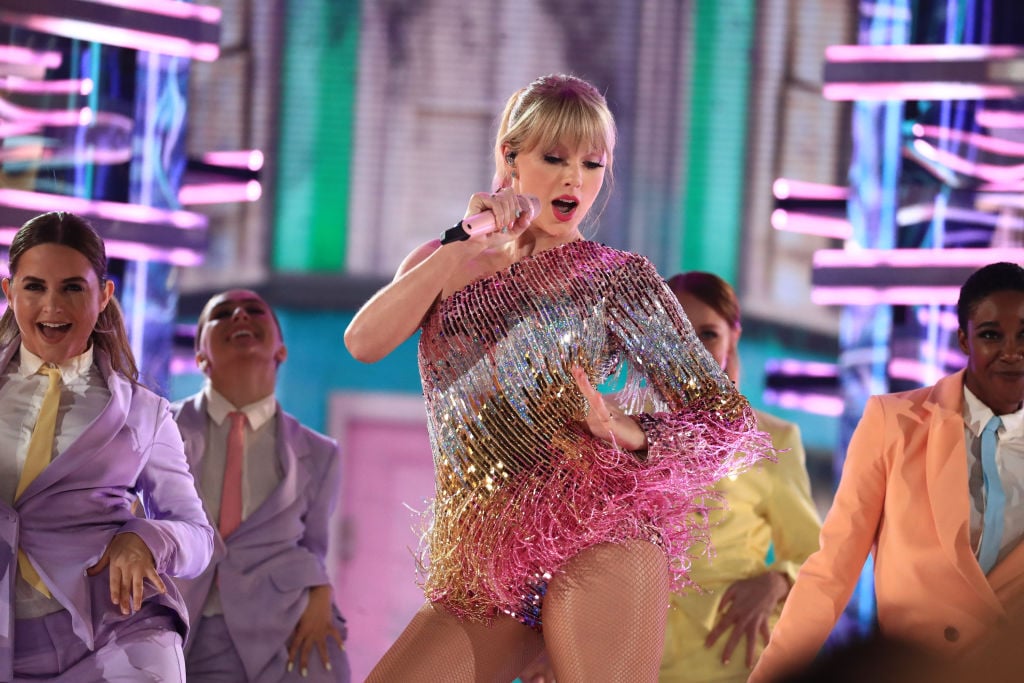 The silent era is over

For many years, Swift was very consistent: She put out an album every two years, each deemed a different "era." As she transitioned from country to pop, many new opinions began to rise among the public, some very negative. But Swift appeared to generally ignore all of this — until 2017.

The ordinarily communicative musician deleted all of her old social media posts, starting fresh, and with a very different tone. There was a snake, the aesthetic was black and red, and, what's more, Swift didn't do any press. All announcements came from the singer's own accounts. Thus, the Reputation era began. But as things rolled out, and her tour kicked off, Swift became more and more vocal.

It's time for something new

Now, Swift has done her first true interview in years. She spoke to Entertainment Weekly about her new single, "Me!," her upcoming album, and the pastel color palette she has adopted. "It's definitely the fans that made that tonal shift in the way I was feeling," said Swift of how she moved into this new space.

In addition to praising her fans for being "amazing,thoughtful, caring, wonderful, empathetic people," Swift offered us up a gift: she pointed out a slew of Easter eggs in her latest video, as well as all the ways she's done so in the past. Let's take a look at just a few of the ways she does so.

In her song lyrics

Swift's self-titled first album came out in 2006, which was during the Myspace era. So rather than interacting with fans online, she did so in the most obvious way possible: Through her song lyrics. "I just thought, 'Why not capitalize random letters [in the physical album liner notes containing the song lyrics] and see if the fans figure out that if you take all the random letters and you put them together, it spells out little codes, secret messages."

On social media

Especially in the Reputation era, Swift became skilled at using her Instagram, Twitter, and Tumblr accounts to leave hints for fans. In this video, she explains some of the ways that she does that, including in her outfits, her jewelry, and much more.

"This is one of my favorite ways to do this because you wear something that foreshadows something else, and people don't usually find out this one immediately. But they know you're probably sending a message, [and] they'll figure it out in time. Lots of examples of this exist over the history of my career," said Swift, as images from her Instagram appear around her.

In her music videos

Set design, words, and even the people who show up in Swift's music videos are also notable clues. Nothing, as she's indicated, is an accident. In shots of the "Me!" video, we see a unicorn, the word "Lover," a Christmas tree, and a lot more that we didn't catch. While this is true of all of her videos, there's one in particular that topped the others.

"I think the most Easter egg-y video of my entire career thus far is "Look What You Made Me Do." Literally the whole video is just an Easter egg. There are like thousands of Easter eggs. There are some that people still haven't found," she laughed. "It will be decades before people find them all." We're going to take this to mean that there's a lot more to come on this next album.