What Did Taylor Swift Sing At Jingle Ball 2019? Her 30th Birthday Show Featured New and Old Hits
What would you want to do for your birthday? For most people, the idea of singing in front of thousands of people isn't appealing, but most people aren't Taylor Swift. For the singer-songwriter's 30th birthday, she took the stage at Madison Square Garden in New York City to open the annual iHeartRadio Jingle Ball event. Here's a recap of her performance.
'Black Space'
Swift took the stage, starting off with "Blank Space." She was wearing a silver, glittery mini dress and matching thigh-high boots, with nail painted a festive red and green. Swift had name-checked the song the night before. During her Billboard Women in Music speech. While receiving the Woman of the Decade Award, Swift referred to the hit as a "musical satire," which she wrote after she was criticized by the media.
'Me!'
Swift took a moment as the crowd cheered after the song, smiling and saying, "Thank you, New York City." She then launched into "ME!" her first single off of her latest album Lover. Her back up singers/dancers, in matching jumpsuits, joined her. Swift also sang Brendon Urie's (of Panic! At the Disco) part.
"Hey kids! Tonight is my birthday!" she shouted in place of the oft-mocked part of the bridge where she originally sang, "Hey kids! Spelling is fun!" These lyrics were removed from the track, and she hasn't sung them live.
'Lover'
Swift then traded in her hand mic for a guitar. "Just being here with you feels really special," she told her fans, saying that it was "very generous" of Z100 to throw the show. "There's really nothing like you," she said of the crowds in New York. "I had a choice. Where would I want to spend my 30th birthday? The answer is: You're looking at it! This is the first show of the 30th year of my life."
She then asked everyone to take out their phones and turn on their flashlights, so that it looked "like an ocean of stars," as she launched into "Lover." Swift strummed her guitar, which also read the name of her album on it, as she sang her most romantic song yet, thought to be about her long-time boyfriend, Joe Alwyn.
'Welcome to New York'
Swift swapped her "Lover" guitar for a black one. "You guys are amazing. And I wanted to tell you that I can see absolutely everyone in this arena," she said, pointing to many within the crowd. "So now that you know that I can see you…if you know this song, I want to hear you." She then sang an acoustic version of her 1989 hit "Welcome to New York."
'You Need to Calm Down'
The famed singer then talked about Lover, and what love is. "I think that one of the things that I see as a major definition of love, in my opinion, is that I think love is equality." This led perfectly into her LGBTQ+ anthem "You Need to Calm Down."
'Christmas Tree Farm'
Everyone knew what would come next. Swift then added a Santa hat to her outfit, saying, "I was just wondering maybe if you'd want me to sing a Christmas song I wrote?" She began to belt out her latest song, "Christmas Tree Farm," which was released on Dec. 6, 2019, with an accompanying video made up of home movies from her childhood.
'Shake It Off'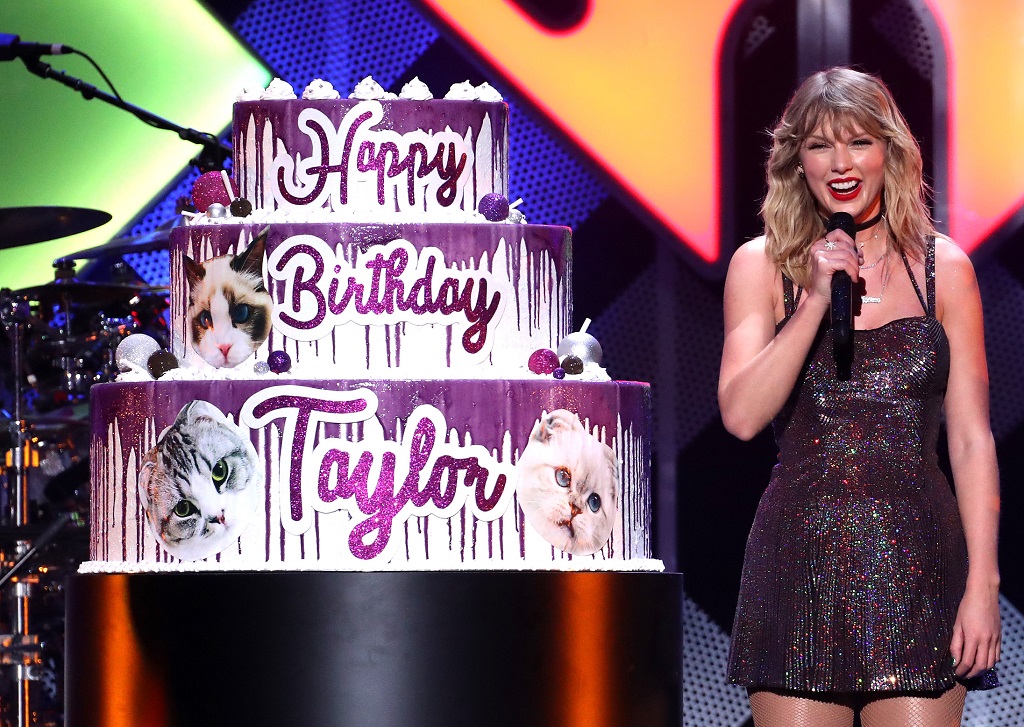 "It has been incredible to spend this time with you," she said to her fans. She asked her fans to get rid of their "anxiety and worries," and launched into her dance hit, "Shake It Off." But that wasn't the end of it.
After her performance, Swift was presented with a three-tiered birthday cake featuring her cats. The entire audience then launched into singing "Happy Birthday" to her, as she smiled and clapped for everyone. "It's the most beautiful song I've ever heard, thank you." A perfect way to end the night!