Taylor Swift Reveals The Name of Her New Album Is In The 'ME!' Music Video, Swifties Put Their Detective Hats On
After a borderline gratuitous amount of buildup, Taylor Swift revealed her latest single, "ME!," along with the song's video on April 26. Many Swifties welcomed the drastic change to the pop star's vibe. Edgy, leather Taylor is hanging up her stiletto boots and rainbow, butterfly Taylor is here to stay.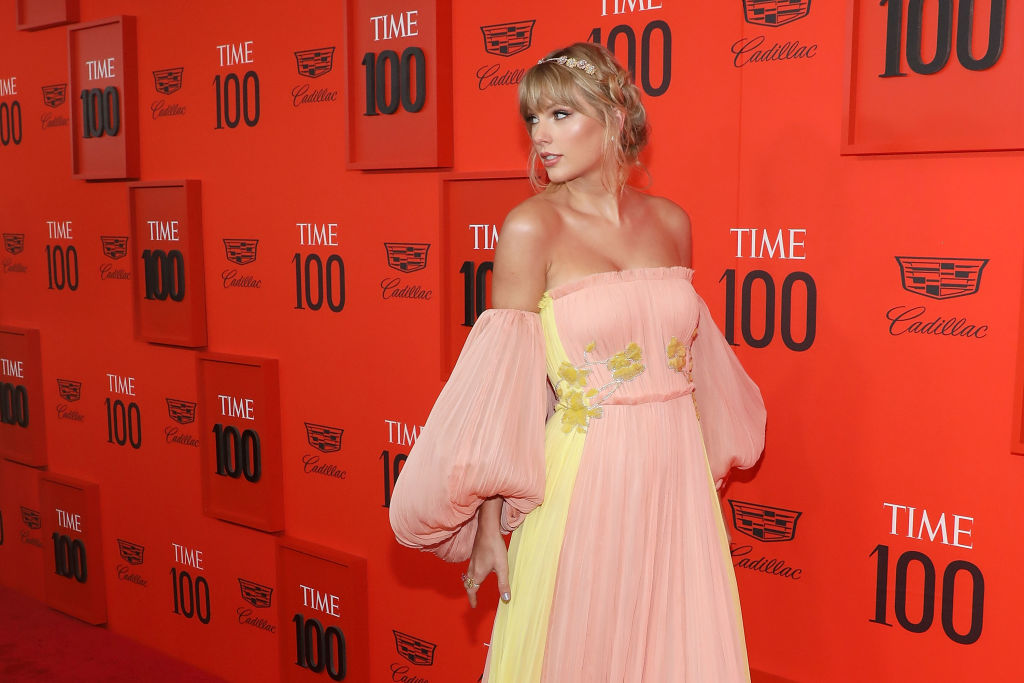 She's been preparing fans for weeks for this metamorphosis. Her social posts have been filled with pastels and sparkly edits and she's been dropping clues left and right that new music's on the horizon. Because the hype around April 26 was so huge, many fans thought that would be the day she'd release her full album. At this point, Swifties will take what they can get (they were pleased to get some new music after the last countdown lead to the personal essays Swift wrote for Elle).

In true Taylor fashion, the singer just revealed that inside the "ME!" music video, viewers can find both the name of her next single and the name of the full album.

Suit up, Swifties! There's more detective work to be done!

At this point in her career, it's become evident that Swift lives for giving clues and playing pop star mastermind (we can picture her scheming up these hints in her Wes Anderson-esque villain's layer, maniacally petting her cats and cackling in delight), and her fans live for solving the next Swift puzzle. It's fun! And certainly unique when it comes to releasing new pop music. Swift fans are so devout that they truly suffer in the dead time between album releases. The second Swift begins dropping hints, they have something to get excited (and gleefully obsess) about again.

What fans think the name of Taylor Swift's next single is

The second Swift announced that both the name of her next single and the name of the album are in the video, Swifties began studying the "ME!" music video as if it were an SAT prep book.

Quite a few fans think the next single could be called "Lover."

"I SAID
Album: 13
Single: Lover
Or maybe the other way around," tweets one fan.

"Baby doll when it comes to a lover/ I promise that you'll never find another like me"

"hey @taylornation13 @taylorswift13 – new album is AWESOME! Next single? lover. #callingit #ts7theories #taylurking #taylorswift," writes another.

This theory, so far, seems to be the most popular.

What fans think the name of Taylor Swift's new album is

"Lover" seems to be the fan-favorite in terms of single possibilities, but the names for TS7 are a little more varied.

Some Swifties think the album could be called Home.

"YALL THS SECOND SINGLE HAS TO BE LOVER AND THE ALBUM IS HOME. YOU SEE LONDON, THE INSIDE LOOKS LIKE NEW YORK, THE BOOTS ARE NASHVILLE, AND THE TREE IS PENNSYLVANIA. SHE HAS HOMES IN ALL THESE PLACES," writes another Twitter user.

Other fans think the album could be named 13, because if you flip "ME!" upside down the 'E' and '!' look like the number 13.

This fan thinks the album might be called Rainbow.

"I think the album is called RAINBOW- it is Tay's 7th album, the word has 7 letters, and rainbows are made up of 7 colors."

We'll have to wait for the big reveal to find out the name of the single and album. In the meantime, we're sure mastermind Swift will drop a few more clues. Stay alert, Swifties (but also remember that getting sleep is important, too!).

Read more: Taylor Swift is Turning 30 and Finding Her Political Voice

Check out The Cheat Sheet on Facebook!