Taylor Swift Sets New AMAs Record
In a triumphant night, Taylor Swift ruled the American Music Awards on Nov. 24. The singer was honored as Artist of the Decade in addition to taking home all five awards she was nominated for. If this wasn't enough, Swift became the record holder for the most AMAs won, surpassing Michael Jackson's previous record.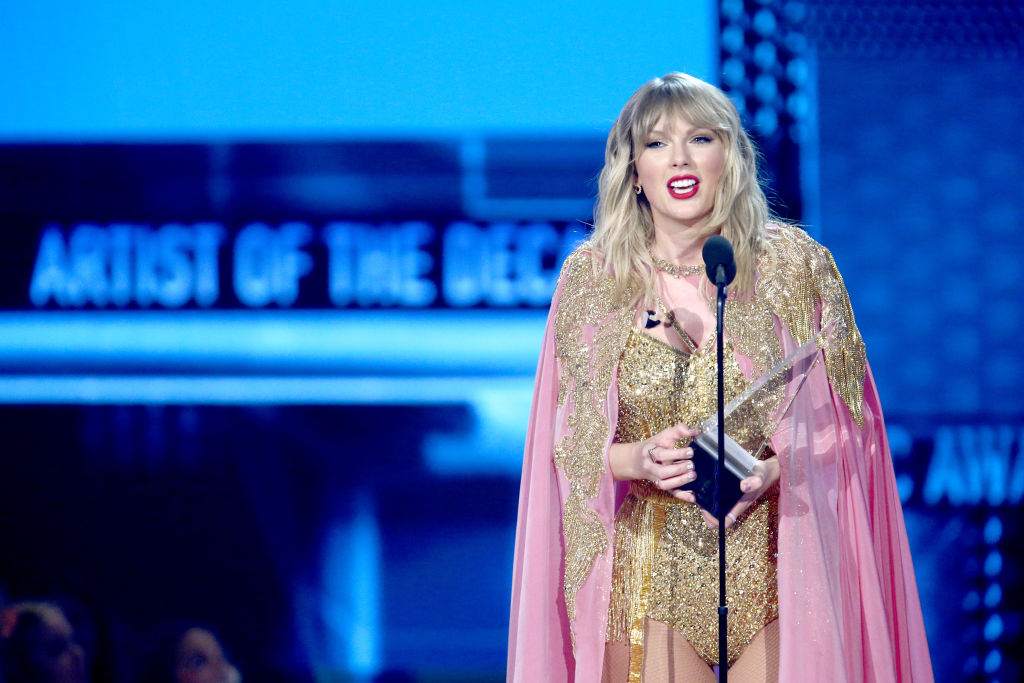 Taylor Swift won six AMAs on Nov. 24
At the 2019 AMAs, Swift won six awards. In addition to Artist of the Decade, Swift won Artist of the Year, Favorite Music Video, Favorite Female Artist – Pop/Rock, Favorite Album – Pop/Rock, and Favorite Adult Contemporary Artist.
This brought Swift's total number of AMAs to be 29. The previous record, held by Jackson, was 24 awards. Swift won her first AMA in 2008 when she was named Favorite Female Artist – Country.
The AMAs honored Taylor Swift as the Artist of the Decade
Before going into the 2019 AMAs, Swift and her fans learned she would be honored as the awards show's Artist of the Decade. Carole King presented Swift with the Artist of the Decade award, and Swift thanked King in her speech.
"When I fell in love with music it was right around the time I realized how marvelous it was that an artist could transcend so many different phases and changes in people's lives. So, you taught me that that's a possibility," she said.
Swift also thanked her fans for sticking with her over the years and continuing to listen to her music.
"All that matters to me is the memories I have had with you guys, with you the fans, over the years," Swift said.
The singer performed a medley of her hits
Before the AMAs, it was unknown if Swift would be able to perform her planned medley. On Nov. 14, Swift released a letter on her social media platforms. In the letter, Swift alleged that Scooter Braun and Scott Borchetta were blocking her from performing songs from her old catalog. According to Swift, the only way they would grant permission is if she agreed to not rerecord her masters in 2020.
Four days later, Big Machine Label Group released a statement saying that Swift could perform her old songs in the medley. At the AMAs, Swift performed a medley of both old and new hits.
The singer performed "Love Story," "Black Space," "I Knew You Were Trouble," and "Shake It Off" from her old catalog. Both Halsey and Camila Cabello joined Swift onstage for the performance of "Shake It Off." Swift also performed "The Man" and "Lover" from her most recent album.
Fans loved Taylor Swift's AMAs speech and performance
Fans kept up with the AMAs on social media. After Swift's performance and speech, Swifties shared their thoughts. Based on the reaction on Twitter, it seems like Swift's performance and speech were highlights of the night.
"taylor referencing to her previous albums as prisoners has got to be the best part of her performance. #TaylorSwift #TaylorOnAMAs," a fan tweeted.
"Taylor Swift started her AMAs Medley with The Man bc of the Scott / Scooter / Masters drama, then moved onto Love Story (one of her fav songs) and finished her Medley with Lover because she finally found her love story. I'm emotional #AMAs," wrote a Twitter user.
"Taylor's AMAs performance and speech was one of the most iconic things in Taylor swift history," one fan tweeted.