Taylor Swift Discusses Her Relationship With Todrick Hall and the LGBTQ Community in Her Vogue Interview
She's back and bursting with pastel colors. In her interview with Vogue Magazine, Taylor Swift talked about her relationship with the LGBTQ community, her friend Todrick Hall, and her song "You Need To Calm Down." Learn more about Swift and her upcoming album, Lover, here.
Taylor Swift is close friends with Todrick Hall, as she says during her Vogue interview
Taylor Swift fans can't calm down. For her Vogue Magazine cover story, the artist opened up about a lot of heavy topics. That includes the 2016 election, the #MeToo Movement, and her relationship with the LGBTQ community. She says the conversation started with her friend Todrick Hall, who is outspoken about his sexuality and gender identity.
"Maybe a year or two ago, Todrick and I are in the car, and he asked me, 'What would you do if your son was gay?'" Taylor Swift said. "The fact that he had to ask me… shocked me and made me realize that I had not made my position clear enough or loud enough. 'If my son was gay, he'd be gay. I don't understand the question.'"
"If he was thinking that, I can't imagine what my fans in the LGBTQ community might be thinking," the artist continued. "It was kind of devastating to realize that I hadn't been publicly clear about that."
This, in turn, sparked the idea for Taylor Swift's music video, "You Need To Calm Down." The video featured many prominent members of the LGBTQ community, including Jesse Tyler Ferguson, Ellen Degeneres, and the Fab Five from Netflix's Queer Eye.
Taylor Swift's song "You Need To Calm Down" is a celebration of queer culture
This new Taylor Swift era is bursting with love, color, and acceptance. Most importantly, the artist has been outspoken regarding her support of the Equality Act, a bill supported by political figures like Cory Booker and Beto O'Rourke.
"Rights are being stripped from basically everyone who isn't a straight white cisgender male," she says. "I didn't realize until recently that I could advocate for a community that I'm not a part of. It's hard to know how to do that without being so fearful of making a mistake that you just freeze. Because my mistakes are very loud. When I make a mistake, it echoes through the canyons of the world. It's clickbait, and it's a part of my life story, and it's a part of my career arc."
The artist even practices what she preaches. During Pride Month, Taylor Swift paid a visit to the Stonewall Inn in New York City. She sang "Shake It Off" alongside Modern Family's Jesse Tyler Ferguson. In conjunction with her new music, Taylor Swift fans donated money to GLAAD, also known as the Gay & Lesbian Alliance Against Defamation.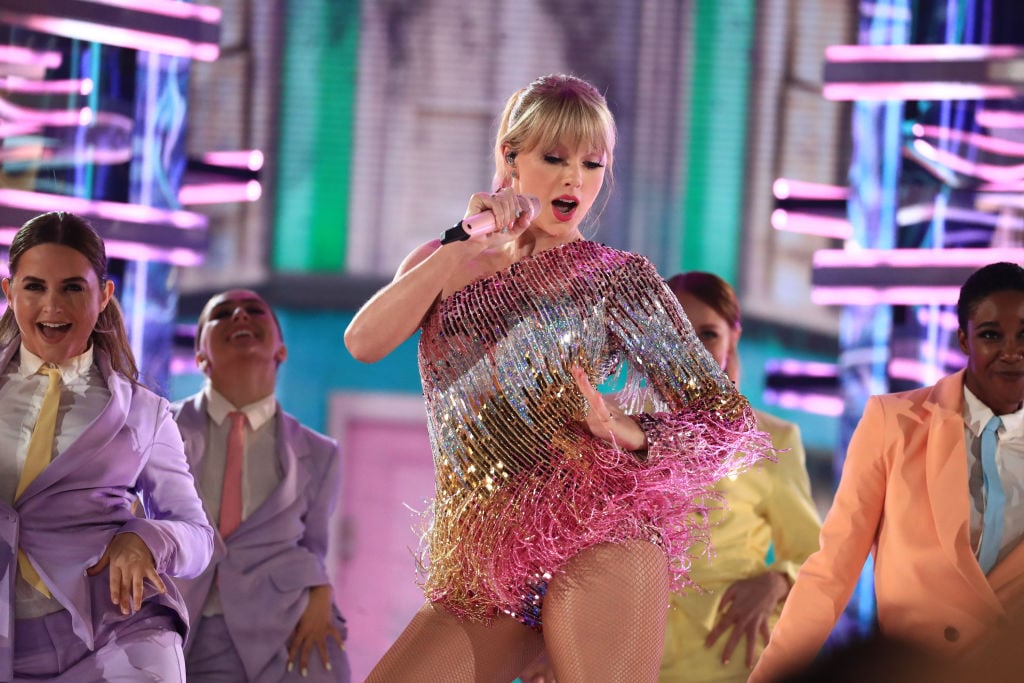 When does Taylor Swift's album, 'Lover' come out?
Even though Taylor Swift released a few singles, her album premieres later in August 2019. During her interview with Vogue, the artist said this might be her favorite album to date. A step away from her Reputation era, Lover is about color, acceptance, and equality.
"There are so many ways in which this album feels like a new beginning," Swift said. "This album is really a love letter to love, in all of its maddening, passionate, exciting, enchanting, horrific, tragic, wonderful glory."
Taylor Swift's songs, including "The Archer," "You Need To Calm Down," and "Me!" are available for streaming on Spotify, Apple Music, and most music platforms. The artist's upcoming album, Lover, premieres on August 23, 2019.