10 Times Taylor Swift And Todrick Hall Were Friendship Goals
Following the release of Taylor Swift's latest music video, "You Need To Calm Down" many fans were surprised to discover that that Swift was close friends with former "American Idol" contestant, Todrick Hall. But the friendship between these two talented singers dates all the way back to 2015. Let's take a look at some of the cutest moments between the famous besties, often referred to as Taydrick.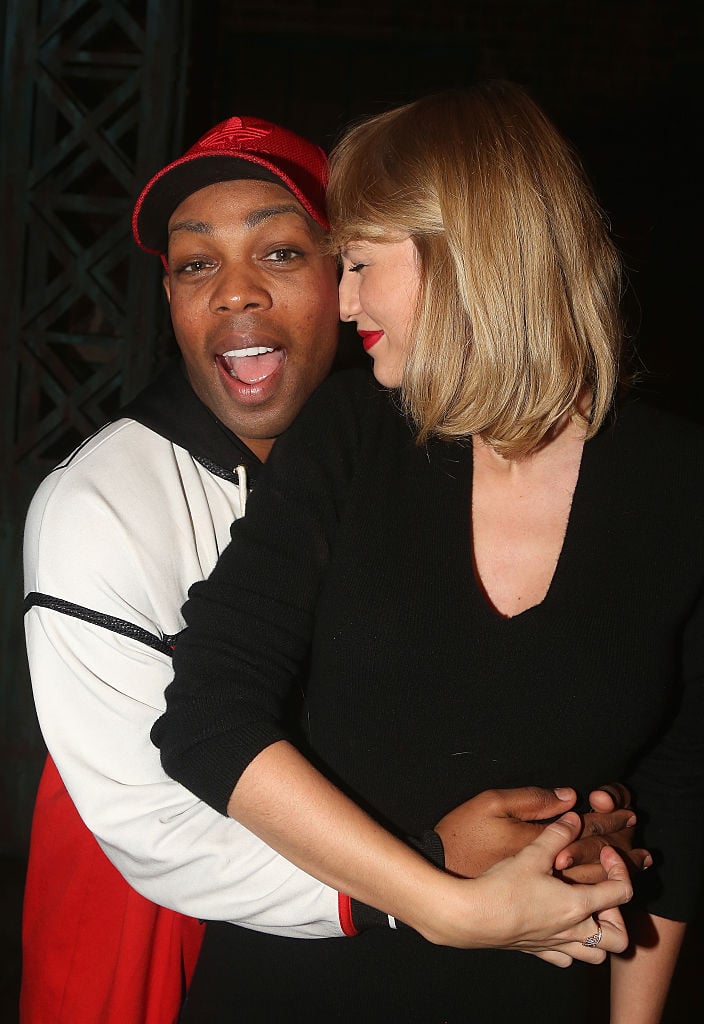 1. Never Splitting Up
The pair first met back in 2015 after Swift fell in love with a mashup that Hall did of some of her most iconic songs. Swift shared the video to her Twitter page and praised Hall for his incredible talent. Hall quickly fired back a message thanking Swift for her support. From there, Swift invited him to her 1989 tour and the pair hung out backstage. Whilst there, they goofed off and did impressive slits together, which they both posted to their respective Instagram pages. It was the start of a beautiful friendship.
2. New phone, who dis?
But the splits were just the beginning of the fun between these two singers. On the same night, Hall also playfully auditioned Swift to be his answering machine. Swift gives her full name and injects some of her trademark dry humor into the message before the machine cuts off. Fans everywhere were left wishing that their favorite celeb could record their answering machine message.

3. Finding the light
Who among us hasn't taken advantage of some bomb lighting for selfies? In one of the pair's most relatable moments, they share a picture of themselves utilizing the "quality lighting" in an unsuspecting bathroom in order to get a good photo together.
4. Number one fan
We love how Hall has continuously shown his support for his friend throughout the years. He attends multiple shows of each of Swift's tours and always details how proud he is of the artist. With his busy schedule, it's probably hard to find free time, but he always seems to make some for Swift.
5. Moral support
But Hall isn't the only one constantly showing his support. Swift also goes out of her way to support Hall in his many endeavors and projects. When Hall was in the Broadway performance of Kinky Boots, Swift made sure that she made an appearance. Not only was she kind and supportive to her close friend, but she also extended that warmth and appreciation to his fellow castmates and crew members.
6. Random dancing
If you don't break out into spontaneous song and dance sessions with your friends, are they even really your friends? It's great that despite all their fame and recognition, these two besties can still let loose with one another and be silly together.
7. Getting political
Until recently, Swift has been very closed-lipped about her political opinions and beliefs. But, she finally began speaking out, voicing her opinion, and encouraging her millions of fans to do the same. Because of her platform, she's gotten thousands of people to register to vote, donate to GLADD, and sign her petition supporting the Equality Act. But, it all started with Swift speaking out against the actions of Republican politicians in Tenessee during the midterm elections. Hall openly showed support of Swift and expressed his overwhelming sense of pride in a way that only a best friend can.
8. Gifts galore
Swift once again proved that she was the queen of gift giving when she surprised Hall with the perfect birthday present. Swift left her bestie shooketh when she gifted him with an Alexander McQueen jacket that he'd been admiring for weeks. Of course, she couldn't help adding her personal touch and also made him a sweet homemade card and baked him his favorite food, cinnamon sticks.
9. Promposal
Swift gave us all a lesson in truly giving proper thanks and credit when a friend goes above and beyond to help us out. Following all of the work that Hall did on the music video for "You Need To Calm Down" Swift wrote a cute card asking him to be co-executive producer with her. She then read it aloud in front of a group of people, promposal style.
10. Executive producer
Taydrick stans lost it when Swift posted cute images of her and Hall from the music video set with the caption, "Just like my life, this video was co-executive produced by Todrick." This quote perfectly captures the feeling of a best friend, helping to guide you through life and pushing to become the best version of yourself. We hope the pair continues to be active members of each other's lives and careers and we're interested to see where they go next.