Taylor Swift: The Sad Response From White House About Equality Act After Blasting Trump at VMAs
Taylor Swift put Donald Trump and the White House on blast at the MTV VMAs 2019 for not responding to a petition she started regarding the Equality Act. The bill would modify the Civil Rights Act of 1964 by adding gender identity and sexual orientation to the protected classes. With the spotlight in Washington D.C., she finally received a response and it was not what we all were waiting for.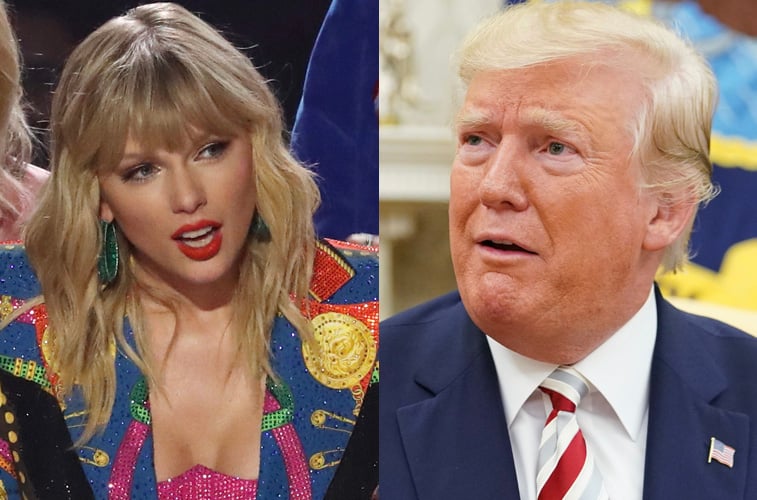 What did Taylor Swift say at the VMAs?
Swift fans are well aware that the "You Need to Calm Down" music video featured a call to action at the end where the crooner urged viewers to sign a petition that would help get the Equality Act bill on the president's desk for review.
"Let's show our pride by demanding that, on a national level, our laws truly treat all of our citizens equally. Please sign my petition for Senate support of the Equality Act on change.org," the title card reads.
On Monday night, when Swift took home the Video of the Year award for that same song, she delivered a courageous acceptance speech about the petition for equality.
"I just want to say that this is a fan-voted award. So, I first want to say thank you to the fans because in this video, several points were made, so you voting for this video means that you want a world where we're all treated equally," Swift said accepting the moon person trophy.
She continued: "Regardless of who we are, regardless of how we identify, at the end of this video there was a petition — and there still is a petition for the Equality Act, which basically just says we all deserve equal rights under the law."
At the end of her speech, Swift threw a little shade at Trump and the White House for not responding to the petition even though they had more than enough signatures.
"And, I want to thank everyone who signed that petition because it now has half-a-million signatures, which is five times the amount that it would need to warrant a response from the White House," Swift added looking down at her wrist simulating looking at a watch.
The White House responds
A day after Swift blasted the Trump administration, she finally received a response and it was not favorable.
"The Trump Administration absolutely opposes discrimination of any kind and supports the equal treatment of all; however, the House-passed bill in its current form is filled with poison pills that threaten to undermine parental and conscience rights," the White House said in a statement to CNN.
Taylor Swift breaks political silence
The "Lover" hitmaker had been mum about politics in the past and she was especially quiet during the 2016 presidential election where she didn't voice her endorsement for a candidate. In an interview with Vogue, Swift revealed the reason why she never openly supported Hillary Clinton.
"The summer before that election, all people were saying was, 'She's calculated. She's manipulative. She's not what she seems. She's a snake. She's a liar,'" Swift recalled. "These are the same exact insults people were hurling at Hillary. Would I be an endorsement or would I be a liability? 'Look, snakes of a feather flock together. Look, the two lying women. The two nasty women.' Literally millions of people were telling me to disappear. So I disappeared. In many senses."
Swift is now using her platform to bring awareness to issues and is ready to up her game for the 2020 presidential race.
"I can't believe we're here," she told The Guardian. "It's really shocking and awful. And I just wanna do everything I can for 2020. I wanna figure out exactly how I can help, what are the most effective ways to help."