Taylor Swift's New Single 'ME!' Has Fans Hyped For Her Seventh Album
Hype Queen Taylor Swift released her latest single, "ME!," at the stroke of midnight this morning, satiating Swifties everywhere. For weeks Swift has been teasing her following with pastel-themed photos and sparkly edits. She's been dropping Sherlock-worthy hints in preparation for her big announcement, and her devoted following rose to the occasion.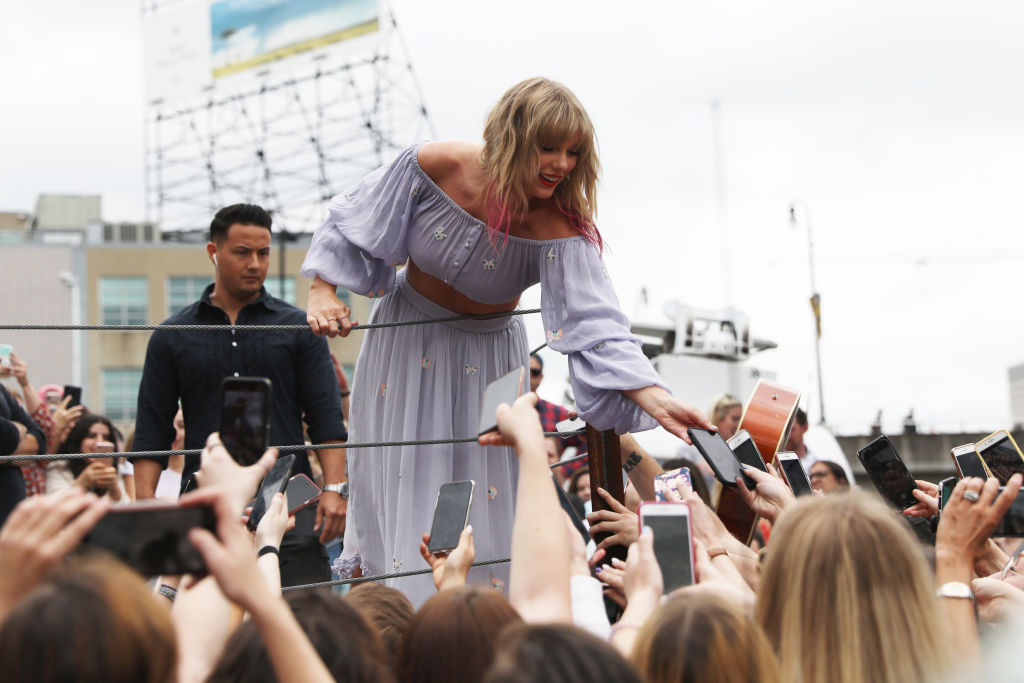 On Thursday, April 25, Swift surprised her fans in Nashville with a not-so-secret appearance in front of artist Kelsey Montague's butterfly mural. The trip was not publically announced, and yet, Swifties showed up.

"You guys are amazing for figuring this out," The New York Times reports Swift telling the crowd, "because no one knew we were coming, no one knew this was a part of the campaign."

The music video, as well as the single, dropped at midnight. The "ME!" video, directed by Swift and Dave Meyers (who's also worked with Kendrick Lamar, Missy Elliot, and Pink), is a stark difference from the visuals Swift painted during her Reputation era.

The video does begin with a snake, but she's cream and baby pink, and she bursts into a kaleidoscope of colorful butterflies just as she prepares to strike. Swift has an obvious message for her listeners: she's done striking.

We follow one of the pastel butterflies to a window that looks into the home of a couple (Swift and Brendon Urie of Panic! At The Disco) who are arguing (in French). The fight is dramatic (in French!), cartoonish, fitting of this pastel world. What follows is a song about, if you ask Swift, individuality.

"'ME!' is a song about embracing your individuality and really celebrating it, and owning it. I think that with a pop song, we have the ability to get a melody stuck in people's heads, and I want it to be one that makes them feel better about themselves," she said when the single dropped.

It's a song about being worth the trouble. Swift's character may be psycho on the phone and can't leave well enough alone, but there's no one else like her.

The video's visuals are so in-your-face that it's easy to imagine the spectacle becoming a ride at Universal Studios by Swift's 30th birthday. We definitely have our pop princess back. Message received, Taylor–leather: OUT; tulle: IN.

Swift fans want TS7 and they want it now

Swifties were, of course, ecstatic to experience "ME!" in all its rainbow glory. But now that they've had the appetizer, they're licking their chops in anticipation for the full meal.

Many Swift fans can't even mention "ME!" without also mentioning TS7.

Some fans used the video as an opportunity to search for clues about the rest of the album.

And some fans, though aren't 100% here for "ME!", are still very much here for the rainbow aesthetic.

How many more clues will Swift give us before the official release of TS7? How many more photos will she post? Will there be another countdown clock? We're not sure what she has up her sleeve this time around but one thing's for certain: she'll never bore us, baby.
Check out The Cheat Sheet on Facebook!