Tayshia Adams May Have Just Subtly Said Why We Don't See Many Personal Posts From Her on Instagram
Bachelor in Paradise may be over, but fans are still hyper-focused on some of the couples who managed to find love on the beach. Tayshia Adams arrived in Mexico with her sights set on Blake Horstmann, but after spending time with John Paul Jones, she started to see the potential in that relationship. While Jones was seriously into Adams and hoped to pursue a romance with her off the beach, Adams ended up breaking Jones' heart, and the two parted ways after the breakup.
Despite the sad exchange on the show, we know Adams and Jones got back together and now seem to be going strong. But fans keep asking why Adams doesn't feature details about her relationship on social media — and it seems she may have just answered why.
Tayshia Adams has entered the spotlight more since dating John Paul Jones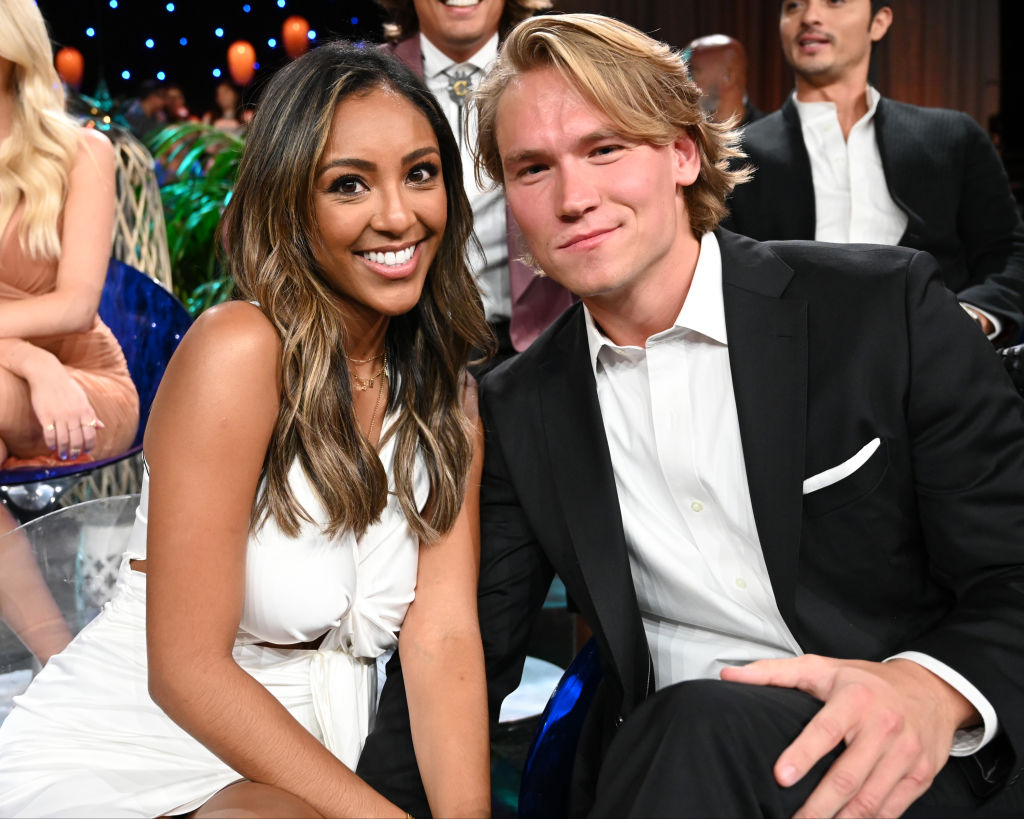 Both John Paul Jones and Tayshia Adams were fan favorites from their seasons of The Bachelor and Bachelorette — and after seeing their adorable interactions in Paradise, fans knew it was meant to be. Thankfully, after the show ended, Adams flew out to Jones' home and asked him to take her back. He agreed, of course, as he's always been all-in on the relationship. And now, they're doing better than ever. On Sept. 18, Adams posted a photo of her and Jones with the caption, "TAYPJ for the win!" and also confirmed her relationship to a fan in the comments.
It looks like these two are taking another step forward in their relationship, too. Jones told Us Weekly that he moved to Los Angeles for Adams and career opportunities in acting. "Tayshia is only an hour and a half away so that was a big draw and to my surprise, a talent agent reached out to me and they've been consistently getting me auditions and I'm waiting to hear back [on projects]," he said.
She barely posts about her relationship, however
There are plenty of BIP stars who post frequently about their thriving relationships, like Caelynn Miller-Keyes and Dean Unglert, for example, or Hannah Godwin and Dylan Barbour. And while Adams and Jones have spoken to the media regarding how happy they are to be together, there's not much evidence of their love online. Jones has posted a few photos with Adams, but the last photo Adams posted with Jones was from back in September.
Fans have noticed their lack of PDA on Instagram, too. As one follower asked in the comments of this recent post from Adams, "Are you still with jpj? Haven't seen any pictures of you two." Another added, "Are you and JPJ still together @tayshiaaa."
Adams just explained she's a private person
They may not post about each other too much on Instagram, but that may not mean much at all, as Adams just created a new post about how she values her privacy. "Despite being on a tv show, I am a very private person that values my faith, family, and friends more than anything. No matter what opportunities come my way, I will always be true to who I am," she captioned this post showing her with her younger brother. "But no matter what happens, no matter where you find me next, one thing will never change – my true essence," she added.
Adams is getting major love from her followers for her post, too. "That's why so many people love you because the true you is the best and people can see it!" one person commented. And Adams' best friend from BIP, Nicole Lopez-Alvar, also added, "Just got teary eyed … also please add 'Humble doesn't stumble baby' to your Insta bio."
We all love Adams and Jones so much that we're hoping we still get glimpses into their relationship despite their love of privacy. We'll have to wait and see what they reveal over time!
Check out Showbiz Cheat Sheet on Facebook!