'Teen Mom 2': Barbara Evans Ironically Sticks up for Jenelle at Reunion, Months Before Their Bitter Feud Reignited
Jenelle Evans must have known that her life on Teen Mom 2 was coming to a close because she was sure to bring all the drama she could to the reunion special. The mother of three has spent nearly a decade on MTV's docuseries that follows the lives of several women who became mothers as teenagers. Through all of the ups and downs experienced by the teen moms, Jenelle has always served up the most trouble, and her mother has always been by her side trying to deal with the fallout and make excuses. This seasons Teen Mom 2 reunion special was no different.
Is Barbara Evans Jenelle's security blanket?
Evans, now 27, refused to retake the stage unless her mother was allowed to join her for her chat with Dr. Drew and Nessa. It's possible that Jenelle feels like Barbara offers her some semblance of security, and that is precisely what she did during the reunion special.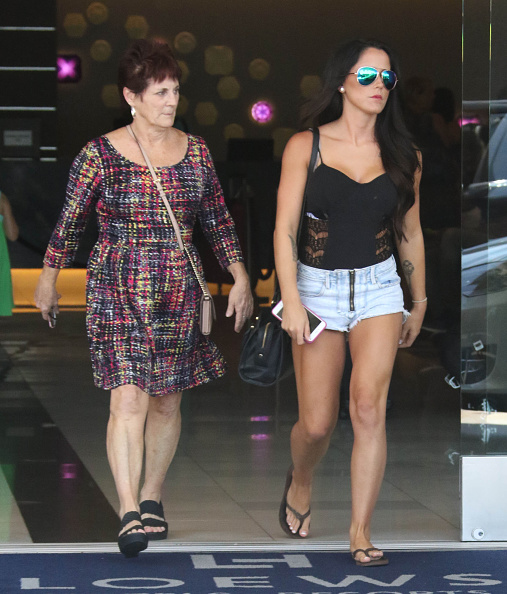 Barbara jumped in as soon as the questioned posed to Jenelle got even the least bit tough. The elder Evans alleges that Jenelle's co-stars have spent years alienating her and making it difficult for her to remain on the show. Fans are skeptical that is the issue. After all, if everyone doesn't want to be around you, it's probably not everyone else that has the problem.
Barbara and Jenelle have a complicated relationship
Jenelle and Barbara have one of the most complicated relationships ever seen on Teen Mom 2. The mother-daughter pair have fallen out and made up so many times over the years that it's hard to keep track of where they are at in their relationship.
Before the death of Nugget, Jenelle and Barbara were on good terms. In fact, Jenelle noted during the reunion that everyone was getting along, but that wasn't always the case. Barbara was actually stalked and harassed by her daughter and her husband during a 2017 custody battle over Jace. The couple spent 2 hours banging on Barbara's door after following her to a Mexican restaurant and filming her drinking.
The mother-daughter duo is no longer speaking
Months after the reunion show was filmed, Jenelle and Barbara are no longer speaking to one another. Surely the pair will eventually mend fences, but as it stands, Barbara will not help Jenelle see her children as long as David Eason is in the picture. Jenelle has cut her mother out, likely to get her way, but Barbara doesn't appear to be giving in.
The 66-year-old grandmother currently has custody of two of Jenelle's three children. Jace, 9, has been in Barbara's custody for years. Ensley, 2, was temporarily placed in Evans' care last week at the urging of a judge. The 2-year-old had previously been in the care of David Eason's mother after being removed from David and Jenelle's care in early May.