The Adorable Reason Chelsea Houska's Husband Cole DeBoer Finally Came To A 'Teen Mom 2' Reunion Special
Chelsea Houska, star of Teen Mom 2, spent the most time of any of the women being single. But in Season 6, we finally see her settle down with Cole DeBoer. Now, the two are married and have had two children together: Watson and Lane.

Though Cole is frequently seen on camera (he has his own contract with MTV), he's never attended a reunion special — until now. So what made him change his mind and come to the Season 9 one?

What does Cole do?

In addition to appearing on the reality show, Cole works full-time as a traffic control specialist in South Dakota. He doesn't spend a lot of time talking about his job, however — his focus is on his family and their life on their large property, which also includes a whole host of animals.

Somehow, Cole makes time to do other work. Like many of the Teen Moms and Dads, he posts sponsored content on Instagram. He also has a line of socks through True Feat Brand. On top of all of that, he seems to be quite handy: Cole rebuilt their entire deck last year when it was rotting.

He's been a source of comfort for Chelsea

This past season was a difficult one for Chelsea. She has been dealing with anxiety, and after her house was broken into, this only became more of an issue. But Cole has been there for her the whole time — even at the reunion.

When asked for advice about dealing with mental health, Chelsea said, "Don't be afraid to go to your doctor if you need medication. Take time for yourself." Cole added, "Don't be afraid to share."
Chelsea elaborated on this, saying, "Even though [Cole] might not understand anxiety, he tries. And he's there. I think a lot of times it's hard for people to be there for someone that they don't quite understand what it's like."  

Cole is very different from Chelsea's ex

Aubrey's father is Chelsea's ex-boyfriend, Adam Lind. The couple dated on and off for some time both before and after Aubrey's birth, but he was always a difficult person to deal with. Now, she's happily married to Cole, but because of Aubrey, she still has to face Adam when it comes to things like custody.

When asked at the reunion how she stays calm when it comes to exes like Adam, Chelsea said, "I don't have a choice. I have to deal with this. And I try not to let it make me explode." Her father, Randy, added, "You have to choose not to let it be an anchor on you. Just say, 'This is what it is. Which way am I going? Am I going to have a fun, happy life or am I going to sit here and cry?'''

At one point, Chelsea thought she and Adam could make it work. "It was a fairytale," said Randy of Chelsea's hopes to reconcile with Adam. "She just needed a different prince." Cole chimed in at that perfect moment, saying "I'm right here."

So why did Cole speak at the reunion this time?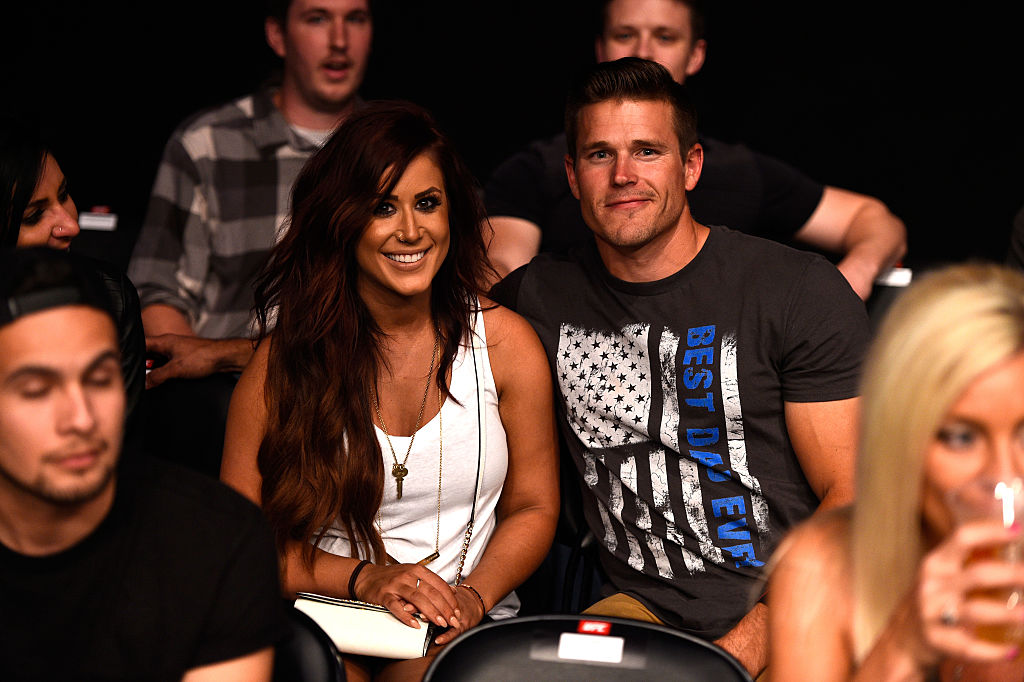 There has been a lot of drama at past reunions, especially last year's which ended in an all-out brawl between Briana DeJesus' sister, Brittany, and Kailyn Lowry. It's understandable that low-key Cole would want to stay out of that.

But this year, the moms were divided up into groups, and there appeared to be a lot less conflict. So maybe that's why Cole agreed. And he seemed OK with it all; when Dr. Drew thanked Cole for coming on, he asked him how the experience was. "It's been just fine," he said, to audience laughter. Hopefully, that means we'll see more of him in the future.