'Teen Mom 2': David Eason Posts About Missing His Daughter Amid Divorce From Jenelle Evans
Jenelle Evans and David Eason, formerly of MTV's Teen Mom 2, had a rocky relationship that began on Tinder in 2013 and ended in a separation in Oct. 2019.
Along the way, Eason was fired from MTV for controversial comments on social media. Evans also had to stop filming because of a CPS investigation and temporary removal of the couple's children after Eason killed the family's French bulldog, Nugget.
Since the Teen Mom 2 star announced her intent to divorce Eason, with whom she shares two-year-old daughter Ensley, her ex has not been shy about criticizing her on social media. Most recently, he posted about missing Ensley amid the divorce proceedings, a restraining order, and an impending custody battle.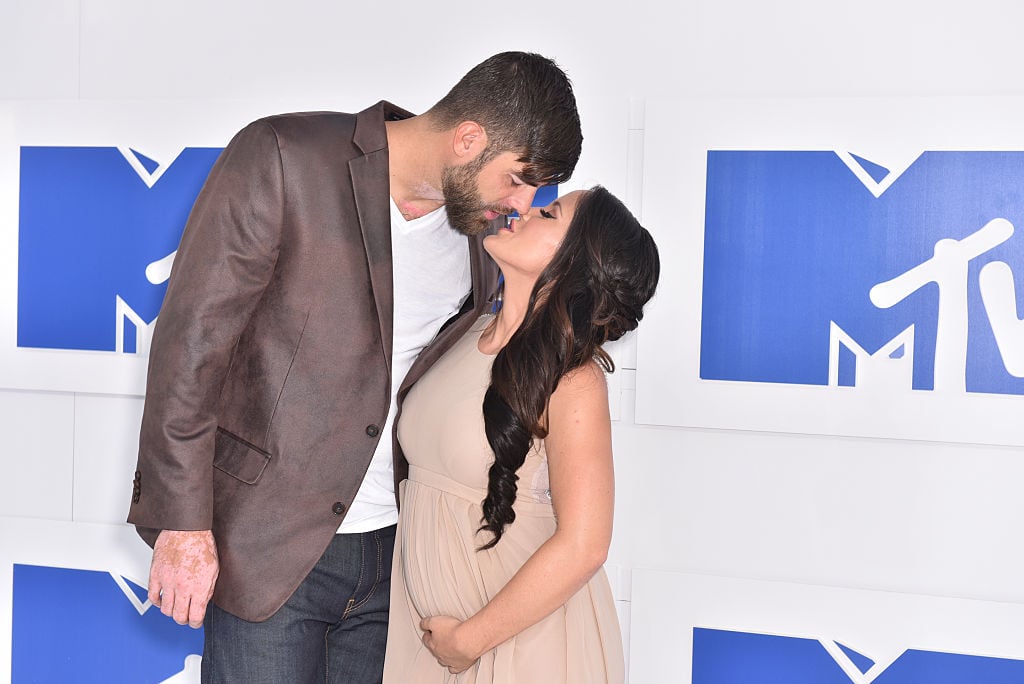 Evans took out a restraining order against her ex
Evans took to Instagram on Oct. 31 to announce her divorce from Eason, her husband of two years since the pair married in 2017.
"Like anyone else I want what's best for my kids and I want to be happy. With time away from Teen Mom I've started to look at my life differently and I know I need to make changes. I'm starting that now," she wrote on Instagram.
"The kids and I have moved away from David," the Teen Mom 2 star continued. "Nobody gets into a marriage expecting it to end, but I know that's what is best for me and for my kids. Today, I've filed papers to start that process."
Evans reportedly moved to Tennessee, away from the couple's North Carolina home, and filed for a temporary restraining order, according to People.
The 'Teen Mom 2' star claimed her ex's behavior was 'escalating'
In a court filing, Evans claimed that Eason had been physically and emotionally abusive to both her and at least one of her children during their marriage. She also said he had recently sent her threatening texts, such as, "My goal in life is to make sure you regret leaving me like this."
"Because of his recent threats, his history of violence, his erratic behavior and his large stockpile of weapons, I am scared for my life and my children's well-being," read the court documents, according to Radar Online. The temporary order was granted. Eason was ordered not to contact the Teen Mom 2 star or her children and not to write about his ex-wife on social media.
Eason hasn't been shy about criticizing the 'Teen Mom 2' star on social media
Despite the court order, Eason has taken to Facebook and Instagram to criticize Eason. On Nov. 10, he wrote on Facebook (seemingly of his Teen Mom 2 ex), "All I can tell y'all right now is that I have tried to protect ppl and their reputation but the truth will come out soon!"
On Nov. 19, the 31-year-old even claimed that he was happy about the separation from 27-year-old Evans. "Glad u people think I am taking this so hard. Just so u all know I am so very much happier and so is Maryssa! Finally peaceful!" he wrote on Facebook.
To one fan who said he must care somewhat about his divorce, Eason responded, "It bothered me… but I'm not heart broken. I've realized I wasn't in love and there are much better people out there for me."
According to In Touch, Eason even agreed with one Teen Mom 2 fan who commented on his Instagram calling Evans an unfit parent. Eason wrote "exactly" in response to the fan's claim that Evans had "never" formed a "bond" with any of her children.
The 31-year-old recently said he missed his daughter Ensley
Eason recently shared his sadness over the divorce proceedings and custody battle on Instagram.
On Nov. 21, he posted a video of his and Evans' two-year-old daughter Ensley, captioning it: "'Deer Daddy, I see a deer, deer!' I miss my baby more than she could ever imagine and I know she misses me too! I would give anything to take her hunting again right now!"
The video showed little Ensley whispering about "seeing a deer" on a hunting trip with her dad. Eason could be heard in the background whispering to the toddler, "You gotta be quiet, right?"
Eason last posted photos and videos of himself hunting with his young daughter over the weekend of the Teen Mom 2 reunion, when Evans left for New York City and allegedly met with MTV producers. Ensley remained with Eason at the time before Evans left him.
Some fans criticized Eason, while others offered support
Many of Eason's Instagram followers joined him in criticizing his Teen Mom 2 ex for allegedly "keeping" Ensley away from him.
"It's so wrong for a parent to keep a child away from the other parent! It hurts no one but that child! It's very selfish! Praying you get to see your baby girl soon," wrote one Instagram commenter.
Others, however, pushed back against the former Teen Mom 2 cast member, seeming to call him a bad parent. "You shouldn't have kids," wrote one critic. "You literally took the words right out of my mouth!" wrote another commenter in response.