'Teen Mom 2': David Eason Says He Wasn't 'In Love' With Jenelle Evans
David Eason and Jenelle Evans of MTV's Teen Mom 2 never had a picture-perfect marriage. Multiple 911 calls were made from their home since their marriage in 2017, and Evans accused Eason of physical abuse more than once.
After Eason made controversial comments on social media in 2018, he was dropped from filming for Teen Mom 2. Evans, too, was at least temporarily dropped by MTV, despite her ongoing contract, after Eason admitted to killing the family dog, Nugget, in April.
But now, it seems that Evans is taking steps to leave the marriage. Evans fled her home state of North Carolina, where she shared land and a home with Eason, in late October after allegedly meeting with MTV producers in New York City.
And despite a restraining order that allegedly prevents Eason from talking about his soon-to-be-ex-wife on social media, he hasn't been shy about criticizing the Teen Mom 2 star.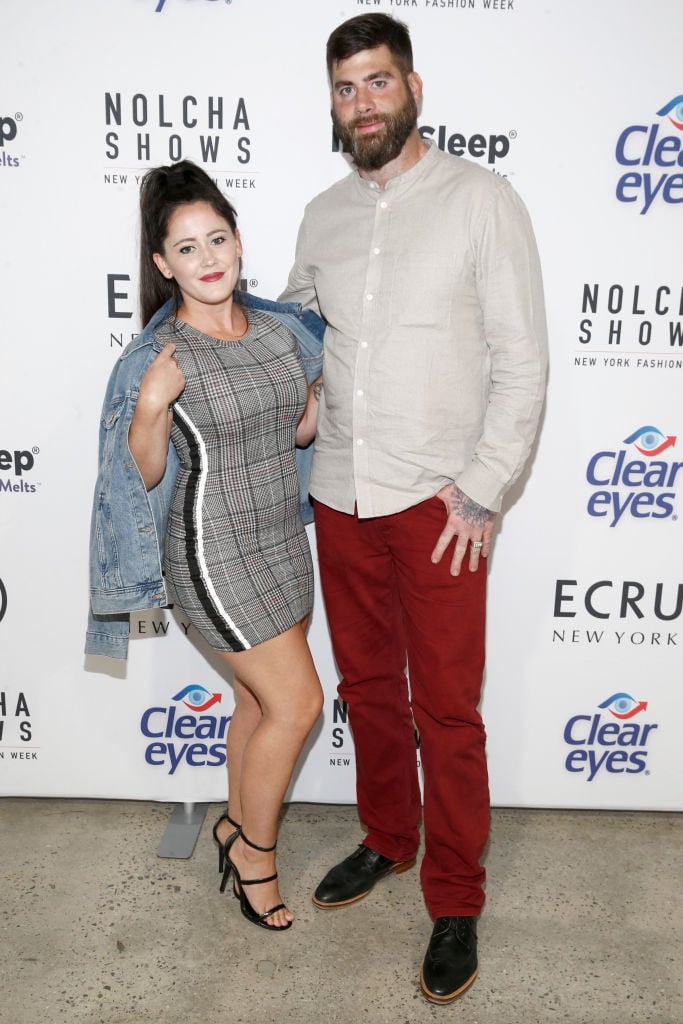 Evans announced that she was leaving David Eason on Halloween 2019
27-year-old Evans announced that she was leaving her husband of two years on Oct. 31, 2019. "The kids and I have moved away from David," the Teen Mom 2 star wrote in part in an Instagram post on Halloween 2019. "Nobody gets into a marriage expecting it to end, but I know that's what is best for me and for my kids. Today, I've filed papers to start that process."
Evans moved to a different state and filed for a temporary restraining order, according to People. "Because of his recent threats, his history of violence, his erratic behavior and his large stockpile of weapons, I am scared for my life and my children's well-being," she wrote in the court filing. The restraining order was granted, and Eason is not allowed to contact the MTV star.
Eason's daughter Maryssa, from a previous relationship, remains in his care. Evans' five-year-old son Kaiser, from her relationship with ex Nathan Griffith, is with her, as is her toddler daughter Ensley (also Eason's daughter).
Eason took to social media to blast the 'Teen Mom 2' star
Just after his Teen Mom 2 ex left him, Eason was quiet on social media, sharing only in a now-deleted post that he was filing a missing person's report because Evans hadn't contacted him. But in just a few days, he began to speak out against his ex-wife on Instagram and Facebook, despite the restraining order.
On Nov. 10, Eason wrote on Facebook, presumably about Evans: "All I can tell y'all right now is that I have tried to protect ppl and their reputation but the truth will come out soon!"
Comments flooded in, some in support of Eason, others calling him an abuser. One Teen Mom 2 fan told him he should get paid for any information he leaked to media outlets, but Eason told her that wasn't his plan. "No I will be in court exposing everything that…will make all your jaws drop," he replied.
Another critic told Eason to focus on protecting his wife and children, and the former Teen Mom 2 star pushed back. "Maybe that's what I'm talking about, maybe you don't know what you're talking about," he wrote.
He told followers he wasn't 'in love' with his ex
On Nov. 13, Eason took to Instagram to thank Teen Mom 2 fans and social media supporters for their positive comments during the beginning stages of the divorce.
One Instagram user asked him under the post to share something most fans didn't know about him. In Touch reported that Eason responded by describing his background…and getting a dig in at his ex's behavior as well.
"I've been on my own in this world since I was 15 years old," Eason wrote. "Had my own car before I had [a] license. People have no idea the type of work ethic I have just because I've been working for [Jenelle], cleaning up after her lazy a** for years."
Eason didn't stop talking about his Teen Mom 2 ex on Facebook, either. On Nov. 19, Eason claimed the divorce wasn't affecting him nearly as much as people thought. "Glad u people think I am taking this so hard. Just so u all know I am so very much happier and so is Maryssa! Finally peaceful!" he wrote.
One fan questioned his claim, saying that he must be bothered by the divorce after spending so much time in a relationship with Evans.
Eason dropped a bombshell, claiming that he realized he never loved his wife to begin with. "It bothered me… but I'm not heart broken," he responded. "I've realized I wasn't in love and there are much better people out there for me."