'Teen Mom 2': Did Jenelle Evans Really Reach Out to Farrah Abraham For Advice?
Jenelle Evans and Farrah Abraham once appeared to be friends. The two former reality TV stars may have stared on the same network, but they were on two different shows, allowing for a more natural friendship to form. In recent years, though, the pair don't appear to be all that close. In fact, Farrah Abraham considers her former network co-stars "acquaintances", more than anything else. That, allegedly, didn't stop Evans from reaching out to Abraham in the wake of her very public firing. Did it really happen though? Let's look at the evidence.
Once upon a time Farrah Abraham and Jenelle Evans were friends
Once upon a time, it looked like Abraham and Evans were friendly. At least, they were close enough to garner invites to each other's birthday parties. Back in 2016, Evans was on hand to help Abraham celebrate her 25th birthday. Evans' husband, David Eason, was also photographed at the event.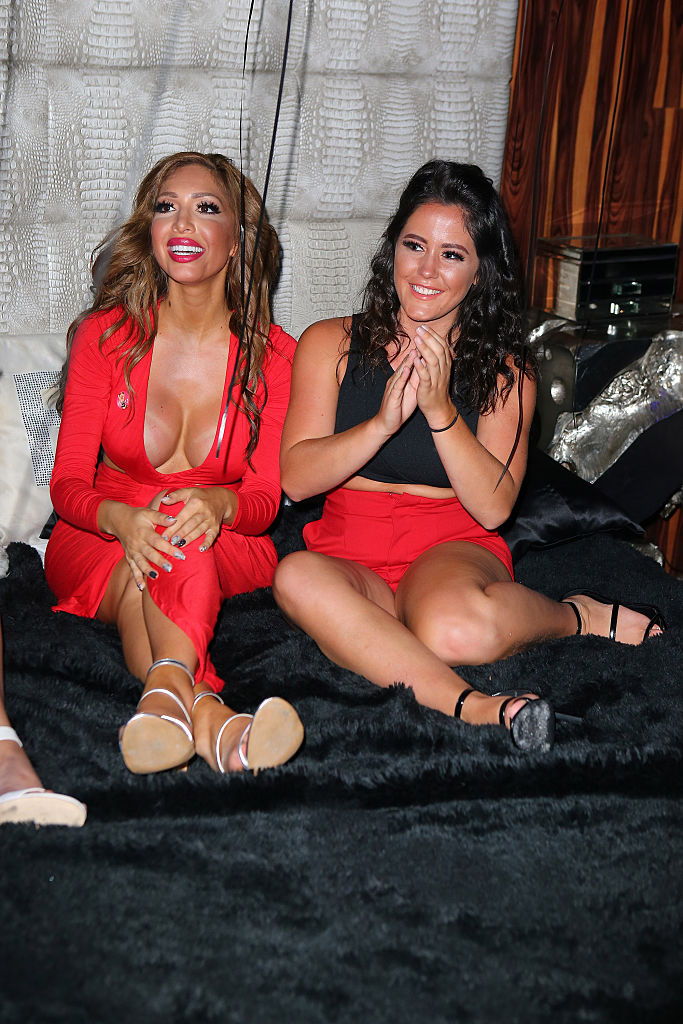 Conspicuously absent were Abraham's co-stars from Teen Mom OG. Maci Bookout, Amber Portwood, and Katelynn Lowell were allegedly not on hand to ring in Farrah's 25th year. That doesn't necessarily mean Evans and Abraham are currently friends, though. Both former reality TV stars make a habit of discarding pals when they are no longer useful to them.
Most recently, Evans cut ties with Briana DeJesus. DeJesus' was uninvited to Evans' makeup launch party after she made comments about the likelihood of Evans returning to Teen Mom 2. For a short time, the duo were good friends. In fact, Evans allegedly begged production crews to allow her to film with DeJesus.
Farrah Abraham called Jenelle Evans a bad mom over the summer
Friendship may have bloomed back in 2016, but it seems like things aren't as chummy in 2019. Back in July 2019, TMZ caught up with Abraham and asked her for her thoughts on Evans' court battle. Abraham wasn't interested in dancing around the topic. Abraham told reporters that she doesn't think Evans deserves to have her kids back because she picked a "horrible man" over her kids. She went on to call Evans a "bad mom" and the same went for Amber Portwood, too.
Evans shot back and accused the former Teen Mom OG star of prostituting her body for money. There have been murmurs of Abraham working as a high-priced escort in the past, but it seems like Evans was pointing to Abraham's very explicit Instagram photos.
Over the summer, Evans was embroiled in a custody battle. Her three children were removed from her North Carolina home when her husband shot and killed the family dog while the kids were at home. The children were returned to her care on July 3, after a months-long battle. Appeals were expected, but so far, nothing has happened.
What does Farrah claim Jenelle asked her?
Abraham has been hitting the podcasting circuit lately, and she's holding nothing back. She appeared on Teen Mom Talk last week, and now she stopped by the Foodgod: OMFG podcast to discuss what's going on in her life. During the course of the interview, Abraham got onto the topic of Evans, and she claims the former Teen Mom 2star recently called her for advice.
Abraham claims that Evans wanted to know what she should do with her life now that it seems like Teen Mom 2 production crews will no longer be entertaining her shenanigans. Abraham told podcaster Jonathan Cheban, "Jenelle called me the other day and she does not know what to do." Abraham went on to claim that Evans wanted her advice, but that she didn't dull out much in the way of career suggestions.
Evans, for her part, seems pretty desperate to get back on TV. The former reality TV star has been granting interviews in recent days to discuss the prospect of her return to the cast. She claims that she has an open-ended contract and that she may be back. Evans also admits that she doesn't actually know what's going on.