'Teen Mom 2': Do These Cryptic Posts Mean David Eason and Jenelle Evans Broke Up?
Jenelle Evans Eason and David Eason have been posting cryptic messages on their social media pages, prompting some "Teen Mom" viewers to think the couple might have broken up.
David Eason and Jenelle Evans Eason, formerly of MTV's Teen Mom 2, have had a rough first two years of marriage. After Evans gave birth to their daughter Ensley, the couple married in 2017 and has temporarily split several times since.
Eason was removed from the show last year amid allegations of homophobia and transphobia on social media. And most recently, MTV stopped filming Teen Mom 2 with Evans, in part because her husband admitted to having killed the family dog, Nugget.
The children living in their home (David's daughter Maryssa, Jenelle's son Kaiser, and their shared daughter Ensley) were temporarily removed.
Although the Easons' children were returned to their custody after an investigation, it seems like there might be new upheaval on their North Carolina land. Jenelle appeared to take a solo trip to New York City to meet with MTV producers over the weekend. And judging by David's and Jenelle's recent social media posts, fans think a breakup could potentially be on the horizons.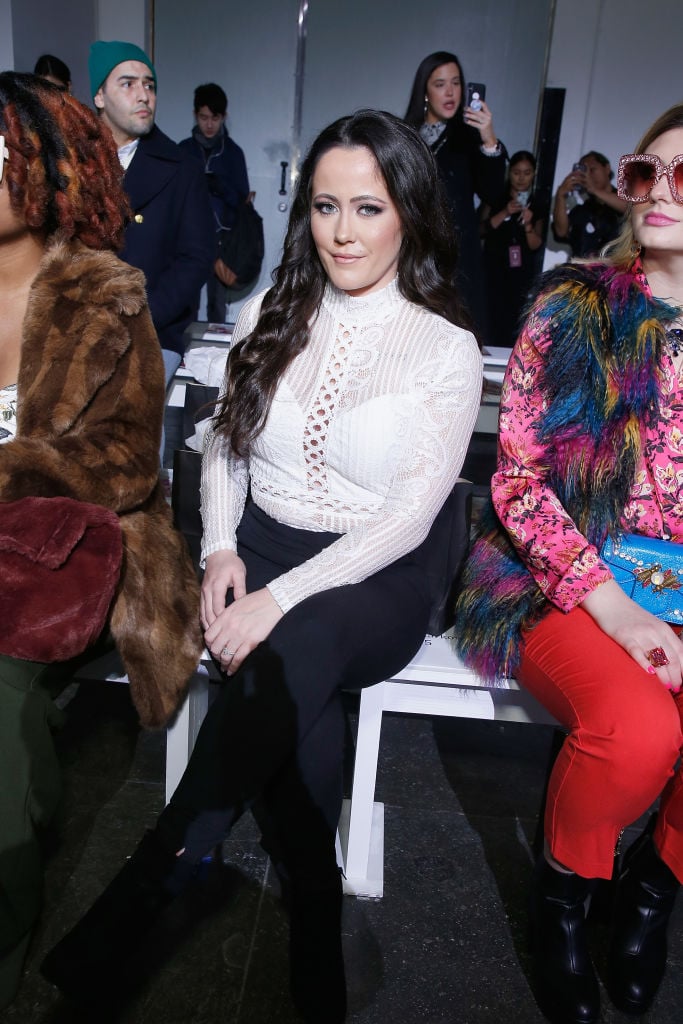 Jenelle reportedly met with MTV producers over the weekend
The Teen Mom 2 reunion was filmed in New York City on Sat., Oct. 26. Jenelle didn't appear on the reunion with former co-stars Kailyn Lowry, Briana DeJesus, Leah Messer, Chelsea Houska DeBoer, and new cast member Jade Cline. However, The Ashley's Reality Roundup and other outlets reported that Jenelle might have met with MTV producers.
Jenelle's Instagram stories over the weekend showed her away from the kids in New York City, eating a snazzy candlelit dinner with other Teen Mom 2 and Young and Pregnant stars, crew members, and producers. She snapped photos of Leah Messer's ex-husband Jeremy Calvert and Young and Pregnant's Ashley Jones at the dinner.
David Eason shared cryptic posts that prompted some fans to suspect a breakup
David Eason appeared to stay at home during Jenelle's getaway. He posted a controversial photo of himself cooking and eating a wild squirrel dinner with his daughter Ensley. He also shared videos of his daughter Maryssa playing with friends and Ensley watching a baby chick hatch. Jenelle didn't appear to be present in any of the photos or videos.
On Facebook, Eason seems to have been venting his frustrations, possibly (fans speculate) over the former Teen Mom 2 star's absence. On Oct. 28, he wrote, "It's so hard for me to sleep alone, been up all night for days. Starting to feel delirious…" This comment prompted fans to ask where Jenelle was and if they had decided to break up.
The same day, he shared another cryptic post: "Oooh sh*t, I didnt realize how much weight I could lose in just a few days! Might as well keep going at this rate!" Although he didn't state that the post was about his wife, many fans asked if he was referring to Jenelle as the "lost weight."
The 'Teen Mom 2' star's husband also took down a photo of himself with Jenelle
Eason shared yet another gloomy post on Oct. 30. The former Teen Mom 2 cast member shared a Facebook "memory" from Oct. 30, 2012 that read, "I may not have gone where I intended to go but I think I have ended up where I intended to be. I think… The suspense is terrible, I hope it lasts!" Above the memory, he wrote, "The timing… ☹ It's bad when you are sarcastic about your own detriment."
His profile picture also made some fans wonder about his relationship with Jenelle. Two pictures of himself with Ensley have replaced his cover and profile photos that used to feature Jenelle.
Eason has long been locked out of his main Instagram account, but he announced that he got it back. He posted an old photo of Jenelle walking with daughter Ensley but hasn't shared any recent pictures that would indicate his wife has returned home.
Jenelle also posted memes and quotes that raised some eyebrows
Jenelle has also started posting frequently on Facebook. Although she hasn't mentioned her husband specifically, the former Teen Mom 2 star raised some fans' eyebrows and sparked speculation with some of her posts.
Evans wrote on Oct. 26, just before she left for New York, "Drama free weekend," prompting some fans to wonder whether she was subtly shading David. On Oct. 28, she shared a quote that read, "Nobody goes through more sh*t in life than a person with a good heart." The MTV star, who usually posts frequently about her marriage, also didn't directly mention David all week.
On Twitter, Jenelle wrote during her NYC trip, "I love all of you…whether u know it or not. I hear what you are saying. I get it." Since fans have frequently warned Evans that she is in an abusive relationship with her husband, many took this as a sign that she was potentially considering a breakup.