'Teen Mom 2:' Where Does Jenelle Evans' Relationship With Her Mother Stand Now That She's Not On the Show?
Jenelle Evans was recently fired from Teen Mom 2 over problems that stemmed from her husband David Eason's behavior. The firing had been a long time coming; first, Eason was fired from the show, but he continued to send verbal threats to Evans' producers, which eventually escalated the problem and made working with her too difficult. Evans has said she's focused on making her marriage work, but there's another rocky relationship in her life — where do things stand with Evans' mother, Barbara, now that Evans has been fired from the show?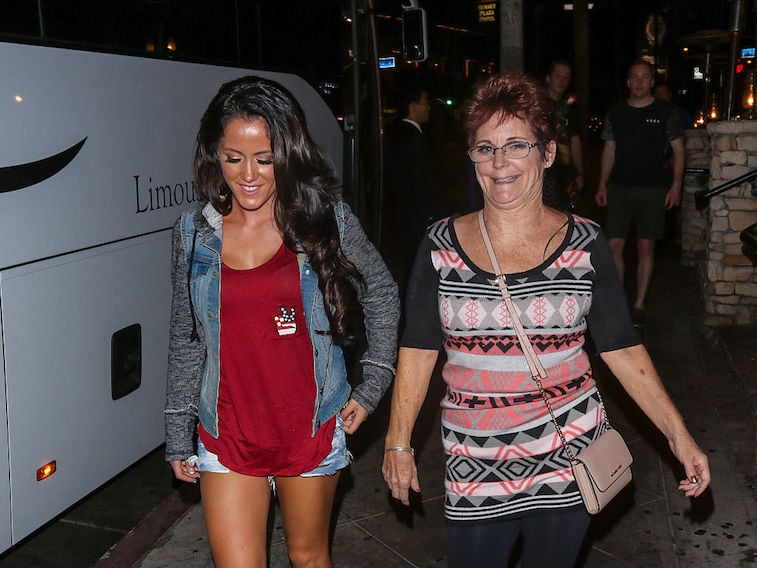 Evans' husband's behavior was a concern for producers — but her mom was supporting her
Eason was fired from the show back in February 2018 after some hateful tweets. Eason had gotten into an argument on Twitter with someone regarding concealed carry laws in school, and he spewed a lot of hate toward the LGBTQ community. "I'm going to teach [my kids] not to associate with [gay or transgender people] or be that way… If you lay down with dogs, you get up with fleas," Eason tweeted. Fans immediately noticed the tweets and called for Eason to be fired from the show. Shortly after the tweets occurred, the producers severed ties with Eason. Since then, Evans has continued filming the show, but her husband hasn't been allowed in any of the scenes. Producers became increasingly worried about Eason's behavior throughout filming, especially after he sent verbal threats to the producers saying he was going to come to set and jump in front of the camera, forcing them to put him on the show.
On the most recent season of Teen Mom 2, Evans and her mother, Barbara, had been getting along well. Evans was going through a lot without her husband not being allowed to film, and her mother became a major supporter of her throughout the season. But in the final episodes, more tension between the women began to appear.
Evans was fired from the show last week
Although things with Evans and her mom weren't too bad, Eason's behavior grew to be a major source of tension between Evans and the show's producers. In the recent season finale, producers were on the phone with Evans regarding her husband's behavior, and there was some discussion about whether she'd be able to continue working on the show or not. Evans made it clear that she would choose her husband over Teen Mom 2 if it came down to it. Not long after filming wrapped up, and before the season finale aired, Eason allegedly shot and killed the couple's dog after it reportedly tried to bite his child. Now, the two are both under investigation, and Child Protective Services removed the kids from the home. In the midst of all of the drama, MTV fired Evans from the show.
Up until Evans' husband killed her dog, Evans and her mother were mostly getting along
Evans and her mother have had a very rocky relationship over the years. In 2017, Evans said she felt the relationship with her mother was completely lost, and the two would never be close. But in the most recent season, things seemed to be back on track for the mother and daughter. Evans' mom had become a major form of support in her life. However, on the show's season finale, Evans did say she and mother weren't getting along too well. And once the drama unfolded regarding Eason shooting the family dog, things seemed to have gotten even worse.
Evans recently said that her mother is keeping her from seeing her older son, Jace
Evans' children were removed from her home, which anyone can imagine to be a very tough situation. Child Protective Services suggested Jace remain with Barbara, since she already had full custody. But Evans has since said that her mother is keeping her from seeing her son. According to People, Evans said her mother is "keeping Jace from me, nobody else." While that doesn't appear to legally be the case, it has most likely caused some major tension once more between the two. It will be a while before everything is figured out and before we know whether Evans will regain custody of her children. Until then, it looks like her relationship with her mom is up in the air.
Check out The Cheat Sheet on Facebook!