'Teen Mom 2': Who is Kailyn Lowry's Least Favorite Co-Star?
Teen Mom 2's Kailyn Lowry, host of the podcast Coffee and Convos with Lindsie Chrisley and mom to three boys, revealed plenty of details on The Domenick Nati Show on iHeart Radio this past Friday, Nov. 1. 
In addition to sharing some honest opinions about her fellow Teen Mom OG and Teen Mom 2 cast members, Lowry spoke out on the show about the recent "eventful" reunion on MTV, her future plans for another child, and the truth about her third baby's father, Chris Lopez.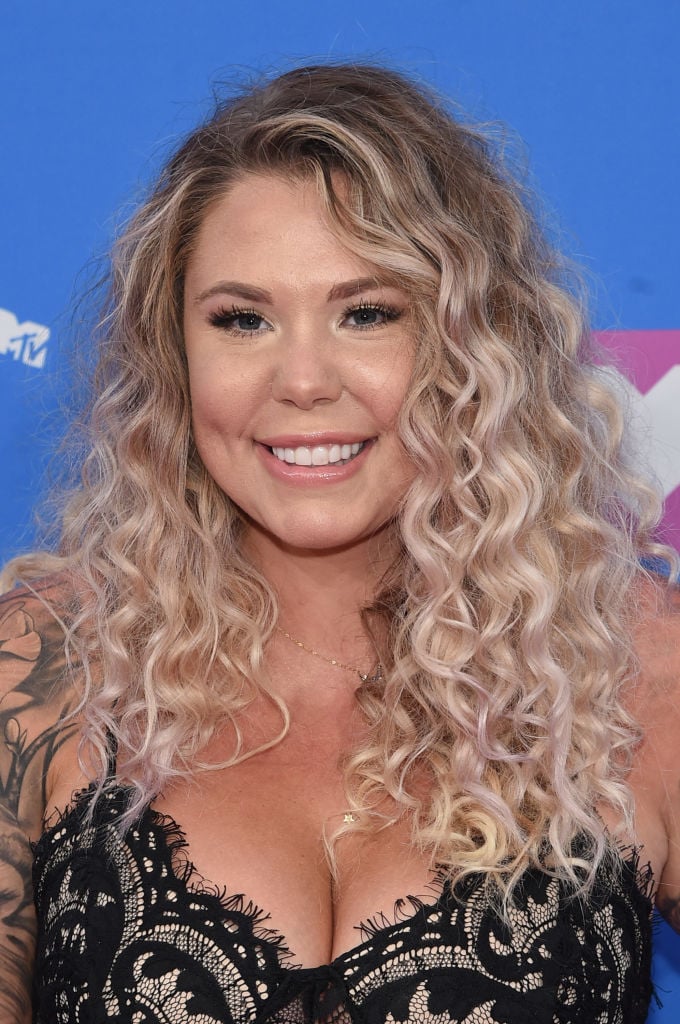 Lowry said she was "proud" of Jenelle Evans for divorcing David Eason
Lowry and Jenelle Evans had an onscreen and offscreen feud last year. Evans even filmed herself setting fire to the Pothead Haircare products Lowry sent her as a sample.
Still, Evans' recent announcement that she would be divorcing her husband of two years, David Eason, inspired Lowry to share some supportive thoughts for her former Teen Mom 2 co-star. 
Although Lowry admitted that she doesn't know if the divorce will really go through, she said on The Domenick Nati Show: "I was and still am very surprised, but I am also very proud of her for this decision if it's true. I don't know at this point what's true and what's not true, but I do wish the best for her and the kids." 
Like many onlookers, Lowry believes that Evans' relationship with Eason is possibly toxic. "From what I know and from what I've seen in the media, and what I have dealt with with David, I do think that this is the best option for her," she said. Lowry added that she hopes Evans is able to "stay strong." 
Despite her kind words, Lowry added that she trusts Evans the least out of all of her co-stars. Lowry called Jenelle "the least trustworthy" because Evans partially doxxed Lowry at one point, posting her phone number on Twitter during a public disagreement.
Farrah Abraham is Lowry's least favorite 'Teen Mom' cast member
When asked about her least favorite Teen Mom 2 or Teen Mom OG co-star, the MTV star didn't hesitate. She shared right away that, hands down, her least favorite co-star is Farrah Abraham. Abraham used to appear on Teen Mom OG but was let go from the show in 2017. 
Bristol Palin appeared on the show in her place but has since left. Cheyenne Floyd of Are You the One? And The Challenge and Mackenzie McKee of Teen Mom 3 and 16 and Pregnant joined the cast most recently. 
"Any time that I've been around Farrah, she doesn't treat people around her like human beings," Lowry explained. "She treats them like they're below her…and I don't want to surround myself with people like that." 
She shared that Chris Lopez doesn't want to be like her exes
Chris Lopez, Lowry's on-again, off-again boyfriend and the father of her third son Lux, is the only one of Lowry's three baby daddies who has never agreed to film for MTV. Lowry said of her ex's reluctance to appear on Teen Mom 2: "He didn't grow up on TV like the rest of us did, so it's been a huge adjustment for him. 
Lowry added that Lopez has witnessed what she's gone through with her other exes, possibly referring to ex-husband Javi Marroquin, and doesn't want to follow in their footsteps. "He's also seen my ex or people that I've dated take advantage of the fact that I'm on TV and use it to their own benefit," Lowry confessed, "and he doesn't want to be that person." 
The Teen Mom 2 reunion was "eventful"
MTV's recent Teen Mom 2 reunion was reportedly nothing short of explosive. Young and Pregnant star Ashley Jones allegedly had to be removed from the studio, while she and her former co-star Jade Cline (now a cast member on Teen Mom 2) supposedly had an altercation that nearly turned physical.
Lowry said that she left the reunion early because of the drama, adding that she did "advise" Jade to step back from the conflict but wasn't completely sure if she would have escalated further.
The 'Teen Mom 2' star isn't engaged, wants more children
Lowry spilled the details of her current relationship status, sharing with Nati: "I'm not engaged at all. Not even a little bit. So yeah, no weddings for me anytime soon." 
And while the MTV personality says she'd like more kids, she's focusing on her businesses for now. Said Lowry: "I always say that I would love to have more kids, I just don't think right now. I think 2020 is for Kail to focus on Kail, and just get everything in order before I think about having more kids."