'Teen Mom 2': Why is David Eason's Ex Suing Jenelle Evans?
David Eason and Jenelle Evans, formerly of MTV's Teen Mom 2, are currently going through a messy divorce. Since the pair married back in 2017, things have always been rocky between them, culminating in multiple 911 calls from their North Carolina home for alleged domestic disturbances and Eason's firing from Teen Mom 2 in 2018.
Evans, too, who previously appeared on MTV's 16 and Pregnant, was asked to stop filming for Teen Mom 2 in 2019 after Eason killed the family dog, Nugget. But in Oct. 2019, Evans reportedly traveled to New York City to meet with MTV producers.
She then issued a statement on Instagram on Halloween about filing for divorce from Eason, hastily obtained a restraining order against him due to alleged abuse, and moved out of state with her children, five-year-old Kaiser (with ex Nathan Griffith) and toddler Ensley (with Eason).
Now, things could get even rockier between the Teen Mom 2 exes. Eason's ex Olivia Leedham, mother to Eason's five-year-old son Kaden, is reportedly suing both Eason and Evans for allegedly posting explicit photos of her online without her permission.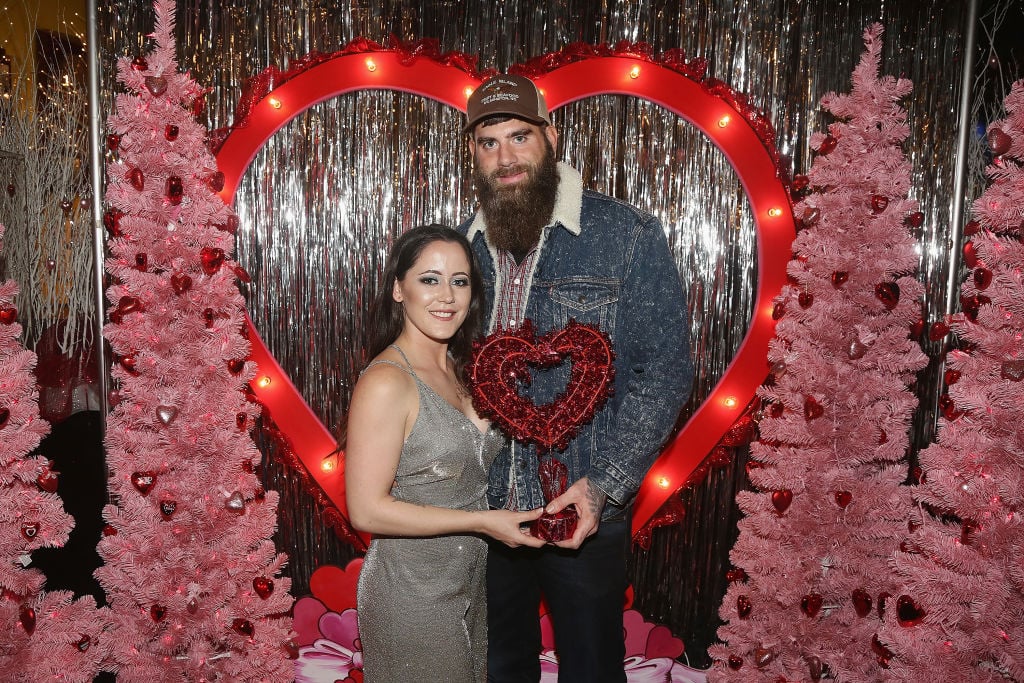 Leedham, Evans, and Eason had a crowdfunding battle in Aug. 2019
In the summer of 2019, Evans and Eason struggled with custody battles and a CPS investigation. After North Carolina law enforcement was tipped off that Eason may have killed the family's French bulldog, Nugget (to which he has since admitted), all of the children were temporarily removed from the Easons' home.
12-year-old Maryssa, Eason's daughter with his ex-wife, along with Kaiser and Ensley, were all removed from their care. They were eventually returned after the investigation concluded.
However, just after the investigation was closed, Eason and Evans headed to court again…this time to fight for custody of Leedham's son with Eason, kindergartener Kaden.
Leedham took to GoFundMe in Aug. 2019 to accuse her Teen Mom 2 ex of former domestic abuse and to raise money for legal fees to fight for continued complete custody of Kaden.
"We have come a long way and have spent nearly $50,000 on attorney fees to keep the case going," said the GoFundMe page. "My family and I are struggling to pay anymore. I am a single mom of two. I do my best to work as much as I can…I am completely concerned for my son's safety, physically and mentally. He is persistent on not going to his [dad's] and doesn't even want to speak to him.  I am beyond worried," Leedham wrote in part.
The crowdfunding campaign raised over $6,000 before Leedham closed it.
Both sides claimed the other had been unfit parents
Evans and Eason fought back, launching their own GoFundMe campaign the following day. The Teen Mom 2 couple also posted on social media, criticizing Leedham's parenting, claiming she dated too many men, and accusing her of substance abuse. Eason even said he was "super scared" for his son's "safety," according to In Touch Weekly.
The former Teen Mom 2 stars called the campaign "#JusticeforKaden," claiming Eason had been "torn away from [his] son." However, the campaign wasn't successful and ultimately only raised $135.
Leedham is allegedly suing Evans and Eason over social media photos
While Teen Mom 2 fans might have thought the drama between Leedham, Evans, and Eason ended earlier in 2019, The Ashley's Reality Roundup recently reported that the conflict isn't quite over.
According to The Ashley, Leedham is suing Evans and Eason for "money and punitive damages," claiming the pair showed a sexually explicit photo of her online amid the GoFundMe battle in Aug. 2019. The Ashley claimed to have confirmed that Leedham filed paperwork in early Nov. 2019, and the Teen Mom 2 stars have 30 days to respond.
Revenge porn is illegal in the state of North Carolina. That means that there's a chance that, if Leedham's allegations are true, she might have a case against her Teen Mom 2 ex and his soon-to-be-ex-wife.