'Teen Mom 2': Why Was 'Teen Mom OG' Star Catelynn Lowell Baltierra at the Reunion?
Catelynn Lowell Baltierra has been a mainstay of MTV's Teen Mom OG for as long as we can remember. She and her husband Tyler Baltierra placed their first daughter, Carly, for adoption on MTV's 16 and Pregnant and soon after joined the original cast of Teen Mom.
The Baltierras have been open about their struggles with mental health, especially due to their troubled childhoods. Catelynn struggled in particular after a 2017 miscarriage, as well as with postpartum depression and the long-term aftermath of Carly's adoption.
Catelynn has become an advocate for mental health treatment, having sought residential treatment in Arizona several times for her own problems with anxiety and depression.
Over the weekend, Catelynn headed to the Teen Mom 2 reunion taping in New York with husband Tyler Baltierra. The Teen Mom OG star told In Touch Weekly that she was asked to make a special appearance to speak about managing anxiety and depression with Chelsea Houska DeBoer of Teen Mom 2.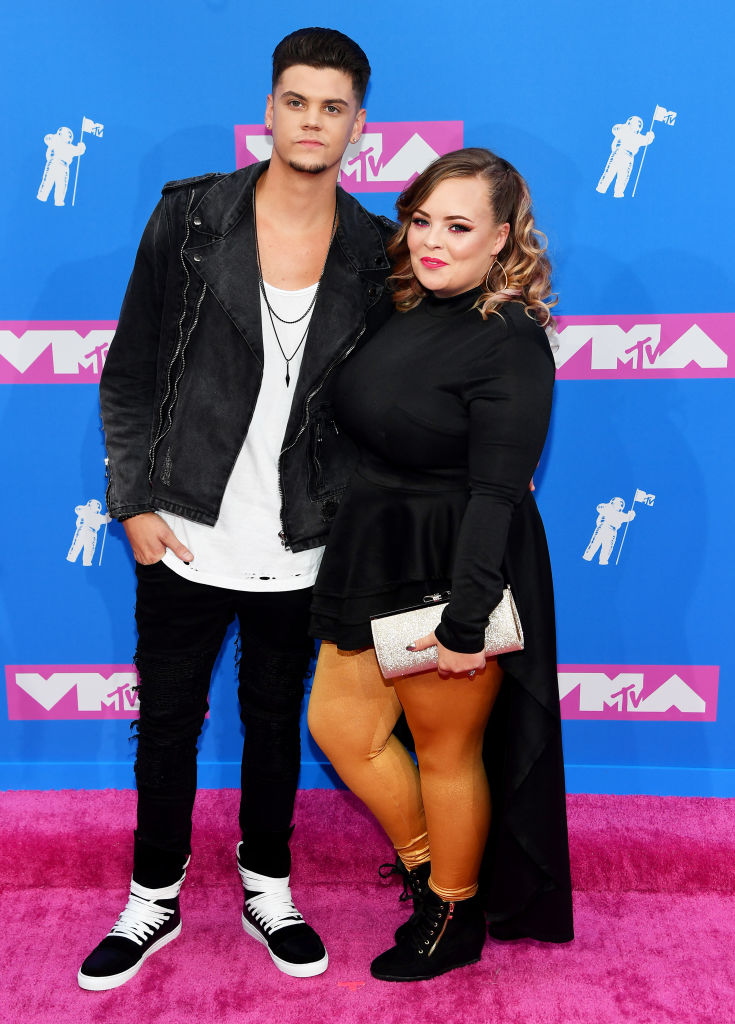 DeBoer has struggled with anxiety since the birth of her third child
Fans first met Chelsea Houska DeBoer when she was pregnant with Aubree, her daughter with high school boyfriend Adam Lind. She struggled with anxiety even then, but her spirits seemed to lift when she left her toxic relationship with Lind and married Cole Deboer. The couple has since had two more children together.
The Teen Mom 2 mother of three has struggled with anxiety, depression, and panic attacks in recent seasons of the show. A break-in and burglary at the DeBoers' home while they were out of town left Chelsea shaken.
In one recent episode of Teen Mom 2, Chelsea had to pull over at a rest stop during a family road trip to a Minneapolis because of a debilitating panic attack. Of the incident, she wrote on Twitter, "Anyone else experience this before going to large events?! I'm such an introvert…seems like it's just getting worse as I get older."
Baltierra will offer hope and advice
Catelynn Baltierra will appear on the reunion to offer words of encouragement and advice to Chelsea. The Teen Mom OG star revealed in an exclusive interview with In Touch Weekly that she will also share some advice about how Cole could support Chelsea in moments of struggle.
27-year-old Catelynn told In Touch, "I'm looking forward to going and speaking from my experience with struggling with panic disorder. I'm hoping I can be a beam of light for Chelsea to let her know that things do get better and change if you put in the work."
The 'Teen Mom 2' reunion apparently ended in drama
Although it seems that Catelynn and Chelsea might have a positive heart-to-heart, not all of the reunion will be so heartwarming.
Reports indicate that Kailyn Lowry left the reunion early due to a conflict between Ashley Jones of Young and Pregnant and new Teen Mom 2 cast member Jade Cline, as well as other Young and Pregnant castmates. Lowry even vowed on Twitter that she'd never attend another Teen Mom 2 reunion because of what went down.
Although Cline says the argument didn't get physical, it seems that Jones had to be escorted from the MTV studios by security. Jones spent the rest of the day on Saturday on Instagram live, calling out fellow cast members.