'Teen Mom:' Are Catelynn Lowell and Tyler Baltierra Finally in a Good Place With Their Marriage?
Tyler Baltierra and Catelynn Lowell are Teen Mom OG's only original couple. The two have been together since their heartbreaking 16 and Pregnant episode where they agreed to put their first daughter, Carly, up for adoption. However, they went through a lot over the next several years, and it put a strain on their relationship. Last season, they did a trial separation. Are they finally back in a good place?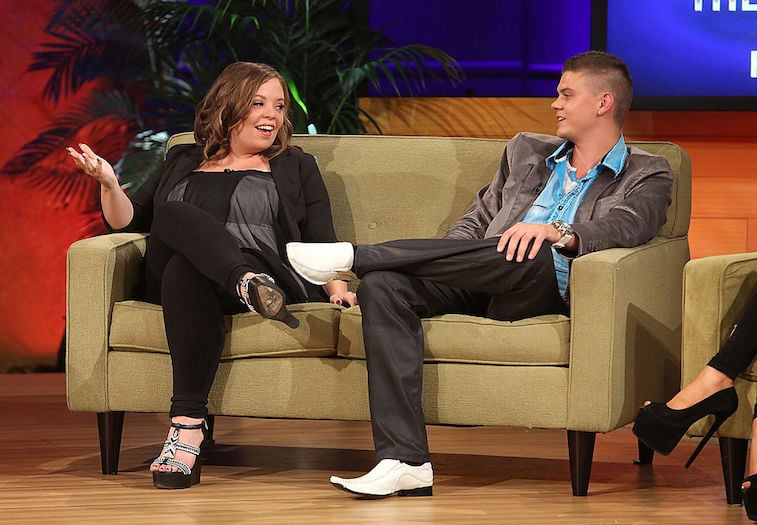 Baltierra and Lowell have both struggled with their mental health
Over the past 10 years, fans have gotten to know the Teen Mom cast very well. And both Baltierra and Lowell have been open about their struggles with mental health. For Lowell, anxiety and depression have been a part of her life that she has always shared with fans. She's worked through some issues with her therapist but has had a few moments on the show were fans have been genuinely concerned about whether or not she's alright. As for Baltierra, his family life, plus parenting and his struggling relationship with Lowell, caused him to seek therapy as well. Baltierra was open with fans about his challenges, too.
The couple did a trial separation last season
On last season of Teen Mom OG, things were not going well for the couple. They were struggling to keep their relationship afloat, despite how many years they have been together. Lowell had returned to rehab for her mental health, and Baltierra was having difficulty coming to grips with the way his family life was going. It caused them to fight, and Baltierra once confessed to his therapist that he hasn't been in a happy marriage for several years. The two realized things weren't working, so they decided to do a trial separation where they lived separately for a month but didn't see other people. They still spent time together and cared for their daughter, Novalee, together, but they went home to two different places.
The two have said their relationship is stronger than ever now
Baltierra said that the first week of the separation wasn't too bad, but by the second week, he missed his wife. And the separation helped the two realize that while they definitely had some things to work on, they didn't want to divorce. "… I feel like we're always strong," Lowell told E! News. "I think that we just go through bumps and it makes you stronger as a couple too, but yeah, we're in a really good place." She also said people blew the separation out of proportion and that they still hung out often and knew they didn't want to actually go through with a divorce.
They recently welcomed their third daughter, Vaeda Luma
To kick off the new season of Teen Mom OG, Baltierra and Lowell welcomed their third daughter, Vaeda Luma. (The couple's first daughter, Carly, was put up for adoption.) Vaeda Luma was born in February, and the couple referred to her as their rainbow after the storm. The two had lost a baby to a miscarriage before their separation, so they were thrilled to welcome a new little one. Despite the trying times, they appear to be have a long road of happiness ahead of them.
Check out Showbiz Cheat Sheet on Facebook!