'Teen Mom': Did Jenelle Evans Really Quit the Show?
With numerous personal and legal issues since first appearing on MTV's 16 and Pregnant, Jenelle Evans has never shied away from the spotlight. Despite harsh criticism from fans over the years, the star has never had trouble speaking her mind, and Monday's episode of Teen Mom was no exception. After refusing to appear on camera for the majority of the February 18 episode, the frustrated star lashed out at the Teen Mom crew. As the episode came to a close, Evans' future with the hit series was left uncertain.
Did Jenelle Evans really quit Teen Mom? Here's what we know.
Barbara Evans says filming without David Eason is 'very hard' for Jenelle
When Jenelle refused to be filmed, the show's producer went to Barbara Evans, Jenelle's mother, for some insight into Jenelle's state of mind. Barbara explained that the young mother of three is having a hard time filming in the wake of hubby David Eason's firing from the show. Teen Mom fired Eason in response to homophobic tweets the controversial star made in February 2018. Since then, MTV has refused to film when Eason is present.
"It's very hard for her to film her life when her husband is not included, so everything she does with her family, with her husband, he can't be filmed, so she said, 'How can I film when David was fired from the show?'" Barbara told Kristin. "She said, 'They don't understand how stressful it is.'"
Jenelle Evans to producers: 'I want some f–cking respect'
After agreeing to be filmed, Jenelle met Barbara and Jace at a nearby park. Once there, Jenelle turned her attention directly to the crew. As Kristin asked Jenelle, "How difficult is it for you to do a show about your life when we can't film your family?" Jenelle unloaded on MTV, accusing them of disrespecting her.
"This show keeps giving me a bad rap, so I want some f–king respect, dude. I want some f–king respect," she passionately responded. "Even if I'm never on TV again, that's fine. I have other sh-t I'm working on, so I'm fine with that. Once you push me away, everyone should know, I don't trust you again."
When asked how MTV was pushing the her away, Jenelle's answer seemed to make reference to the mass skepticism following her explanation of her October 2018 call to 911. During the call, Jenelle alleged that Eason had pinned her to the ground and injured her shoulder. Shortly after the news became public, Jenelle denied any abuse had taken place, chalking the whole thing up to a drunken misunderstanding.
"I feel like they never believe me and everything I say to them is a lie and everything they read online, that's what they believe," Evans said. "And they don't know anything about me. They don't know what I do, how I act. They don't even know my favorite food anymore. They don't know what's going on with me mentally, physically, my health issues, unless I share it. Unless I open my mouth."
Will this be Jenelle Evans' last season of 'Teen Mom'?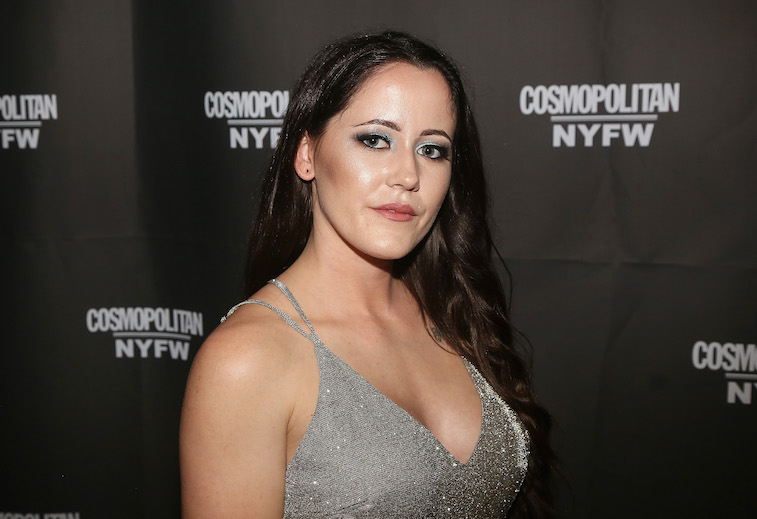 As the star broke down into tears, she told the cameras that she would not be returning for another season of Teen Mom. "Because I realized I don't need MTV. I need myself. I'm the only one that's important here. This show is not important," Jenelle said. "Me, myself as a person, everyone likes me. They don't like the Jenelle they see on TV that's always mad, always angry, always yelling around her kids. They don't see the real me."
Although Barbara was careful not to say anything that might upset Jenelle, since the mother and daughter have put their turbulent history behind them, she did say that Jenelle relies on Teen Mom to support her family. "She told me she's going to continue to film," Barbara said. "I don't talk to her about David. I'm just trying to keep the peace between us. I think she knows this is her job, and he's not working. They have to have some kind of income coming in."
MTV's refusal to film David Eason may not be a problem for Jenelle Evans anymore
Jenelle and Eason's relationship has been plagued by breakup rumors, however, the couple has always denied the rumors in the past. Judging by Jenelle's recent social media activity, it looks like she and Eason may really be headed for divorce this time.
This past weekend, the Teen Mom star uploaded a picture of herself to Facebook, captioning the selfie, "Single AF." She also changed her relationship status to "Separated." Eason's social media activity appears to lend credence to breakup theories. He changed his relationship status on Facebook this weekend to "Single."
In addition to her Facebook exploits, the star uploaded a video of herself listening to breakup songs to her Instagram story. To add even more fuel to the fire, a source told Radar Online that "something bad" happened between the couple on Valentine's Day.