'Teen Mom' Fans Think Farrah Abraham's Daughter's Latest Business Is 'Horribly Sad'
Teen Mom OG may no longer feature the infamous Farrah Abraham, but she's certainly not out of the spotlight just yet. The mother of 10-year-old Sophia is well-known for her strong attitude and adversarial ways. And while she started off her reality TV career with MTV's 16 and Pregnant, she's gone on to pave her own path with books, other TV shows, and a career in the adult film industry.
Farrah's career path is controversial in itself, but most of her followers take issue with how she's raising her daughter. While Farrah wants her daughter to grow up to be an independent, business-minded woman, fans think she's taking things too far with Sophia's latest business venture. Here's why her followers are calling her out for what she's putting Sophia through.
Farrah Abraham created a Cameo profile for her daughter, Sophia
Since Sophia's only 10 years old, Farrah's made it known that she's the one who's controlling all of the child's social media. But even so, it troubles many that Sophia has Twitter and Instagram accounts that are public for all to see and comment on. Not only that, but Sophia (or Farrah, in this case) frequently posts to her social media about her latest ventures in acting and business — and her latest one is particularly troubling to many.
On Sophia's Instagram, there's a video of the child making a birthday shoutout to a fan through the business Cameo. The Cameo website explains this business serves as a platform for customers to pay for personalized shoutouts from their favorite celebrities and influencers. Various celebrities are associated with the site — and it appears Sophia is, too. "I love making shoutouts for you guys, either it's your birthday, you graduated and many more things I can shout you out for! I love you all!" Farrah captioned Sophia's post to go with the link to her Cameo profile.
Fans think it's sad that Sophia is involved in this business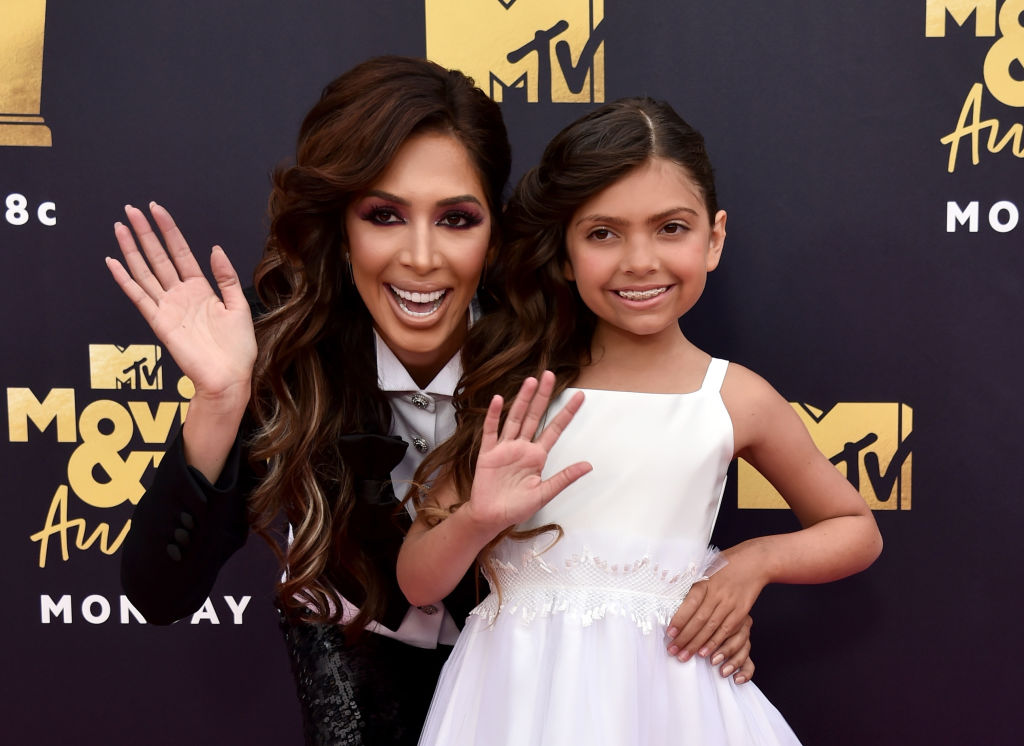 Farrah's parenting choices have long been debated by her followers. While Sophia gets to experience the world through extravagant trips and homeschooling, many believe she's missing out on just being a kid. And fans think the latest Cameo business venture is certainly doing more harm than good for the child.
"Sweetie go be a kid! Go have fun! You will have plenty of time to be an adult in 10ish years. Go play!" one follower commented on Sophia's Instagram post. Another added, "This is horribly sad. She's always left home alone at age 10 to fend for herself. Think of an emergency or if she wants to cook and burns the place down!" Yet another commented, "I hope the money made on these Cameos goes into Sophia's college fund & not Farrah's Botox fund."
They think she appeared her most child-like while in Farrah's mother's care
Fans are growing concerned that Sophia will miss out on her childhood altogether due to Farrah treating her daughter more like a best friend than a mother. But Farrah's controversial mother, Debra Danielsen, took care of Sophia over the summer, too — and it was here that fans finally saw Sophia doing normal 10-year-old activities. Danielsen posted this video of Sophia making Kool-Aid popsicles back in June, and there are many other videos of the two having fun in the kitchen. And fans seem ultra-supportive of Danielsen caring for Sophia and showing her how to be a child. "It's so nice to see her actually being a kid with all the pressure that little girls under," a fan commented.
Despite the critique, there's no doubt Farrah will continue to push Sophia into business ventures at a young age. We'll have to wait and see if Sophia pushes back or embraces the lifestyle as she ages.
Check out Showbiz Cheat Sheet on Facebook!