'Teen' Mom': Farrah Abraham's Daughter Just Dropped an F-Bomb on TV
Farrah Abraham is no stranger to the news. The former Teen Mom star is under constant scrutiny for a medley of things. From her wardrobe malfunctions to her political beliefs, the 28-year-old is constantly in headlines. But these days, Abraham's daughter, Sophia, is the tabloids as well. The youngest Abraham is an aspiring actress and model who, at 10 years old, has already been a business owner of a clothing store.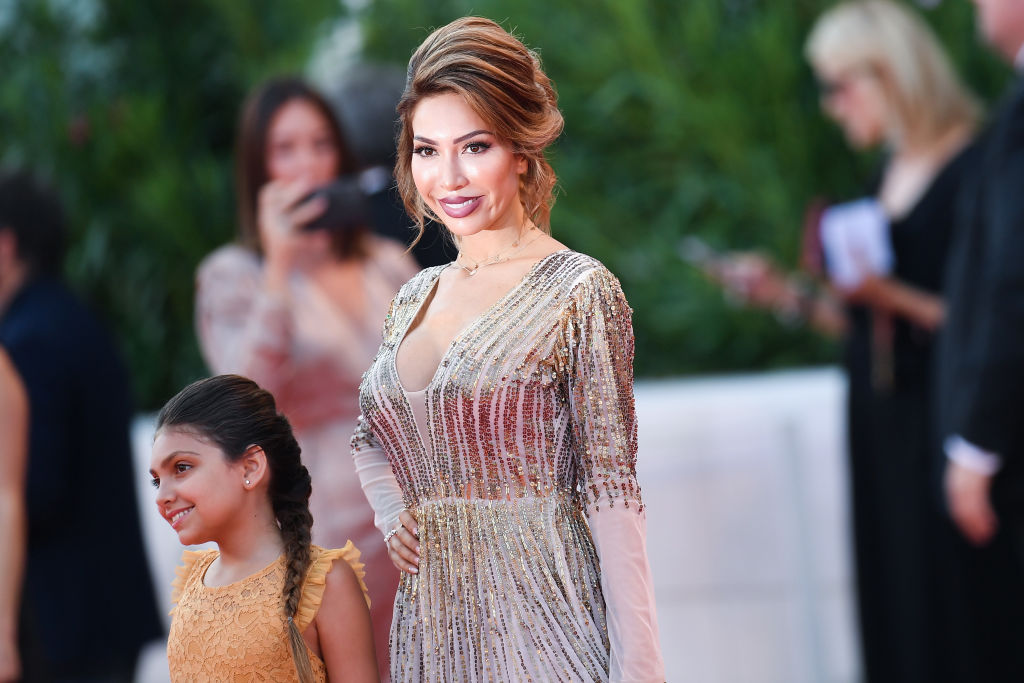 Sophia Abraham's career
Though she's only been alive for a decade, Abraham's daughter seems to be racking up her fair amount of success. She recently traveled with her mother to Venice and Paris before flying to NYC to walk in some runway shows for New York Fashion Week. Sophia Abraham has also been working on her career as an influencer. Though her account is rumored to be run by her mother, her Instagram alone boasts a whopping 738,000 followers.
Dropping the f-bomb
Recently, Farrah Abraham and her daughter stopped by Daily Mail TV to talk about both of their careers. Whilst there, the pair were asked how they keep such positive attitudes amidst all the drama that comes their way. "I just ignore it, and be like you're a f*cking hater," Sophia Abraham quickly sounded off. "No, we don't call anyone names," Farrah Abraham jokingly interjected.
Fans react to the video on Instagram
While the reporter didn't seem to have an issue with the language that Abraham's daughter utilized, many Teen Mom fans did. When Abraham posted the video clip to her Instagram page, the comments immediately erupted with everyone putting in their two cents. Some fans simply couldn't believe what they were hearing. "She really just dropped an F-bomb on tv," one Instagram user said in disbelief. "I know I didn't hear what I thought I just heard….that CHILD is something else..sad," another person chimed in.
Others felt that the video reflected poor parenting by Abraham. "Wow, Sophia's cursing now, Wtf, nice parenting skill Farrah. No 10-year-old should curse like she did. If my kids cursed I would have grounded them or done something to teach them not to curse," one parent wrote passionately. Some critics were more concerned about Sophia's behavior rather than her mother's parenting skills. "Cussing is the least of this little girl's problems … actually cussing is probably the most 'normal' thing she does," another user pointed out.
Critics think Abraham is exploiting her daughter
While some critics were shocked by the 10-year-old's behavior, others found it fairly typical. Many Teen Mom fans sense that the former reality star instructed her daughter to say something provocative in order to receive attention in the media. That seems to be a tactic of Abraham's and now people are convinced that she's exploiting Sophia to do the same. "Truth be told Farrah told her to do it. She's all about shock value and negative publicity," a critic declared.
Fans come to the defense of Abraham
Despite the countless criticisms, fans of the adult film star immediately rushed in to defend her daughter's behavior. "Lol you do realize most of your kids curse at school or with their friends but here we go judging her," one fan wrote. While we have to agree that children Sophia Abraham's age might curse on their own time, knowing not to do so on TV is a lesson to be learned sooner rather than later. But, it's up to Abraham to teach her daughter that lesson. We doubt criticism via Instagram comments will truly change her behavior.