'Teen Mom OG': Andrew Glennon Forgives Amber Portwood, But Are They Still Doomed?
When Teen Mom OG star Amber Portwood became involved with Andrew Glennon, fans were happy to see her finally settling down with a nice guy. Everyone was hopeful that she'd start to pull her life together and live the way she finally deserved. For a while it looked like that was going to happen, but then the dam broke. A fight caused some major damage between the couple, and now their future is up in the air. Where do they stand now, and are they likely to work things out? Let's take a look at the details.
What happened between Amber Portwood and Andrew Glennon?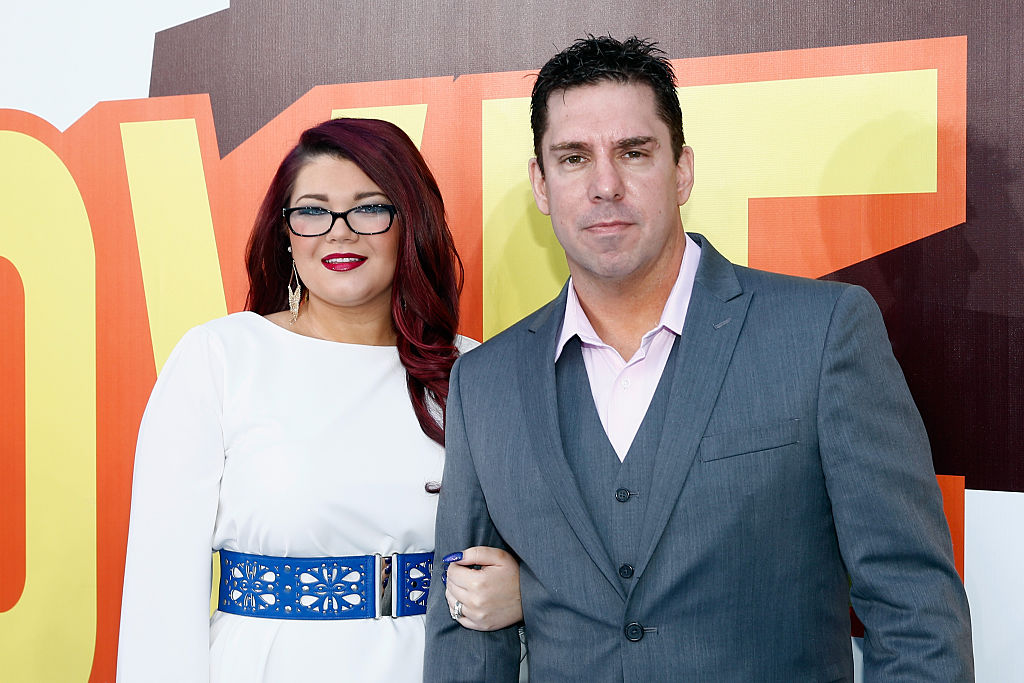 The domestic bliss between Portwood and Glennon came to a halt earlier this month when Portwood attacked Glennon, who was holding their one-year-old son James at the time, with a machete. Glennon texted emergency services saying that his life, and his son's life, was in danger.
When police arrived, Portwood was arrested for domestic battery, criminal recklessness committed with a deadly weapon, and domestic battery committed in the presence of a child less than 16 years old. If found guilty, the charges could result in extended time behind bars. Portwood is currently out of jail on a $2,000 bail, but a no-contact order has been filed, which means Portwood is to have no contact with Glennon at this time.
Andrew Glennon says he's forgiven Amber Portwood
Portwood's fans haven't been making it easy on Glennon. Online, they've accused him of having an affair, which they believe started the argument, and also of behaving like Portwood's ex: Gary Shirley.
One online fan said: "It was your plan all along to try to be like Gary… If Amber was "toxic" u [sic] shouldn't have left baby James around her for almost 2 years. Should've gotten out before sh*t got real bad but nope you waited until someone with MENTAL HEALTH ISSUES snapped…"
The comment was in response to a post by Glennon, which showed a photo of a clear blue sky, and the words: "Nothing better in the world than a clean conscience." Most people assumed this was his reply to the accusations of unfaithfulness, and this seemed to be confirmed when he wrote, "This post is about having a clear conscience for not being a cheater…"
Glennon also responded to a comment asking if could ever forgive Portwood. "I already have," Glennon wrote.
Is the relationship between Amber Portwood and Andrew Glennon doomed?
There hasn't been any communication between Portwood and Glennon because of the restraining order, so that makes it difficult for them to discuss their future. According to a source for E! News, "Amber does not want her family broken-up."
The extreme reaction Portwood demonstrated during their fight seems to be the result of untreated mental health issues. If this is the case, Portwood has probably calmed down by this point and is most likely feeling upset and disturbed over her actions.
For Portwood and Glennon to be able to work things out, Portwood is going to have to demonstrate that she has her illness under control. This will mean seeking treatment, and regularly taking her medication. At this point, it's going to be a long road for Portwood to prove to Glennon that she has things under control. He's not going to want to put their child back into a position where he could get hurt if she has another breakdown.
Although Glennon says that he has forgiven Portwood, it will most likely be a long journey for him as well to learn to trust her again. Glennon appears to be about twice Portwood's size, but Portwood was wielding a machete during their argument, and that would be a scary situation for anyone involved. It's likely that Glennon isn't feeling very comfortable with Portwood at this time, and it's going to take a lot of work to move past that.
Glennon will have to decide if he's willing to put in that work for their relationship to succeed. Just like Portwood will have to decide if she's willing to put in the work on her mental illness. If they don't both decide that they're willing to do that, there's no way their relationship will continue moving forward.
The restraining order may be a good thing at this point, since it gives them both time and space to be able to think about their situation and whether they're willing to put in the work necessary. At this point, the public is just going to have to wait to see how things play out, as it's likely that even Portwood and Glennon don't know what their future holds.